Samsung Galaxy Note II vs Apple iPhone 5
99+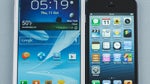 We embark on the task to compare the
Apple iPhone 5
to the
Samsung Galaxy Note II
fully aware that we are comparing apples to oranges, pun intended. These two, however, are currently the best representatives of what devices iOS and Android are capable of, and this is where the lion's share of smartphone sales and profits goes, so we ought to set a cage match for your viewing pleasure.
It is very easy to argue for the choice of materials both handset makers had taken. Apple shapes the iPhone towards exuding a premium feeling, as it is also a status symbol or social statement for many. The previous edition was somewhat heavy for its size, because of the all-glass construction, but now with the
iPhone 5
we have an amazingly thin and light handset for something made out of glass and aluminum.
We also finally have an iPhone for those who wanted one, but were on the fence as a 3.5" screen just didn't cut it for them. The larger,
4" screen
of the iPhone 5 is fit into a more elongated device, which is still very palm-friendly, and allows easy operation with just one hand. Nicks and scuffs are the biggest gripes with the usual third-year redesign, and Apple is reportedly cracking down hard on production lines to remedy those teething problems.
The Galaxy Note II
, on the other hand, is a behemoth of a handset still, despite its slightly thinner and narrower body than what we had with the original Note. A 5.5" display can't be fit into anything much smaller, so try before you buy to make sure this thing is for you.
Samsung's handset is made of polycarbonate plastic, and it is easy to deduce why the Koreans didn't go with more premium materials like metal or glass - the phone is comparatively light for a 5.5-incher, but still heavy enough for a Note-able presence in your hand or pocket anyway.
The Note II, however, has the design advantage that comes with a
non-unibody chassis
, allowing you to easily swap SIM cards, batteries, or expand your storage via a microSD slot. It also has that sweet stylus tucked in the lower right corner.
As for one-handed operation
- it is not impossible, as Samsung provides ways to scooch the on-screen keyboard or the dialer, for example, left or right within thumb reach, yet the iPhone 5 can't be beat here, as we are talking a 4-incher versus one heck of a 5.5" handset.
The 5.5" 1280x720 pixels
display on the Note II is the best HD Super AMOLED screen Samsung has produced, meaning that it largely dispenses with the weak points in such screens so far. It sports three subpixels per pixel, ditching the PenTile matrix arrangement, and has warmer colors than previous AMOLEDs. It is also the brightest of the bunch, aiding sunlight visibility.
The Apple iPhone 5's 4" 640x1136 pixels
screen, however, has higher 326ppi pixel density vs the Note II's 265ppi, and is also much brighter at north of 550 nits yet with lower, 4.6% reflectance ratio. The last two numbers make what is quite possibly the best mobile screen for use outside. Granted, we have phones with up to 1,000 nits brightness, like the Xperia P, or the Nokia 701, but that low screen reflectance of the in-cell touch unit on the iPhone 5 is really appreciated when under direct sunlight, where the Note II fares much worse, even in "outdoor visibility" mode.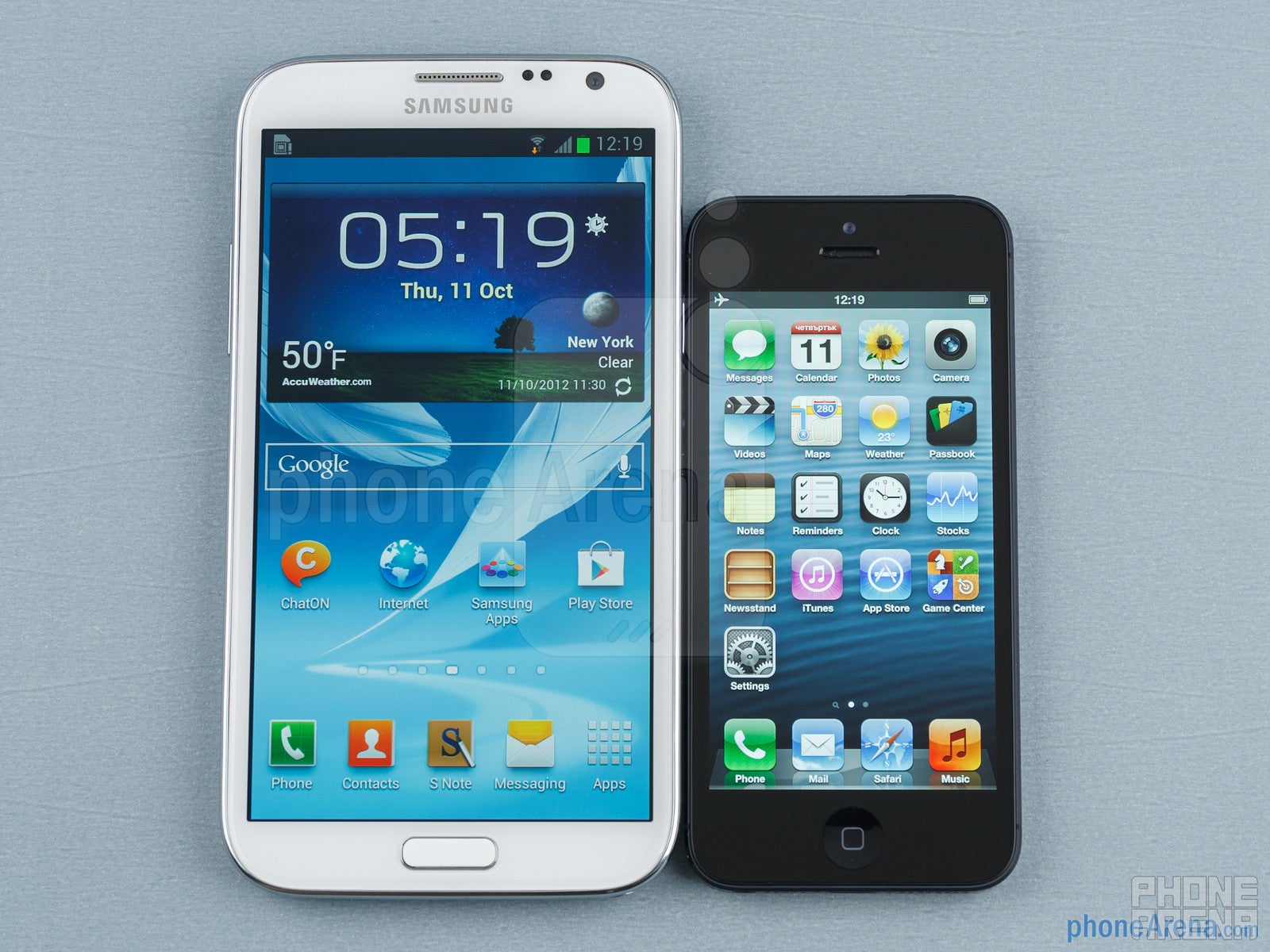 As far as colors go
, the devices take a different approach, with the iPhone 5 covering almost perfectly the standard sRGB color gamut, whereas previous iPhone were able to present a more limited range. On the Note II we cover a larger range than standard, hence have the typical for AMOLED screens oversaturated, incorrect colors. The AMOLED display can be set in different modes, though, so the colors can be subdued or made even more dynamic than the normal mode, prettifying your movie sessions.
Both phones sport excellent viewing angles
, and the choice will come down to which size you prefer to carry around. We admit that the great 5.5" screen that the Note II sports is very tempting when it comes to stylus-induced productivity, and also for long browsing sessions and movie watching, but it is not everyone's cup of tea, plus a larger display in the iPhone world is something many fans have been clamoring for a good while now, and Apple delivered it to them.
Recommended Stories