LG G2 takes on Xperia Z Ultra's Triluminos display, the GS4, HTC One and the iPhone 5: screen comparison
40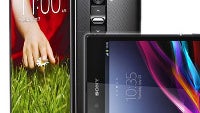 The LG G2 has arrived, and it's obvious that the company's new flagship wants to be the baddest boy in town. As such, however, it has to prove that it can take on all the other bad boys in a series of intense tests. We've already published our review of the G2, as you've probably noticed, and it's clear that we're quite impressed by LG's latest and greatest. But it's now time to see exactly how well the G2's gigantic 5.2" IPS display handles the competition in the form of the Xperia Z Ultra's mighty Triluminos display, the HTC One's S-LCD 3, the Galaxy S4's Super AMOLED and the Apple iPhone 5's IPS Retina Display.
It sure sounds like a bloodbath this one – with so many ambitious offerings, it's bound to get extremely interesting once we pit them against each other. OK, then, let's power those screens on and give them a closer look!
Please note that there might be some visible artifacts in the images of the displays, due to the fact that we've captured those with a camera. Those artifacts shouldn't be considered when evaluating the screens!
Brightness and visibility
It's a relatively close battle in the so important brightness department between the LCD screens that we have here, but it can easily be seen that the humble 4" IPS panel of the iPhone 5 has a slight edge above the others. Being able to produce brightness of more than 500 nits, the iPhone 5 really is the champion here when it comes to outdoor visibility. Of course, you'd rarely want to view you display at such a brightness indoors when there's not that much ambient light present, but we all know how important it is to be able to read your handset's display easily when out and about.
Thankfully, the Z Ultra, the One and the G2 aren't far behind, as their maximum brightness of 400+ nits allows the to achieve some pretty good visibility as well. The Super AMOLED-powered Galaxy S4 is noticeably worse in this respect, which is to be expected with the significantly lower brightness output of AMOLED screens. While the GS4 isn't really unreadable in bright daylight, it does appear dimmer than the other four.
Resolution
The HTC One can easily be named king in the resolution department simply because its 4.7" display packs a 1080p resolution, resulting in a lovely pixel density of 468 ppi. Of course, the LG G2 isn't far behind with its 423 ppi, so it also delivers outstanding picture clarity. With the Xperia Z Ultra, it gets a bit tricky, as it also sports 1080p resolution, but its diagonal measures 6.4 inches, which stretches those pixels a bit. The image is still very fine, though, so that's not a big deal.
Although you'd rarely have to stare at really small text, in those situations the Galaxy S4 seems to have the better display than the iPhone 5, thanks to its 1080x1920 pixel resolution. When we're examining the displays closely, it's obvious that the controversial PenTile matrix of the GS4 does have a very visible negative impact on the image quality as a whole, but that's really, really hard to notice during normal usage of the smartphone. Finally, the iPhone 5 has the lowest pixel density of these 5, but that doesn't mean that its display is hard to read. Quite the contrary, the Retina screen is still holding up very well, and most users will never have any troubles with regards to clarity. Still, if you're staring really carefully at some very small details, you'll notice that the iPhone 5's lower resolution does make those a bit more difficult to read.



Color reproduction

Color reproduction is a very important category when it comes to the overall image quality that the user will be treated to, and in that regard, we have some quite interesting things to share with you. First off, the LG G2 obviously has a great display, though it looks LG didn't manage to set the color temperature right. With a dominating blue color, the G2's display doesn't suffer from any dealbreaking issues, but it does look somewhat cold compared to most of the others.




The Xperia Z Ultra's Triluminos screen is where it gets really interesting, because Sony's display is actually the exact opposite of what LG has done. The Z Ultra has a wonderful screen, which gets even more impressive when enjoying image and video content, thanks to the X-Reality software enhancer. However, it's interesting to note that this is actually one of the very, very few screens that we've seen that actually have a dominant red color, meaning that its color reproduction gravitates towards the warmer side. With a color temperature of around 6000 K (the ideal being 6500 K), the Xperia Z Ultra actually doesn't have too much red, but a bit less blue than needed, seeing that the green is about equal to the red, in terms of presence. The conclusion here is that Sony has indeed created a very cool display, which, however, is also a bit unaccurate, only in a different way from all the other displays participating in this comparison.




The Galaxy S4 also deserves some special attention, when it comes to color quality. While you do get a fairly natural image with the Professional Photo setting, even this isn't enough to deal with those peaking green tones that make everything look a bit weird. While the color temperature if mostly fine, since it's only determined by the balance between red and blue, the green color is very bright in this display, casting a greenish type of look on pretty much everything. All in all, it shows that Samsung has made tremendous steps forward with regards to the advancement of AMOLED displays, but there's still a lot of room for improvement here.




The HTC One and the iPhone 5 deliver what we can call a standard type of image quality for a premium smartphone nowadays. With vivid and natural looking colors, both happen to be extremely good, though we'd say that the iPhone 5 wins in the saturation department, as its colors tend to appear a bit more lively.
Viewing angles
While viewing angles are not as important as the other aspects that we've already examined, it's still interesting to see how the devices' screens are holding up in this respect. It's actually all a matter of preference between color accuracy and luminance, as all the LCD screens tend to get significantly dimmer when viewed at an angle, while the Super AMOLED display of the Galaxy S4 doesn't lose its brightness as much. However, the AMOLED panel's color exhibit some noticeable degradation in terms of balance, with the display starting to look quite bluish even at smaller angles. Such kind of color balance degradation isn't observed with the IPS LCD displays of the other four, not to such a great extent, that is.
If we have to pick our favorites from the LCD crowd, we'd say that the LG G2 and iPhone 5 are doing a slightly better job than the other two. Sony should be congratulated, though, for the impressive improvement the Z Ultra's Triluminos screen marks compared to the company's previous panels.



Overall
All in all, it'd be extremely hard if we have to choose an overall winner. Each display tends to be a bit better then other four in some areas, and worse in others. Combine that with the fact that all of them are actually amazing (with some small exceptions), and it gets even harder to say who's the best.
Still, while it's all a matter of personal preference, we'd say that the screen of the iPhone 5 is probably the best all-round performer, as it's very bright, has a fairly accurate and natural color balance (though with a bit of a nasty dominating blue), and superb viewing angles as well. While we think it has just enough resolution to enable comfortable and pleasing viewing and reading experience, however, some may find that its 326 ppi isn't really enough, rendering those 1080p screens more appealing. It's actually safe to say that all the other LCDs in this comparison are tied for the second place. Finally, there's the Galaxy S4, which is absolutely impressive, but its greenish look and dimmer output doesn't allow it to directly compete with the IPS panels. On the other hand, it does have some notable assets of its own, such as the super-saturated colors or perfectly black black level, making for an astonishing, albeit highly inaccurate image quality.