Motorola Moto X vs Apple iPhone 5
53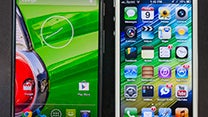 Introduction:
After being dormant for the last couple of years, Motorola has just opened the floodgates to its upcoming flagship smartphone in the
Moto X
– a device that's remarkably fashioned to tangle with the greats. Naturally, the
iPhone 5
is something that this new found smartphone intends on competing against, since they stack up so similarly to one another. Apple's prodigy might be seeing its last days, but nevertheless, it's still widely regarded as the flagship device to beat in the landscape.
Design:
As always, the iPhone 5 has the premium element to its design, thus, it exudes the sturdier construction between the two. However, we're quick to realize that the Moto X simply has the more comfortable and natural feel in the hand, as its curved rear casing is contoured perfectly to fit our palm. Indeed, its composite body with its soft touch coating might not be as premium, but heck, the customizable aspect with the Moto X's design process is something noteworthy on its own, seeing that no other smartphone on the market can match the depth of personalization that Moto Maker offers prospective customers.
Display:
From a specs sheet standpoint, the iPhone 5's 4-inch 640 x 1135 Retina Display has the slight advantage with pixel density, but it's hardly noticeable over the Moto X's larger 4.7-inch 720 x 1280 AMOLED display. Taking a gander at our web site from a zoomed out view in their respective browsers, our eyes are able to distinguish details very easily with the two – with neither one actually edging the other. That's essentially where their similarities end, as the IPS-LCD based panel of the iPhone 5 produces the more accurate and natural colors, whereas it's more saturated with the AMOLED panel of the Moto X. When it comes to outdoor visibility, the iPhone 5's panel is noticeably brighter, which offers us better clarity.
Motorola Moto X 360-Degrees View:
Apple iPhone 5 360-Degrees View: