Samsung Galaxy Note 7 vs Samsung Galaxy S7 Edge
27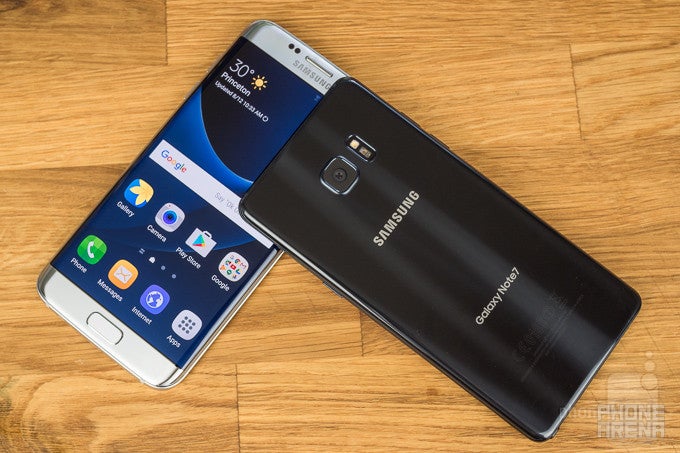 The Samsung Galaxy Note 7 has been discontinued following numerous reports of units catching fire or exploding. In the interest of safety, users who still have a Note 7 in their possession must return the unit to Samsung.
Introduction
The relationship between smartphone shoppers and curved-screen handsets is a complicated one. Models that tried to build the phone around the curve failed to really catch on, and it's been a while since we've seen a unit like the
Galaxy Round
or
LG Flex
. But while those looks have fallen from favor, subtler curves have proliferated, and early efforts like the Note Edge have given way to the current crop of curved-edge-screen devices.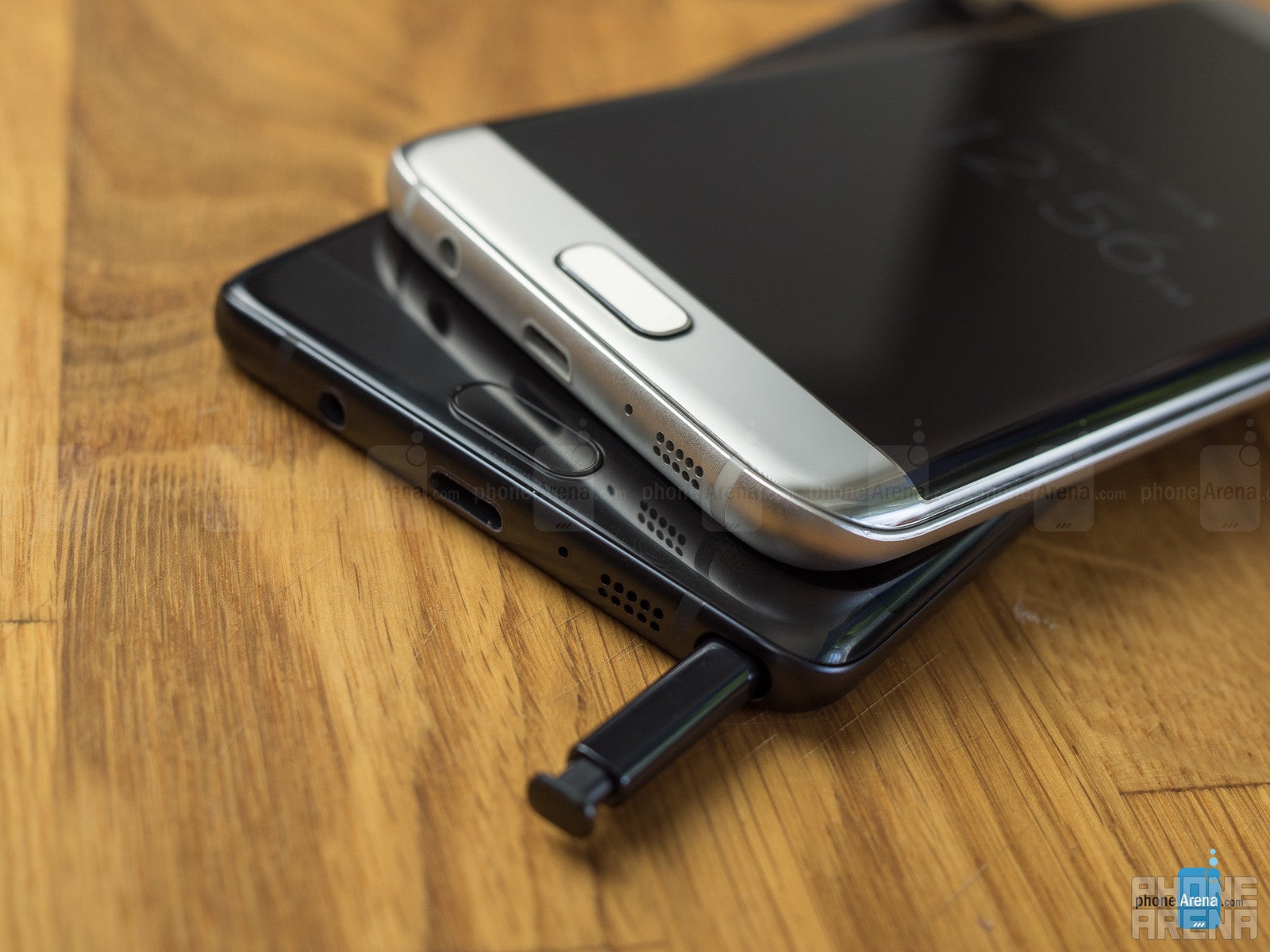 With the new
Samsung Galaxy Note 7
, such curves are really going mainstream, as the manufacturer abandons the flat-screen look of years past in favor of a curves-or-nothing approach. And while this is a big step for Samsung, it's not one the company's taking without a lot of practice, drawing upon its experience with models like this year's
Galaxy S7 edge
.
The Note 7 may do a lot that the GS7 edge doesn't, but these are still two handsets cut from the same cloth. Let's take a look at just how the pair measures up, and how the Note 7 builds on the groundwork the Galaxy S7 edge helped establish.
Design
Samsung's curves come full circle
These two are both phones that use their design to stand out in a busy market, reaching out to shoppers with their still-quite-rare curved-edge looks. And while the handsets Samsung's built around those curved screens are very similar, there are a few differences that highlight the manufacturer's evolving design language.
Obviously the Galaxy S7 edge is going to lack things like the Note 7's S Pen, but otherwise the hardware making up these two models looks remarkably similar. We're talking the same layout of ports and buttons, same slight camera bumps, and same general appearance.
The one significant design departure the Note 7 makes is a subtle one, using front and glass back panels with the same degree of edge curvature for a symmetrical look. The Galaxy S7 edge also has curved back glass, but with a less pronounced curve than we see around front. This gives the GS7e a slightly more angular, edgy rim to its body, while the Note 7's borders form a smooth curve all around.
Display
A familiar screen, sprinkled with HDR goodness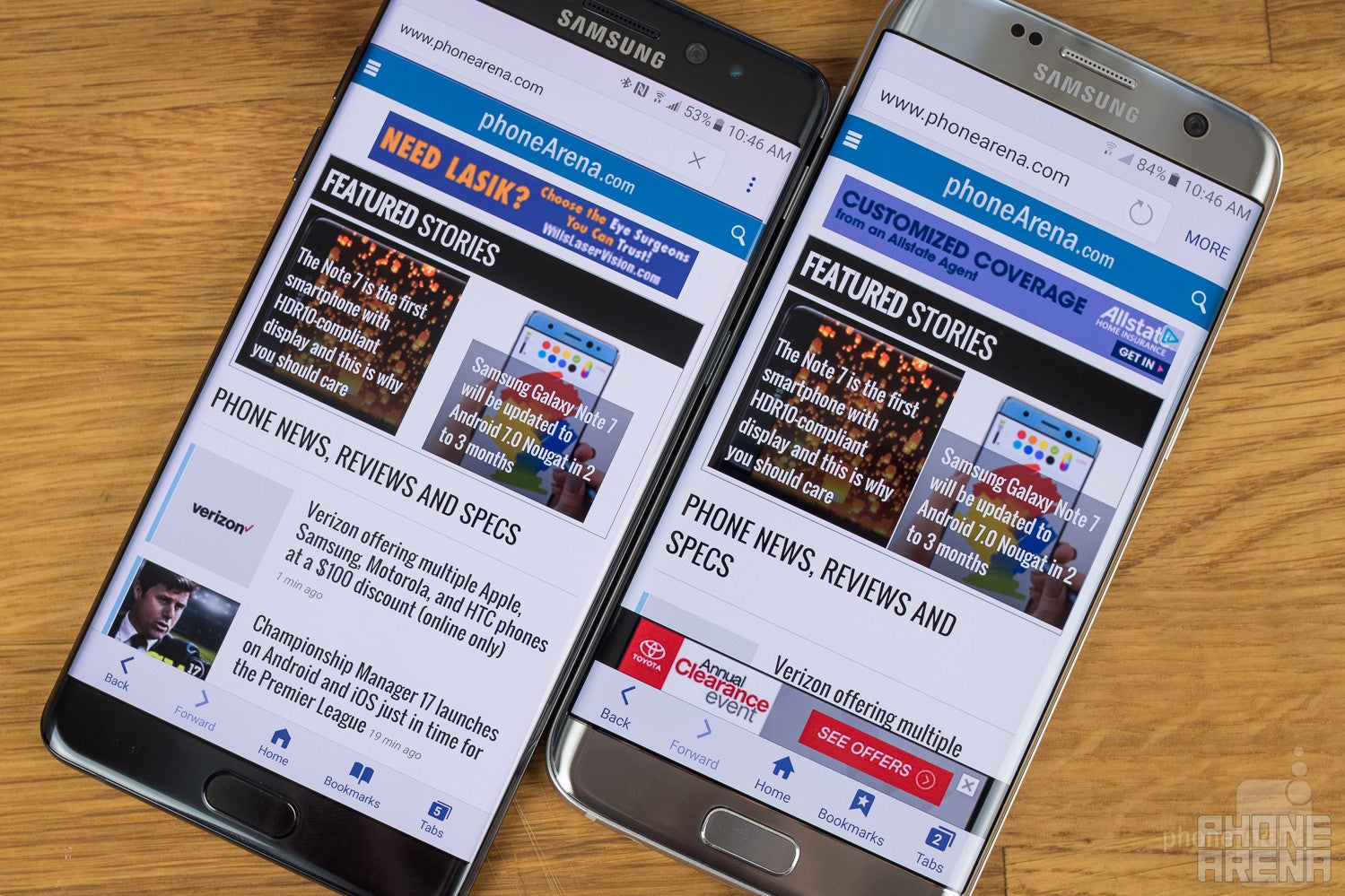 By now you're painfully aware of how these Galaxy phones share the same type of dual-curved-edge displays, but it's more than just the shape of the screen these two models have in common: both are using QHD 1440 x 2560 AMOLED panels.
We're talking about pixel densities north of 500 per inch – so you can rest easy knowing that things are going to look sharp.
The Note 7 does pick up a few new tricks compared to the earlier GS7 edge, and in terms of its screen we see Samsung give the new Note the ability to play HDR10-encoded video for better dynamics and richer colors. Of course, that feature's limited by the availability of HDR content right now.
Display measurements and quality
Recommended Stories