Samsung Galaxy Alpha vs Samsung Galaxy S5
35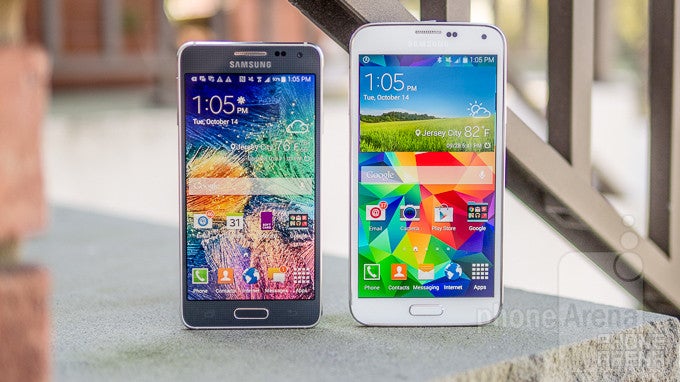 Introduction
Climbing to the top of the leader boards for most of the year, the
Galaxy S5
continues to be a darling of a gem in the mobile space – where its reign of dominance is rarely tested. Not surprisingly, it received much acclaim for its unprecedented set of features and impressive overall performance, but its design still came off undesiring for something so high-end. That's where Samsung does justice with the
Galaxy Alpha
, a profoundly better designed phone. But is looks alone enough to catapult it over the renowned Galaxy S5, especially when they're priced identically with a 2-year contract?
Design
The Galaxy Alpha is the best designed phone out of Samsung's camp, making the Galaxy S5's design obsolete.
We've said it before, we'll say it again. The Galaxy Alpha is the best designed smartphone to come out of Samsung's camp, thanks to its solid construction, attractive metal-trimmed bezel, and compact feel in the hand. Indeed, it's a stark contrast to the design of the language of the S5. Despite the S5's less-than-desirable looks and its all plastic construction, it features a water-resistant element – something that the Alpha doesn't offer.
Seeing that they're closely related, it doesn't shock us that they offer pretty much the same set of features, ports, and button. In fact, they share common things like their finger print sensors, removable batteries, and heart rate sensors. However, the Galaxy S5 packs on some additional amenities that clearly indicates it's Sammy's pride and joy – like its microSD card slot and IR blaster.
Display
The Galaxy S5 sports larger display with higher pixel density, but the Alpha is more color accurate.
Size and resolution, those are what's most apparently different with these two displays from a first look. The Galaxy S5 stuffs a larger 5.1-inch 1080 x 1920 Super AMOLED panel into its body, while the Galaxy Alpha has a more hand-friendly 4.7-inch 720 x 1080 Super AMOLED display. While the two appear on par to one another from a details standpoint from a normal viewing distance, the Galaxy Alpha's decision to rely on a PenTile pixel arrangement makes it less sharp – and it doesn't help either that its resolution chimes in at 720p.
Well, a comforting quality about the Galaxy Alpha's display is that it offers a more well-balanced color reproduction than the Galaxy S5. It's stark contrast to the Galaxy S5's over-saturated color reproduction, which definitely gives it that showroom wow factor, but it's not accurate at all. Aside from that, they pretty much offer the same qualities with their displays – such as their wide viewing angles, deep black color, and similar brightness outputs.
Display measurements and quality
Recommended Stories