Google Nexus 6 vs Samsung Galaxy S5
6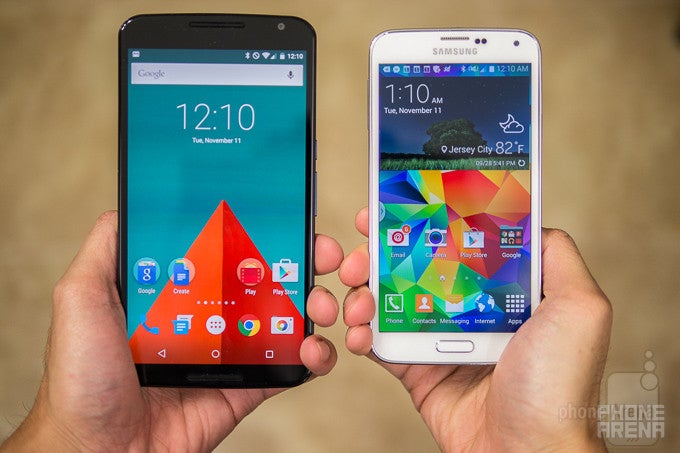 Introduction
Throughout the entire year, there has been no shortage of high-end, memorable smartphones – they just simply keep on coming, giving consumers a wide degree of variety to choose from. One of them in particular, the
Samsung Galaxy S5
, continues to be a relevant thing in the space, even though it's regarded by many as an "older" handset. Despite that attachment, there's no denying the steady momentum that's still accompanying Samsung's flagship, which it'll no doubt need in order to stave off the heavy competition from the just arrived
Google Nexus 6
.
Design
Plastic, there's nothing premium about it, but in this scenario, we prefer the Nexus 6's design.
Plastic, that's what's on the menu for these two prized darlings, as the majority of their casings is comprised out of the material. Between them, though, we prefer the more pronounced and mature design language of the Nexus 6 – thanks in part to its sturdier construction. However, some people will appreciate the compact size and water-resistant construction of the Galaxy S5. At the end of the day, though, when it comes to attracting attention, the Nexus 6 surely employs all of the elements to catch our eyes from afar.
Unlike its rival, the Nexus 6 isn't about the bells and whistles, but we do like that it features dual front-firing speakers – a quality that's rarely adopted amongst smartphones in general. On the opposite side of the spectrum, the Galaxy S5 is arguably the Swiss Army Knife of smartphones, as it bears a fingerprint sensor, IR blaster, microSD card slot, and a removable battery.
Display
Both employ AMOLED technology, but the quad-HD resolution of the Nexus 6 display is just a sight to behold.
Being the new kid on the block, the Nexus 6 drastically benefits from having the more attractive display – a monstrous sized 5.96-inch 1440 x 2560 AMOLED screen. In comparison, the Galaxy S5's 5.1-inch 1080 x 1920 Super AMOLED display isn't necessarily cutting-edge per se, but nevertheless, it's still the resolution of choice for the majority of flagships out there. From afar, it's tough to notice any difference in terms of details, but it becomes painstakingly obvious upon closer inspection that the Nexus 6 can't be matched.
Employing AMOLED technology, the two displays bear pretty much the same qualities – like their wide viewing angles, deep black production, and overly-saturated color tones. With the latter, it's apparent that the two panels exhibit a cooler tone, one that generally appears bluish. However, when it comes to brightness output, the Galaxy S5 has a distinct advantage with its 442 nit brightness – in contrast to the weaker tally of 270 nits with the Nexus 6. Yeah, it certainly makes it tough to view the Nexus 6's display under direct sunlight, but it still carries a significant amount of pleasing qualities over the Galaxy S5 to make it the preferred display.
Display measurements and quality
Recommended Stories