Samsung ATIV Tab Preview
16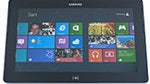 Introduction:
We cannot hide it, folks – having the chance to preview the
Samsung ATIV Tab
is getting us pretty excited. And in case you wonder what makes us feel that way, it is just that the slate is among the first of its kind. Powered by Windows RT, it is meant to be an alternative to Microsoft's lower-end Surface model, which is due to debut later this year. As such, it has been outfitted with some pretty decent hardware, including a dual-core Snapdragon S4 processor paired with 2GB of RAM, 10.1-inch touchscreen, and a pair of cameras, the main one being of 5 megapixels.
What we are also looking forward to trying out is the platform itself. For those of you who need a refresher, Windows RT is tailored especially for ARM-based devices, which are known for being quite battery friendly. Its bigger brother, on the other hand – Windows 8 Pro, is what one will find on desktop or notebook class PCs as it is meant to be run by processors delivering higher performance, such as Intel's Core series. At a glance, the two platforms look more or less identical as they share the same interface, but what sets them apart is that software compatible with Windows 8 and the platform's earlier versions does not run on Windows RT, leaving the latter with a serious case of app deficiency.
Now it is time to fire up our Samsung ATIV Tab and take it for a proper spin around the block. Keep in mind, however, that what we are previewing today is a prototype unit, so we won't be going too much into detail yet.
Design:
If it wasn't for the Windows logo underneath its screen, we could have easily mistaken the ATIV Tab for a Galaxy tablet as it has adopted more than a few design features from the maker's Android lineup. For starters, there's a pair of speakers positioned on the front side of the unit, just like on the Galaxy Note 10.1 or the 10.1-inch Tab 2, and the pattern on its back resembles closely the Galaxy S III's Hyperglaze finish. With the exception of the metal Windows button, the Samsung ATIV Tab is made entirely out of plastic, yet still manages to look appealing despite the lack of premium materials in its construction.
At 570 grams, the Samsung ATIV Tab is relatively light and doesn't put much of a strain on the wrist. If you'll be using it for a long time, however, make sure you have a flat surface to rest it against. The tablet isn't among the slimmest Samsung has ever made as it measures 9.9 millimeters in its thickest point, but it is still within the acceptable norms for a contemporary tablet of this size.
There is no shortage of
ports
on the Samsung ATIV Tab. On the bottom side of the device is located a dock connector, which is where a Samsung-made hardware keyboard snaps in place. At the bottom right-hand side resides a generic-looking port used for charging.
All
remaining buttons, ports, and slots
are on the tablet's top side, including the 3.5-millimeter headphone jack, microphone, HDMI output, and microSD card slot. Having a full-sized USB port can be quite convenient as it allows a whole range of peripherals to be connected to the slate, such as USB dongles, thumb drives, even a mouse. Perhaps the lock key and the two-button volume rocker could have been exposed a bit more, but once we got used to their position, we didn't have much troubles finding them without looking.
Display: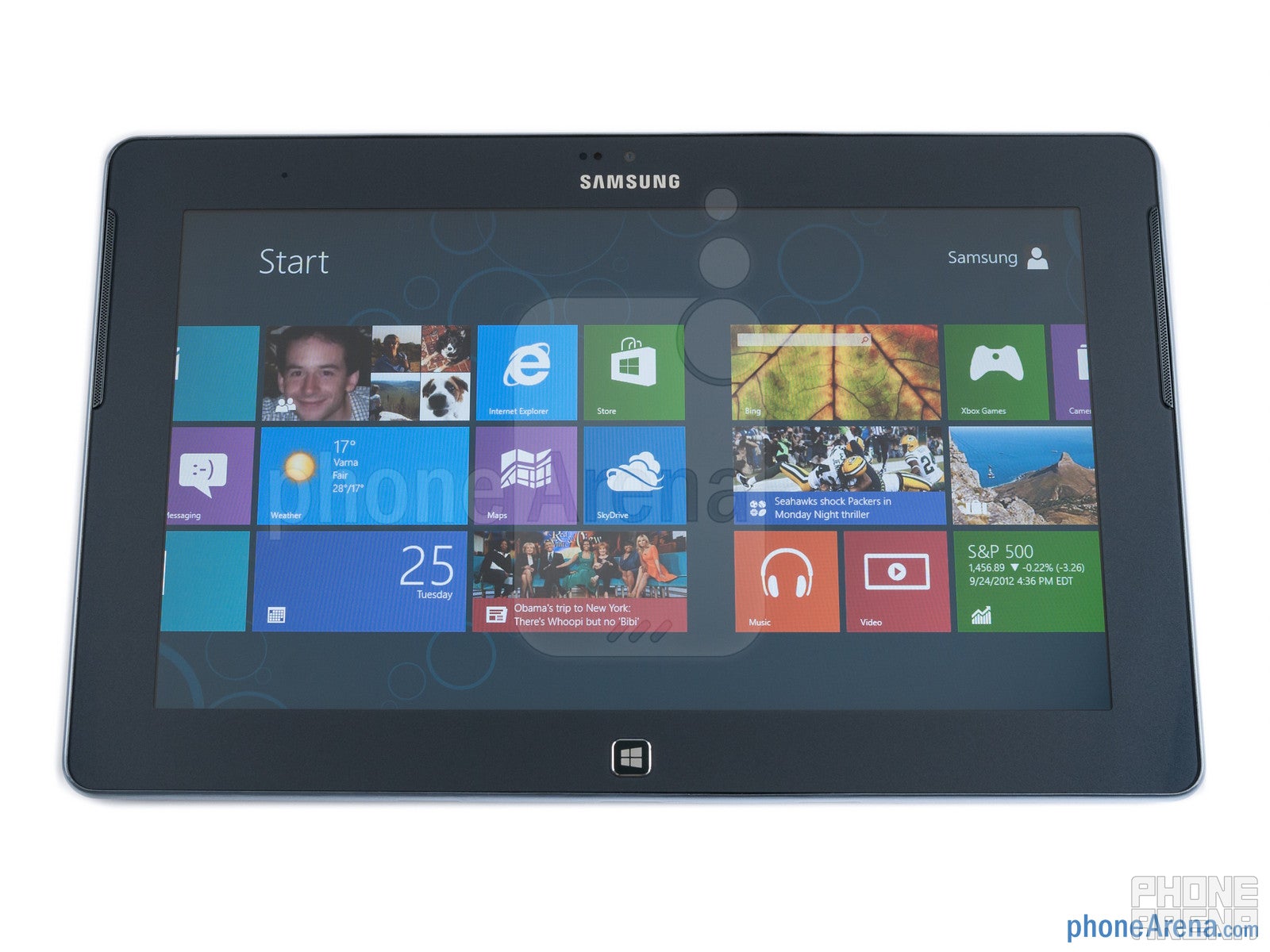 The 10.1-inch screen on the Samsung ATIV Tab has a resolution of 1366 by 768 pixels, which translates into a pixel density of about 155ppi. Although nothing out of the ordinary, the panel delivers an acceptable amount of detail for a contemporary tablet. Besides, not a whole lot of pixelation is noticeable as the device is meant to be held further away from the user's eyes when compared to a smartphone.
Resolution aside, the display on the Samsung ATIV Tab is capable of delivering pretty, accurate colors, which don't get washed out when viewed at an angle. That isn't much of a surprise, actually, as the panel is made using PLS LCD technology. Moreover, the tablet remains pretty usable even with the sun shining at its screen.
Recommended Stories