Samsung ATIV Tab Review
10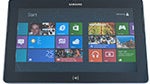 Introduction:
As far as tablets go, we didn't really have that much of a variety until recently. One could either get an
iPad
from Apple, or go with an Android tablet that fits their budget and preferences. But now that Windows RT is here, things are seemingly bound to change. All of a sudden, we have a third platform entering the tablet race, and it is backed up by a pretty major player – Microsoft.
Today, we are reviewing one such tablet. The
Samsung ATIV Tab
is a 10.1-inch tablet that runs Windows RT and is meant to be an alternative to Microsoft's Surface RT. As such, it has been outfitted with some decent hardware, including a dual-core Snapdragon S4 processor paired with 2GB of RAM, a couple of cameras, the main one being of 5 megapixels, and a full-sized USB port.
But what is Windows RT exactly, you ask? Well, it looks like Windows 8 and it feels like Windows 8, but at the same time, it is quite different. RT is made for ARM-based devices, and the software available for Windows 8 or previous versions won't run on it. The only place one can get software from is Microsoft's own Marketplace, and in there, it still feels a bit lonely, with only about 10,000 apps across the entire catalog.
With that out of the way, it is time to fire up the Samsung ATIV Tab and see what it has to impress us with. First, let's take a close look at...
Design:
If it wasn't for the Windows logo underneath its screen, we could have easily mistaken the ATIV Tab for a Galaxy tablet as it has adopted more than a few design features from the maker's Android lineup. For starters, there's a pair of speakers positioned on the front side of the unit, just like on the
Galaxy Note 10.1
or the 10.1-inch
Tab 2
, and we are actually quite satisfied with having them there as the audio is radiated directly towards the user.

There is a pretty pattern on the tablet's back resembling brushed aluminum, and the finish covering it reminds us of the
Galaxy S III
's fancy Hyperglaze coating. We have to note that the combination of both these characteristics makes the Samsung ATIV Tab a tablet very pleasant to look at. The lack of premium materials can be noticed the very instant you get a hold of the device as it is made entirely out of plastic, save for the slightly raised, metal-made Windows button below the screen, yet that shouldn't be too big of a deal as it helps with keeping the tablet lightweight. What's a bit more of an issue, though, is that the build quality of the ATIV Tab leaves something more to be desired.
At 570 grams, the Samsung ATIV Tab is lighter than most 10-inch tablets on the market and doesn't put much of a strain on the wrist. The tablet isn't among the slimmest Samsung has ever made as it measures 8.9 millimeters in its thickest point, but it is still within the acceptable norms for a contemporary tablet of this size.
There is no shortage of
ports
on the Samsung ATIV Tab.
On the bottom side
of the device is located a dock connector, which is where a Samsung-made hardware keyboard snaps in place. At the bottom right-hand side resides a generic-looking port used for charging.
All remaining
buttons, ports, and slots
are on the tablet's
top side
, including the 3.5-millimeter headphone jack, microphone, HDMI output, and microSD card slot. Having a full-sized USB port can be quite convenient as it allows a whole range of peripherals to be connected to the slate, such as USB dongles or thumb drives. We even hooked up a mouse and a keyboard to it with the help of a USB hub and ended up with a portable workstation. Neato! Our only annoyance is with the lock button, which is way too soft and provides insufficient tactile response when pressed.
Display: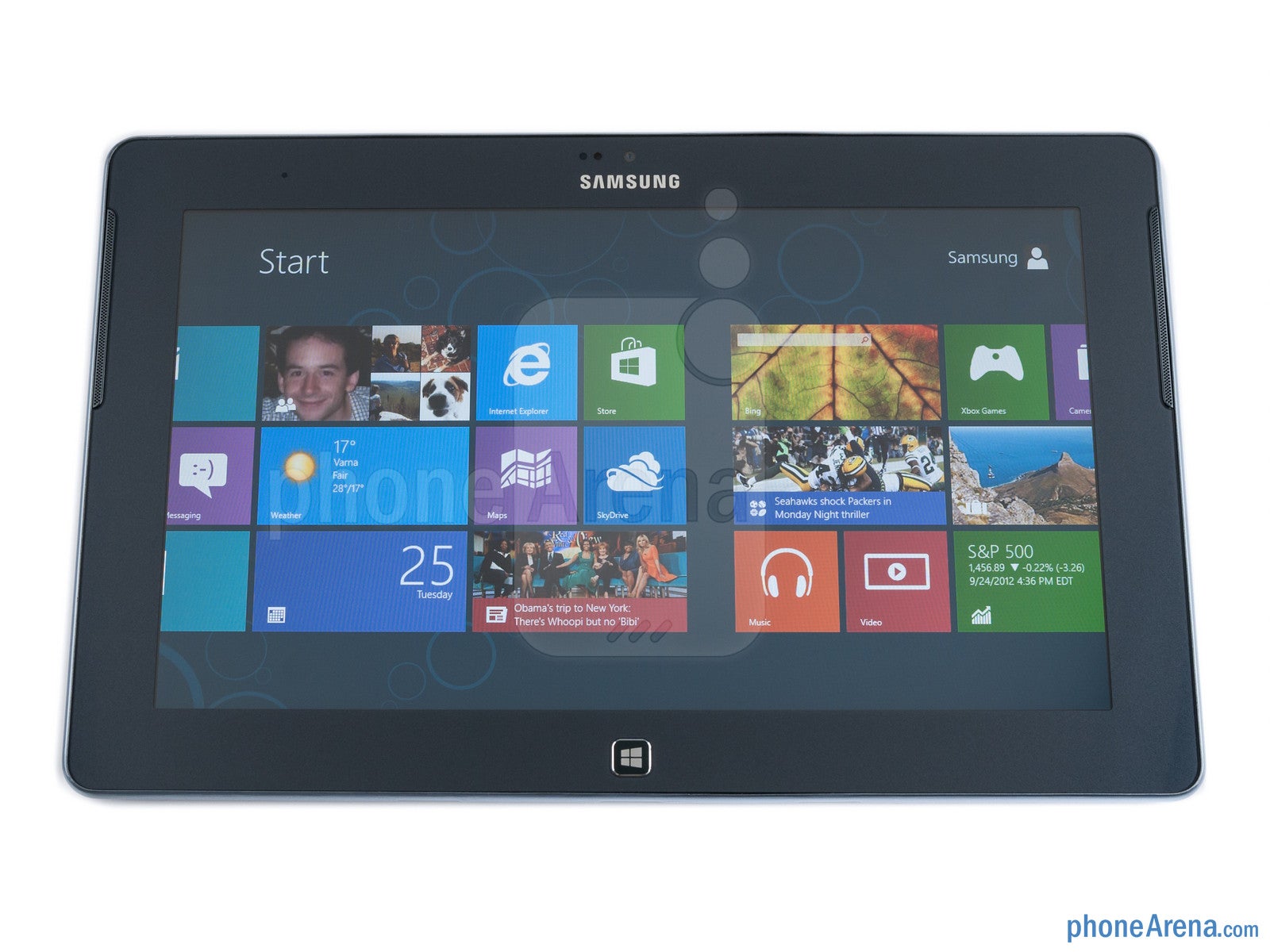 The 10.1-inch screen on the Samsung ATIV Tab has a
resolution of 1366 by 768 pixels
, which translates into a pixel density of about 155ppi. Although that's miles away from the Retina display category, the panel looks detailed enough for every-day use and for the most part, the pixelation is not very noticeable.
Resolution aside, the display on the Samsung ATIV Tab is capable of delivering pretty, accurate colors that don't get washed out when viewed at an angle. That isn't much of a surprise, actually, as the panel is made using
PLS LCD technology
. Moreover, the tablet remains pretty usable even with the sun shining at its screen.
Recommended Stories