Nokia Lumia 928 vs Apple iPhone 5
80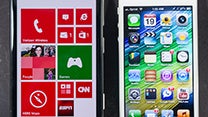 Introduction:
Now that Nokia has introduced its true high-end Windows Phone offering for Verizon Wireless, it's sure to try its mightiest to chip away at the iPhone 5's always stringent grasp. Considering that it's sporting a competitive price point of $99.99 with a 2-year agreement, there's no arguing whatsoever that the aggressive approach might actually make customers think twice about settling down on a device – even more when it's packing goodies that the iPhone lacks, such as wireless charging, NFC, and a super sensitive display. Already proving itself as THE Windows Phone to own if you're on Big Red's network, it'll be intriguing to see how it stacks against Apple's pride and joy in every category.
Design:
By now means are the two flaunting original designs, as they take the distinct styles of previous generation models and improve in the aspects that consumers take notice the most – such as being thinner and lighter. Thanks primarily to its brushed aluminum casing, there's a premium element attached to the iPhones 5's design. At the same time, too, the in-the-hand feel of the iPhone 5 is minutely better, since it's smaller in footprint and lighter in weight. Despite that, we'll admit that the two are soundly sturdy with their constructions.
Feeling out the physical buttons around each smartphone, we'll give it to the
iPhone 5
for having the more prominent and responsive buttons. However, most people will find the microUSB port of the
Lumia 928
as being the more favorable of the two, because it's a universal standard – whereas with the iPhone 5, it sticks firmly to Apple's proprietary Lightning port.
Vying for supremacy in the photo snapping category, it shouldn't surprise many to know that these are highly regard for their qualities. On one hand, we have an 8-megapixel iSight camera on the iPhone 5, which features an f2.4 lens and LED flash. Meanwhile, its new rival is packing along something more delicious in its 8.7-megapixel PureView camera, which features Carl Zeiss optics, an f2.0 lens, optical image stabilization, and a Xenon flash. However, both still produce 1080p video recording with their rear cameras – while their 1.2-megapixel front-facing cameras eek out 720p ones.
Display:
Frankly, it's rather difficult to make a definitive decision on which one has the more attractive display because they boast their own unique qualities that make them stand out. Specifically, it's a 4.5-inch PureMotion HD+ 768 x 1280 AMOLED display on Nokia's new gadget, which can still recognize touch if you happen to have gloves on, since its sensitivity is heightened. Conversely, iPhone 5 has a smaller 4-inch 640 x 1136 Retina Display, which has the more realistic colors thanks to its IPS-LCD panel and better outdoor visibility. Then again, our eyes are drawn to the oversaturated tones put out by the Lumia 928's AMOLED panel – plus, it maintains its vibrancy at extreme angles better than the iPhone 5. Sure, the Lumia 928 might have the higher pixel density count on paper, but it doesn't necessarily prove to be advantageous, as it's nearly indistinguishable which of the two is more detailed from a normal viewing distance.
Recommended Stories