Nokia Lumia 620 Review
27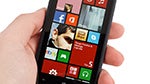 Introduction:
The
Nokia Lumia 620
is an important handset for Nokia. It might not be a flagship device, but it has other significance - it is an affordable entry level device, a type of device that for Nokia was long a main source of income, and a type of mass device that people have associated the brand with.
The Lumia 620 is a Windows Phone 8 smartphone for the masses, yet offering additional value in many aspects and different by design. This time again, Nokia is focusing on vibrant colors as the standout feature and it relies on its own Windows Phone apps like the free Nokia Maps and Drive navigation and Nokia Music to differentiate.
But will this be enough to finally get consumers' interested in Windows Phone? And if it does, can it stand its ground in its own Windows Phones backyard where HTC has conveniently settled with the similar 8S? Read on to find out.
Design:
As has become common with recent Nokias, the Lumia 620 places its design bets on colors. Coming with a selection of easily interchangeable matte and gloss shells, the device can transform itself from lime green to orange, magenta, yellow, cyan, white and black. The colors are all bold and bright, and Nokia is using a new 'dual-shot' technology applying a base color layer as the foundation and a different color layer on top (for example yellow base and cyan on top combines for overall lime green) to achieve those vibrant color complexions.
While the casing that engulfs the handset is all plastic, we liked the soft-touch-like feel of the plastic. You'd never mistake the phone for a premium device, but it doesn't feel cheap either.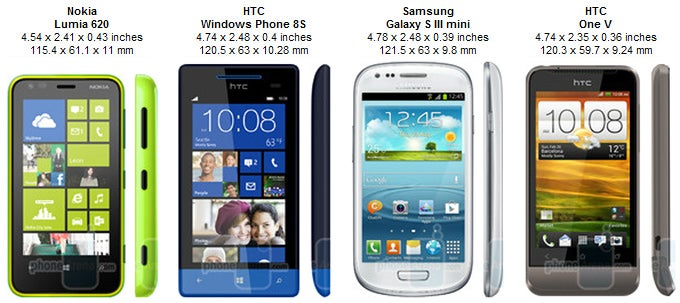 You can compare the Nokia Lumia 620 with many other phones using our Size Visualization Tool.
Overall, the handset is fun and colorful, usually a thing that speaks well to the younger crowd. It's got friendly rounded edges, and while it is a bit chubby with its 0.43-inch (11mm) thick body, it's compact enough not to feel too bulky. Weight comes at the reasonable 4.48oz (127g).
All of the physical buttons of the device are on its right side - the volume rocker on top, the lock key in the middle and the camera shutter button in the bottom. This is a very convenient setup for one handed operation that doesn't force you into doing unnecessary hand gymnastics to reach the keys.
Screen:
The Lumia 620 features a
3.8-inch ClearBlack LCD display with a WVGA (480 x 800 pixel)
resolution. 3.8 inches reads small in comparison to most 4.7 and 5-inch displays on high-end devices, but this smaller size means you can easily operate the phone single-handedly, a luxury those larger phones can't afford.
Pixel density comes at 246ppi, which in simple terms means that you get plenty of detail and you won't see any jagged pixels on the screen. It is not just the level of details, though. The ClearBlack technology delivers deep blacks and well saturated colors, and with wide viewing angles the screen is a pleasure to look at. The only slight niggle are the reflections that show up under direct sunlight and make it a bit hard to use the device on a bright sunny day.
Recommended Stories