Nokia Lumia 520 vs Nokia Lumia 620
13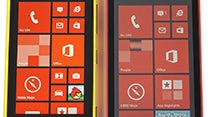 Introduction
The
Nokia Lumia 520
came and changed the Windows Phone landscape. Nokia somehow managed to make a 4-inch device packing a powerful dual-core chip and a 5-megapixel camera, that was also extremely affordable. It was the second time the company widened the outreach of Windows Phone. The first time was with the
Nokia Lumia 620
.
Now, it's time to compare the two affordable and cute, compact Windows Phone 8 handsets. Both are colorful and fun on the outside, and have identical chips inside. But could there still be a sea of difference that would tip the scales in favor of just one? Let's find out.


Design
Both the Nokia Lumia 520 and Lumia 620 are made out of plastic and come in different colors adding a lot of youthful energy to them. Actually, the colorful plastic shells they are nested in are easily removable and you can swap color and style easily.
The Lumia 520 is larger
- it's a bit wider and longer despite having only slightly bigger display. The one on the 520 is 4 inches in diameter, and the 620 has got a 3.8-inch screen. That makes the latter more pocketable and while both are convenient for single-handed use, the 620 is friendlier to one-hand operation.
None of them strive for a slim waistline. The 520 compensates for its larger footprint with a thinner 10mm body, while the 620 has an 11mm profile. Both are very light, around 4.4 ounces.
The two devices
share the same plastic
and easy to press physical buttons on the right with the volume rocker on top, a lock key in the middle and a camera button in the bottom.
If we had to name a winner
, we'd pick the Lumia 620, but the 520 is a close runner-up.
Display
The biggest difference between this pair of Windows Phones is the display. The rich, vibrant colors on the Lumia 620 make a striking difference when compared to the dull, dim tones on the 520.
The Lumia 520 is just not bright enough. While you can use both effortlessly indoors, outside you'd have a lot of trouble reading the display on the 520. In technical terms, the 620 has a nearly twice as bright display with its 590 nits of brightness, and the 520 only around 280 nits.
The
resolution on both screens
is a middling
480 x 800 pixels
. That however paired with their relatively small displays makes for a good pixel density and ultimately both displays look sharp.
Viewing angles
on both are comparable. An interesting technical fact is that the inferior Lumia 520 actually has an IPS screen while the 620 does not.
Summing up, we'd easily give this to the Lumia 620. It has a great display with rich, vivid colors, nothing like the disappointingly dim screen of the 520.
Recommended Stories