Nokia 5630 XpressMusic Review
8

This is a global GSM phone. It can be used with AT&T and T-Mobile USA but without 3G.
Introduction:
We believe contemporary, music smart phones need to deliver proper audio quality, be powerful performers, measure compact size and offer great Internet connectivity. Apparently, quite many people feel the same way, so Nokia has decided to give them joy releasing the 5630 XpressMusic. It runs
Symbian S60
3rd Edition with Feature Pack 2 and sports 600 MHz ARM11 processor. It's slim and compact and features N-Gage support. Sounds quite promising, isn't it?
In the box you will also find a wall charger, phone purse (made of fabric), 4GB microSD card, pair of earphones, audio player wired remote, microUSB cable (too short), software mini DVD and user guide. We also happen to have great news for all fans of the nature – box itself is made from recycled materials only and the charger is of highest energy efficiency class.
Design:
On the outside, the Nokia 5630 XpressMusic looks like a blend of the two devices in the same lineup that we like best – the
5320
and
5310
. The 5630 is only 2 mm thicker than the latter or in other words is really thin, especially for a smart phone.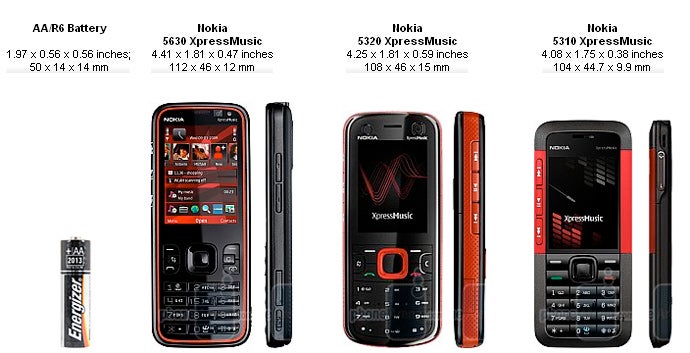 You can compare the Nokia 5630 XpressMusic with many other phones using our
Size Visualization Tool
.
We would have liked it far better if the
screen
was a bit larger, but we will have to make do with the current one that measures 2.2 inches and delivers QVGA resolution. Still, it comes with 16 mln colors and remains totally usable in direct sunlight, despite the fact screen gets slightly dim.
All
buttons
on the front side feel very comfy. The navigational ones are a bit small, but are prominent and make up for the size with enough travel. The keyboard sports large keys, aligned in distinct rows that are easy to feel with your fingers. Those on either side of the phone, volume rocker and camera shutter on the right and audio player controls on the left are all somewhat hard to press, because their travel is not pronounced enough. The microSD card slot is well hidden under a small flap and is also on the right hand side of the phone, while both microUSB and 3.5 mm jack are on the top.
The back side of the Nokia 5630 XpressMusic features a rugged pattern that feels like rubber to your touch and feels quite pleasing. The 3.2-megapixel, double LED flash camera is here as well. Just like most makes in the same lineup, the phone looks youthful, but not flighty and light as both the 5320 and 5220. Aside from the red and black variety that you see in the pictures, the phone also comes with grey or blue trim.
Nokia 5630 XpressMusic 360 Degrees View