Nokia 5320 XpressMusic Review
3

This is an unlocked GSM phone which can operate in the
US on AT&T and T-Mobile (without 3G).

Introduction:
The XpressMusic line of Nokia has always been mainly targeting the people of young spirit. Besides the music, they usually have one more passion – games.
The new model of the Finnish giant has as a purpose to satisfy exactly those needs. It employs a musical chip, which should provide a high quality sound and is equipped with a 3.5 mm jack for all types of headsets or speakers. On top of that, it runs on the Symbian OS with S60 interface (3rd Еdition, Feature Pack 2). This is the environment of the N-Gage platform, which is Nokia's strongest hand regarding mobile games. Unfortunately, at the time this review was written the N-Gage site did not yet have support for 5320.
The package includes:
Nokia 5320 XpressMusic
Handsfree
Software CD
User's manual
Quick Guide
Charger
1 GB microSD card* (it can be 512MB depending on the region)
Design:
The appearance corresponds to the audience it targets. It is not stylish, not elegant and even slightly thick. Comparing the 5320 to a fashion phone will be like comparing Avril Lavigne (the skater type) to Heidi Klum (top-model). That's why it will suit the young audience just fine. It has aggressive design and it's light, making it pocket friendly.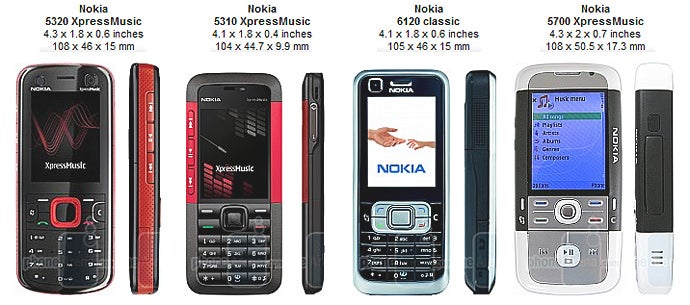 You can compare the Nokia 5320 XpressMusic with many other phones using our
Size Visualization Tool
.
2" QVGA display
supports 16 million colors, which provide a very well-saturated and pleasant image. When exposed on direct sunlight the picture fades and even though it's not nice, you can work with the phone just fine.
Over the display
is located the video calling camera and a single, hard to press button, which can be assigned to the function of your choice. The soft buttons, the SEND/END keys and the D-pad are jammed into a very small space and are a pain to use. The D-pad is the only one with a noticeable relief, and all the other buttons are small and therefore hard to press.
numeric keypad
is specifically outlined, to facilitate playing the games. It cannot be compared to the original buttons of the old N-Gage phones, but as a whole it offers comfortable use and distinct click when pressed.
Both sides
have an interesting pattern, which doesn't provide better grip. Here we have the music controls, the microSD slot, the volume rocker and the camera shortcut. Overall, they are not user-friendly, because they have a barely distinctive relief and a weak tactile feedback.
The bottom
houses the microphone and connectors for the charger, the headphones (3.5 mm jack) and the data cable (microUSB).
The opposite
side houses the power button, which is rather hard to press.
As a whole, the design will fit the teen lifestyle, but the hard to use buttons could be quite annoying.