Motorola XOOM Standard and Speaker docks Review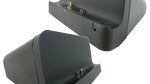 With its launch, Motorola is up to the task of bringing along quite a few accessories with its
XOOM
Android 3.0 powered tablet. Since this is a brand new tablet we're talking about, it's only fitting to find two completely different docks being made available for newly minted customers. Of course, the two might accomplish the same task by acting like any pedestal dock out there, but they do hold their own unique set of features.
First up, you've got the $49.99
Standard Dock
for the XOOM, which is compact enough for you to take it along with your Motorola XOOM. In fact, this one can easily suit anyone who wants to place their tablet close to their beds since it doesn't take much space on a table. Meanwhile, it'll charge the XOOM when it's docked, but in addition to that, we find an auxiliary out port in the rear that you can use to output audio to your own set of speakers. However, we definitely find it more useful when it's combined with the optional
Bluetooth keyboard
for the XOOM since it'll allow you to prop up the tablet upright while typing away. Needless to say that this is the preferred way of being more productive, rather than having to fumble around with the placement of the XOOM on your lap while you use the Bluetooth keyboard.
But if you have plenty of cash to cough up, you might be interested in the pricey $149.99
Speaker Dock
for the Motorola XOOM. Obviously, it does pretty much the same thing as the standard dock, like charging the tablet, but it holds a boisterous speaker within its shell. Unfortunately, it requires you to connect it with its power source, as opposed to relying on some sort on built-in battery source. Regardless, it easily beats out the XOOM's internal speaker and provides for some powerful tones when playing music. Not only that, but we find a microHDMI port on the back that enables for some interesting interaction between the XOOM and a high-definition television set. Basically, it mirrors the XOOM's interface and displays it on the big screen. Meaning, you can browse the web, watch YouTube videos, and check your email directly on your television set while controlling it via the XOOM. However, it's worth noting that you can essentially get the same functionality sans the Speaker Dock by simply connecting a microHDMI cable directly to the XOOM itself.
For those individuals that really want to make the Motorola XOOM part of their home theater center piece, then the Speaker Dock is for you. But when you factor in its $149.99 price tag, it doesn't necessarily add anything dramatic to the XOOM aside from offering better audio quality from its speaker. So that's why we prefer the more inexpensive Standard Dock, not only because it functions as a dock, but it's compact enough to take with you on a trip – thus providing some leverage between you and the XOOM at all times. Plus, it handsomely complements the experience when it's combined with the Bluetooth Keyboard.
Motorola XOOM Standard Dock & Bluetooth Keyboard Video Review:
Motorola XOOM Speaker Dock Video Review:
Recommended Stories