Motorola ThinkPhone Review: Serious Business
5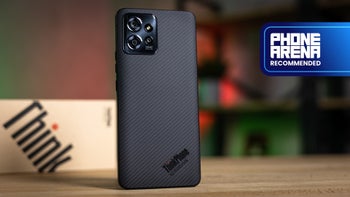 The ThinkPhone by Motorola is a very interesting device with an even more interesting premise. This phone leaves behind all the usual weapons of the modern smartphone arms race and brings back a notion that we might've forgotten: that smartphones are here to help you do stuff fast, efficiently, and as intuitively as possible.
Some of you may still remember IBM's ThinkPad line of business laptops, which, despite all the transformations, mergers, and rebrandings, are still synonymous with productivity and security. And that's what the ThinkPhone is all about, in a nutshell. Productivity and security.
This doesn't mean that the company has neglected other key components of the modern smartphone as it is, but rather focused on some very interesting software and hardware features. The ThinkPhone is also unique in the way it looks and the materials it is made of. Its design is based on the famous ThinkPad, but this time in the shape of a phone.
Let's dive in and see what this strange creature in the smartphone zoo is all about!
What's interesting about the Motorola ThinkPhone?
Iconic ThinkPad design
Aramid fiber back
Millitary grade drop resistance MIL-STD-810H standard
Strong focus on security (ThinkShield, Moto Threat Defence, Moto KeySafe)
Think 2 Think, Ready On seamless phone-PC integration
Dedicated Red Shortcut Key
Table of Contents:
Motorola ThinkPhone Unboxing
The Motorola ThinkPhone comes in a paper box with a very papery color, but the good news is that among all the paper inside (a "Read Me" that no one would ever read, a Motorola leaflet, and the SIM ejector tool stuck onto more paper), you'll find a hefty 68-watt (easy to misread this as 89-watt) fast charger and a USB-C cable.

The brown cardboard is fully recyclable, as indicated by a green planet-saving sticker on one side of the box. Other than that, it's the usual, but it's nice to get a charger included in these times of scarcity and carbon neutrality wars.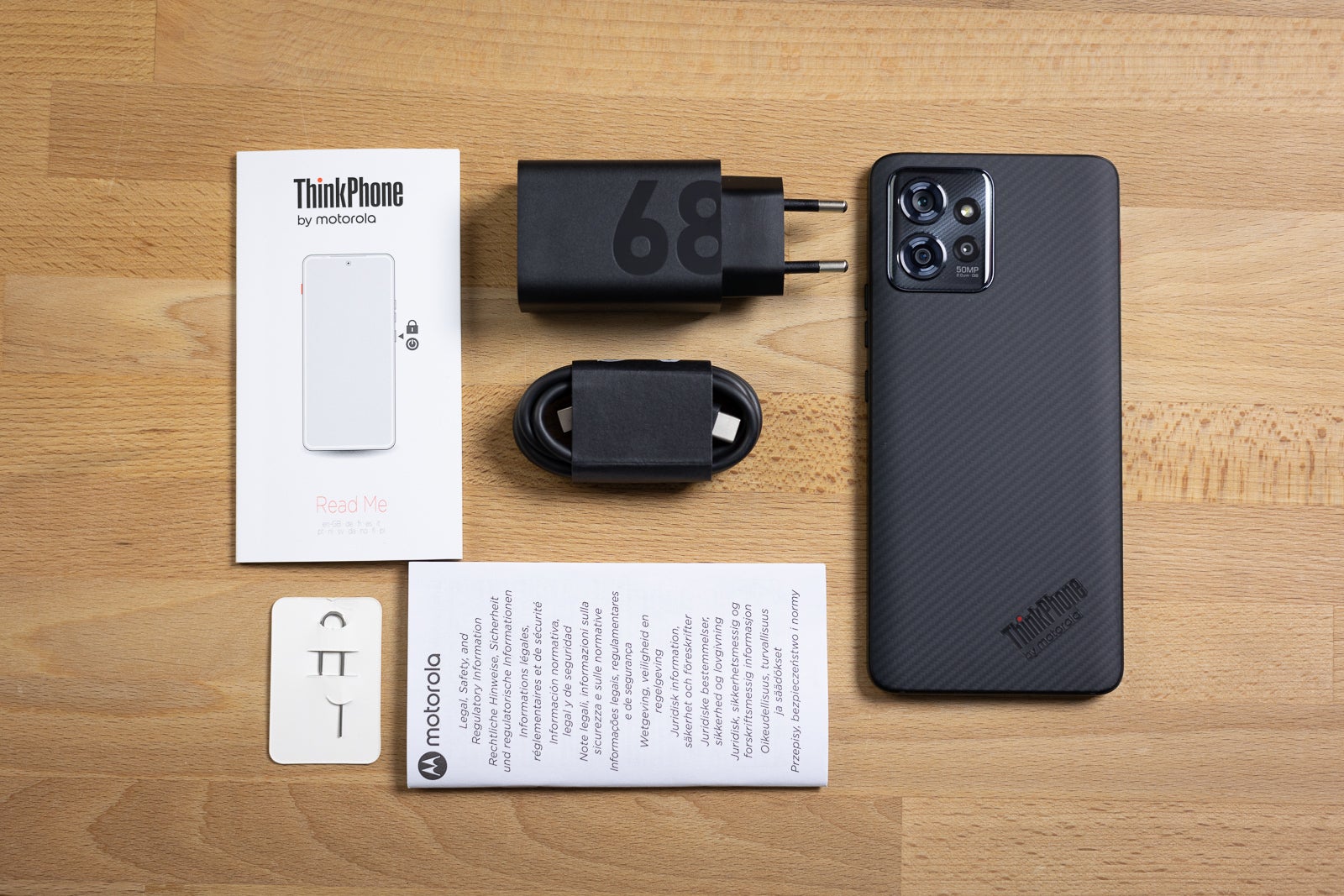 Motorola ThinkPhone Specs
A thinking machine
Specs
Motorola ThinkPhone
Size and Weight
158.8 x 74.4 x 8.3 mm (6.25 x 2.93 x 0.33 in), 188 g
Display
6.6" AMOLED, 144Hz, 1080 x 2400 pixels, HDR10+, 1200 nits
Processor
Snapdragon 8+ Gen1
RAM
8GB
Storage
256GB, no expandable storage
Software
Android 13
Cameras
50MP wide camera, f/1.8 aperture
13MP ultra-wide camera, f/2.2 aperture
32MP front camera
Battery Size
5,000 mAh
Charging Speeds
68W wired, up to 15W wireless charging
Price
starting at €999
Looking at the table above, it's clear that the Motorola ThinkPhone is a serious device trying to cover all bases and give flagships a run for their money. The 144Hz HDR10+ screen is one of the key features, alongside the hefty 5,000-mAh battery.
You can check the
full specs here
.
Motorola ThinkPhone Design & Colors
The Red and the Black
The design of the Motorola ThinkPhone is a typical Stendhal affair with a touch of aramid fiber. Red and black do pair nicely together, and IBM knew this when it invented the iconic ThinkPad logo with the red dot above the "i".
It's a classy design, aided by the fact that the phone is pretty slim and lightweight. The back is aramid fiber, a clear departure from the boring everyday glass sandwiches, and it's also ever so slightly curved.
The ThinkPhone logo sits proudly in the lower right corner, and its glossy blackness makes it stick out on the rubbery aramid finish. The camera bump is very smooth and almost flush with the body, employing a similar design to the Edge 30 series.
The frame is made out of aircraft-grade aluminum with the usual configuration of ports and buttons, barring one exception. The red shortcut button can be found on the left side, nicely textured and clicky.
The phone is military-grade drop-certified (MIL-STD-810H), so it should be fine if you drop it from 1.3 meters onto concrete. To round out the hardware protection, there's an IP68 rating for dust and water resistance. The glass above the screen is Gorilla Glass Victus, so you might not need a case and a screen protector with this phone, considering all of the above.
All in all, the design is very classy and businesslike, the phone feels nice in the hand, and the aramid fiber back is very pleasant to the touch. Even though it doesn't attract fingerprints as a glass back would, oily fingers will leave stains, visible when the light falls at a certain angle.
Motorola ThinkPhone Display
The Motorola ThinkPhone comes equipped with a gorgeous 6.6-inch AMOLED panel, frankly one of the best we've ever seen. It sports a 1080 x 2400 resolution and a 20:9 aspect ratio, plus HDR10+ support and a buttery-smooth 144 Hz display refresh rate.
Not only are the colors very accurate (an average deltaE of 1.59), but the brightness is also very good. We managed to get 1,037 nits in Auto, which is very close to the advertised 1,200 nits in the specs sheet.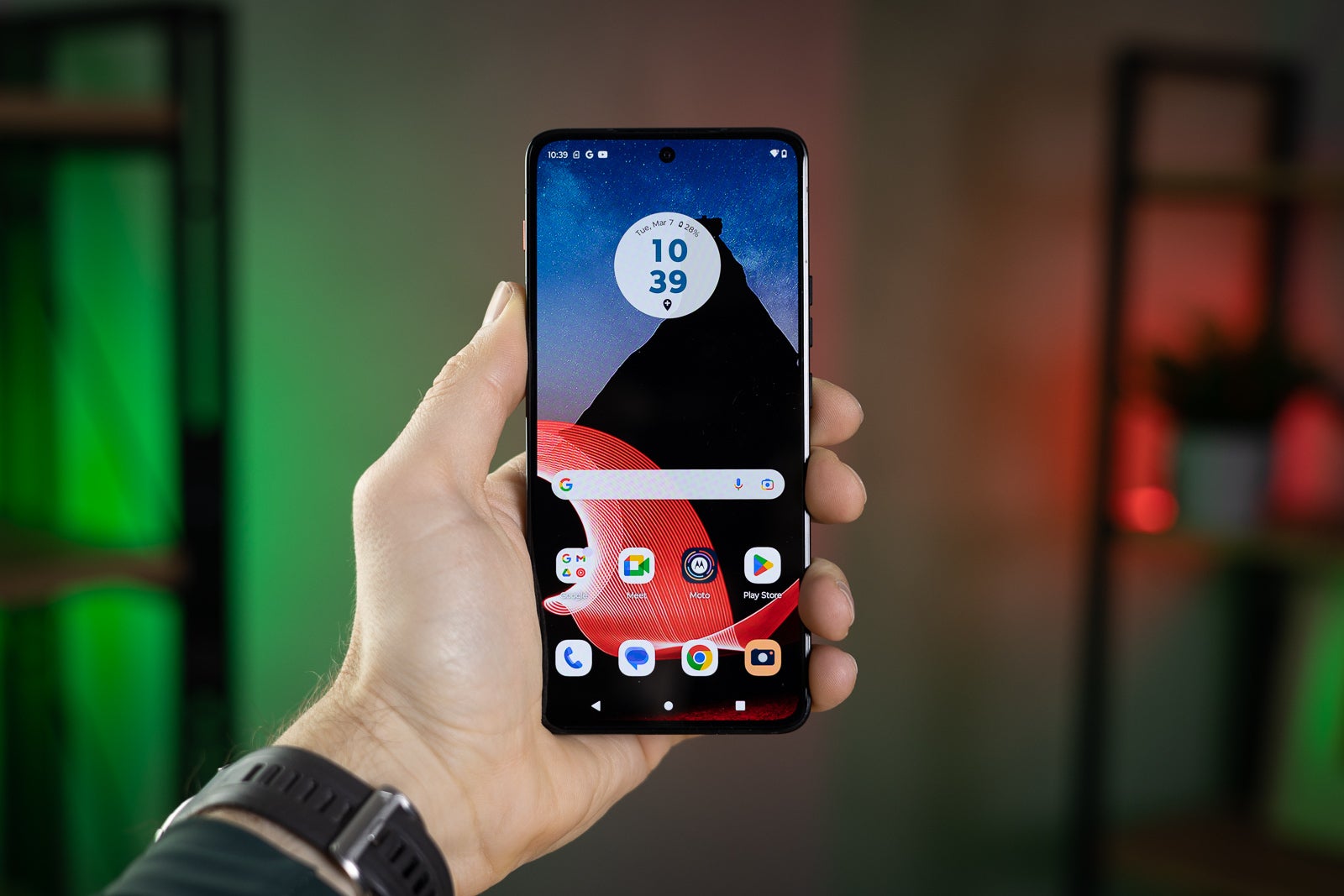 You can choose from two color modes—Natural and Saturated—and there's also a slider to adjust the color temperature if you wish to do so. There are four settings under the Display refresh rate tab: Auto, 60Hz, 120Hz, and 144Hz.
Switching between 60Hz and 144Hz brings an almost physical sensation of joy; the difference is very noticeable. The Auto mode promises to take care of this for you, saving battery when you don't engage in "scroll of death" activities and boosting the refresh rate when needed.
This display is not an LTPO panel, which means that the lowest refresh rate it can fall to is 60Hz. Not a huge dealbreaker, but something to be aware of. I couldn't find an Always-on display mode either, maybe due to concerns about battery life.
Display Measurements
The Motorola ThinkPhone relies on an under-display fingerprint for biometrics, and there's also the Face Unlock option, which, given the single 32MP front-facing camera, might not be as secure as using your thumb.
There are a couple of neat features in the lockscreen menu. You can choose to activate Face Unlock when you lift the phone and jump straight to the home screen, which can save a tap or two. I was never a huge fan of under-display fingerprint scanners, but the one here is pretty fast and accurate, at least when you manage to hit the right spot with your finger.
Motorola ThinkPhone Camera
Focus woes (Fixed!)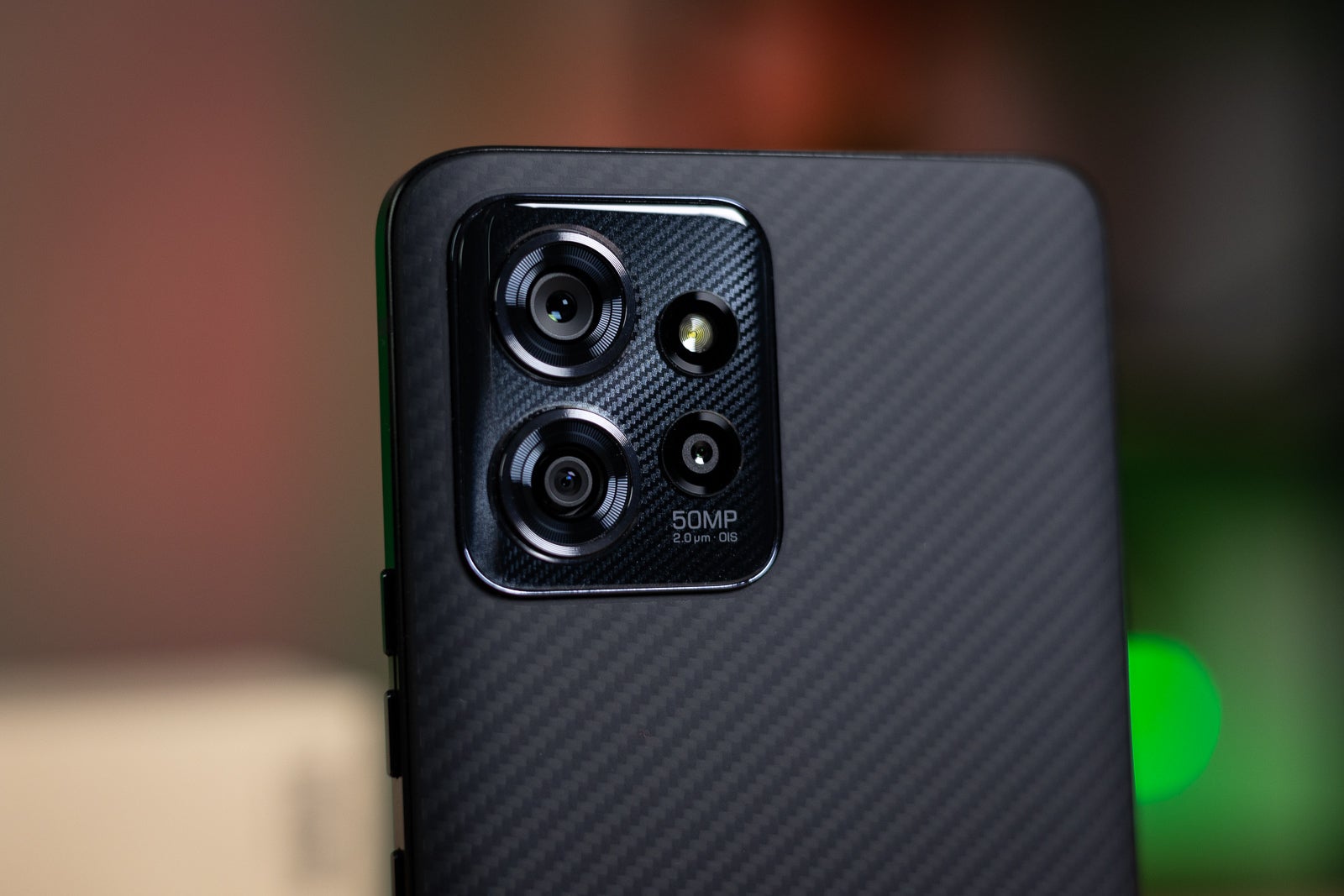 The sleek bump on the back of the Motorola ThinkPhone holds two cameras. One is a 50MP wide camera with dual phase detection autofocus and QuadBayer technology (binning some pixels to produce 12MP shots with a larger overall pixel), and the other is, unsurprisingly, an ultrawide 13MP snapper.
The photos taken with the main camera look decent, although not on par with some of the flagship camera phones out there. Something is left to be desired on all fronts, dynamic range, detail, and focus.
Speaking of focus, something is most definitely going on with the Dual PD autofocus here. Some pictures are out of focus, and videos display a weird focusing issue as well. But more on that later. All in all, pictures taken with the main camera are decent enough but won't make phones such as the S22 or the iPhone 14 sweat.
The ultrawide camera is much more straightforward, and funnily enough, it produces some great shots. At times, photos taken with the ultrawide camera look even clearer and sharper than the ones shot with the main camera. Go figure.
There's a macro mode that uses the ultrawide camera, and to be honest, you can snap some cool closeups if you have the patience, but it's not a dedicated macro, and the actual focus distance is not small either.
Low-light shots just accentuate the focusing issues, you need to hold the phone steady to get a good shot, and even then, the end result is a bit on the softer side, with not much detail. There's Night Vision, Motorola's proprietary image-stacking algorithm, and it does a decent job, but once again, your mileage may vary.
Now, the 32MP selfie camera is also decent, with portrait mode algorithms doing a fine job of blurring the background and putting you front and center in the shot. You can adjust the f-stop via a slider and also make the selfie a bit wider to incorporate your friends, if you have any.
As far as video is concerned, the autofocus issue is quite exaggerated here, and you can clearly see it in the samples below. The moment you turn the phone, the focus starts jumping. It might have something to do with the software, and we might get a patch at some point, but at the moment, it's not great. (We've reached out to Motorola for more info about the issue and will keep you posted.)


The takeaway here is that the camera system is the weak link in the chain, at least at the moment of writing this review. Everything else about the ThinkPhone is solid, and some features even touch flagship base, but as it stands now, the camera system is a bit sketchy. Nothing a software update can't fix, we hope, but time will tell.
UPDATE:
It seem that a software update for the camera has fixed the focusing issues both in video mode, and also while shooting stills. Included below you'll find some new photo and video samples.
Video samples after the update:



1:45

Motorola ThinkPhone Performance & Benchmarks
Not too shabby
The ThinkPhone is a pretty powerful machine, with its beating heart being the Snapdragon 8+ Gen 1 chipset. Granted, it's not the latest Gen 2, but the "plus" has earned a reputation as a solid performer. There's 8 GB of RAM onboard, paired with 256GB of non-expandable storage.
Performance Benchmarks:
The phone performed as expected in our synthetic benchmarks, as you can see on the graph above. It definitely fits in with other Snapdragon 8+ Gen 1 phones, and the gap to the newer and faster Gen 2 is also obvious.
In real-life scenarios, you won't feel any lagging or stuttering; the experience is absolutely flagship-grade. The clean, almost stock, Android 13 has something to do with it as well, and speaking of software, let's jump to the next section, as it hides a couple of nice surprises.
Motorola ThinkPhone OS / Android version
Safe and sound
One of the key points to justify ThinkPhone's existence is the heavy focus on security. The other one is seamless PC integration. When you put those two together, you end up with a phone that should thrive in a business environment. It's a work phone—a corporate dream without any negative connotation to the word.
The clean Android 13 has a bunch of security and privacy features of its own, including the Privacy Dashboard, but Morotola takes security to another level. The company has baked in the ThinkShield end-to-end security package, which includes clever features such as secure boot and a hardware root of trust.
When you add the secure vault, the option to scramble the pin pad, and the MotoThreatDefense, along with many other security touches, the end result is one of the most secure Android phones on the market. There are certifications to back this claim up (FIPS 140-2 US Government Certification, Android Enterprise Recommended, and more).
Okay, the ThinkPhone is pretty secure, but what can you do with it? There have been many implementations of the so-called seamless phone-to-PC integration over the years, and Motorola rocks its own thing with Ready For.
You can connect your phone to a Windows PC fairly easily, using either a cable or WiFi. Of course, you need to install the Ready For app on your PC first, and the initial connection might require a few attempts, but once your ThinkPhone and PC start to talk to each other, it's all good.
You can stream Android apps to your desktop, run the phone in desktop mode, and amp up your productivity (that's some real multitasking right there). You can also mirror your phone on your PC screen, use the ThinkPhone as a dedicated web camera, set up an instant hotspot, or transfer files between your phone and PC just by dragging and dropping them.
The idea is nice, and the implementation is one of the best I've ever seen—you can quickly wake up the connection at any time by pressing twice the red shortcut button and start streaming an app, launching file explorer, or mirroring your phone directly onto your PC screen. It works like a charm.
In practice, most people probably won't feel the need to go through all this, as easy and straightforward as it might be. The thing is, most productivity apps are available on Windows, and in most cases, people would prefer to launch the desktop versions of the said apps.
There are some scenarios where such seamless connectivity would be useful, but most of the time, people will probably use it to play mobile games on a bigger screen or use the phone as a webcam while looking at the other participants on that huge TV.
Other than that, we're looking at a clean Android with some Moto goodies organized neatly in the Moto app.
Motorola ThinkPhone Battery
Heavy duty
The Motorola ThinkPhone rocks a huge 5,000 mAh battery, which is a feat in and of itself given the compact size of the phone. Furthermore, no sacrifices have been made with the wireless transfer of energy, Motorola found space for the coils, and the ThinkPhone supports wireless charging.
It's not a big surprise, then, that the Motorola ThinkPhone proved to be a stamina champion. The Snapdragon 8+ Gen 1 is a pretty efficient chipset, and paired with the 5,000 mAh battery it can drive the phone for days, literally.
PhoneArena Battery Test Results:
We did our testing using the Auto display refresh rate setting, which might explain the lowish 3D gaming score, as in that mode the phone maintains very high frame rates, taking a toll on the battery for sure.
In practice, you can squeeze two days out of the phone if you're not a heavy user, but even if you keep the phone at 144Hz (it's a joy to the eye), you'll get a solid day plus some change left in your metaphorical pocket.
Motorola ThinkPhone Charging Speeds
The good news here is that we don't have to recommend a charging brick for this phone, it comes with one included in the box. The ambiguous 68 (not 89!) watt fast charger does its job amazingly well, and it can fully charge the hefty 5,000 mAh battery in under an hour. Here's the charging profile for the Motorola ThinkPhone.
In 15 minutes - 33%
In 30 minutes - 68%
Full charge - 54 minutes
Motorola ThinkPhone Competitors
With a retail price starting at 999 euros, the Motorola ThinkPhone has a target on its back. There's plenty of choice, you can get almost every flagship out there for that kind of money. Not only that, but if you don't care about all the security features, the aramid fiber back, and all the ThinkPad appointments, you can get the
Motorola Edge 30 Ultra
for less. It's practically the same phone with better camera and faster charging.
Of course, the ThinkPhone is primarily focused at and suited to enterprises, so comparisons are a bit futile and out of place here. The Galaxy series do offer a comprehensive suit of security features, such as Knox security, and - what do you know -
the company announced special Enterprise Edition models
for the Ultra and the vanilla S23 literally a couple of hours ago. So, you can go that route if you want a business phone
Motorola ThinkPhone Summary and final verdict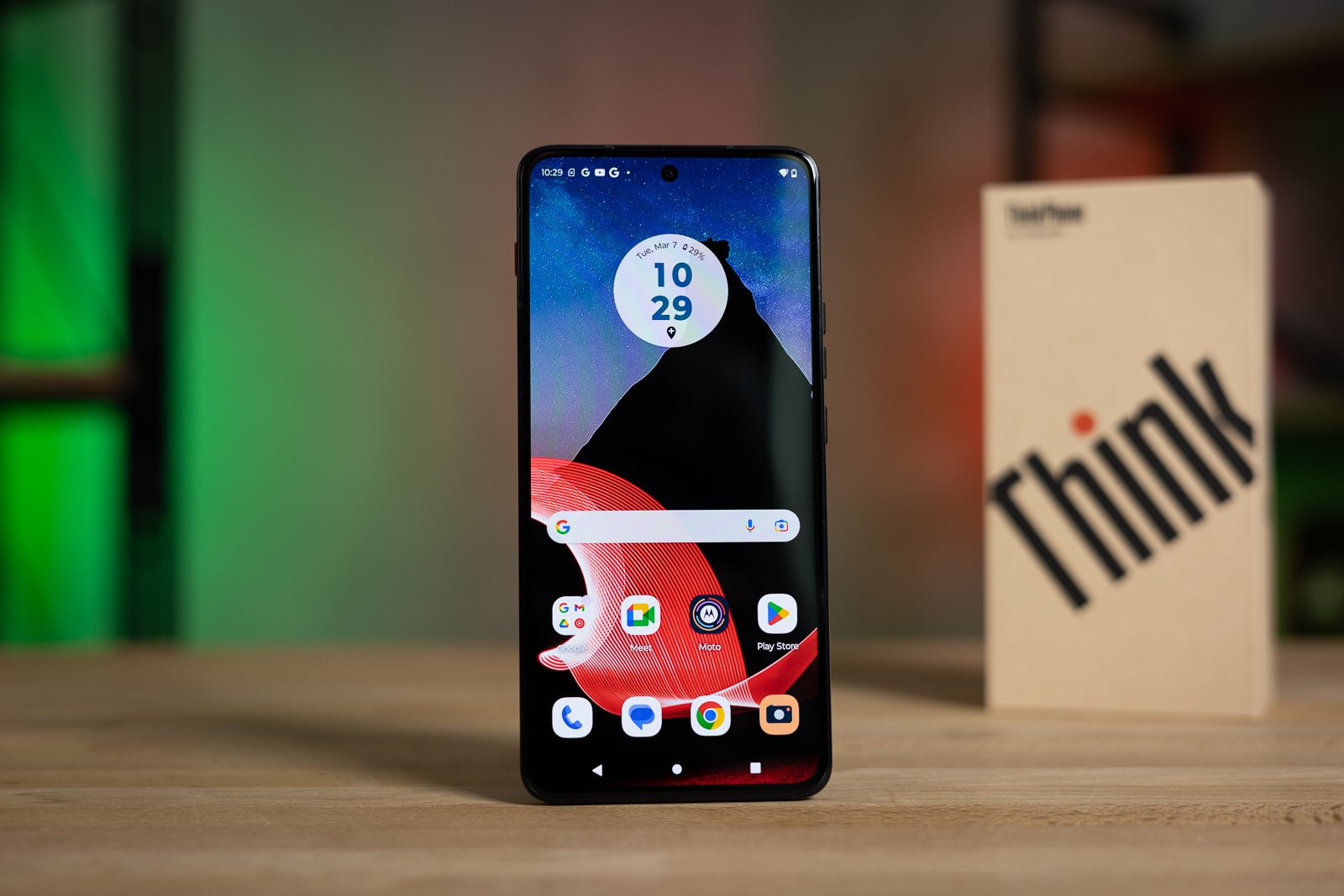 It's really hard to give this phone a final score. The ThinkPhone is not your normal end-user device, and we should be aware of that. From an end-user's perspective, this phone may be a hard pass, it's just too expensive, and there are far too many popular phones out there to choose from. If you ran a medium-sized business with the ThinkPad logo spread around your working gear, then arming your employees with this beauty might be a great decision.

Objectively, the Motorola ThinkPhone is a stunning device in almost every area. The display is amazing—bright, color-accurate, and super-smooth, thanks to the 144Hz refresh rate. The chipset is very powerful, albeit not the latest one Qualcomm has to offer, and the battery life is very solid. You're getting fast charging (68W) with a charger in the box, a sturdy design (military-grade drop protection without a case!), and some super nice software features.
The final score was updated to 8.5 after the software fix for the camera focusing issues