LG Wing review
20
The LG Wing is definitely… out there. A strange and kind of wacky device — LG has again shown that it doesn't shy away from experimenting. The Wing looks like a phone that someone just came up with during a brainstorming session, and it was accidentally greenlit.
But don't get me wrong — it's definitely nice to see that companies are trying to stir the pot a little, see what's possible, and what the future of smartphones might shape up to be. It is LG's willingness to experiment that has earned it the respect of a ton of smartphone fans out there.
But respect doesn't always translate into sales. And, I feel, the LG Wing will be that "enthusiast" phone — the kind of device that you only see in stores and in reviews. Maybe some dedicated phone enthusiasts will buy it. And they'd only use it to get reactions from the cool swivel mechanism.
A "regular" smartphone user will most probably choose to spend their $1k towards a conventional phone with better specs, functionality, or popularity.
LG Wing design and display
Before we get to the part about the swivel — how's the LG Wing when in its "normal" form? Well, it feels and looks pretty much like your regular, upper-tier smartphone. It's a bit thick and a bit heavy, that's a given, but the body is narrow and the phone itself is easy to hold in the palm.
The back of the phone is covered in matte glass, but it does show a fair bit of fingerprints — at least the Illusion Sky color that we have here does.
The LG Wing feels extremely solid and the swivel mechanism is very tight. There's no rattling during normal operation and the swivel screen does not budge under the pressure of regular taps and slides.
Once you need the two-screen experience, you need to apply a bit of pressure on the bottom of the screen and swing it out leftwards. The main screen now turns to landscape orientation, and a new — almost square-shaped — screen is revealed underneath.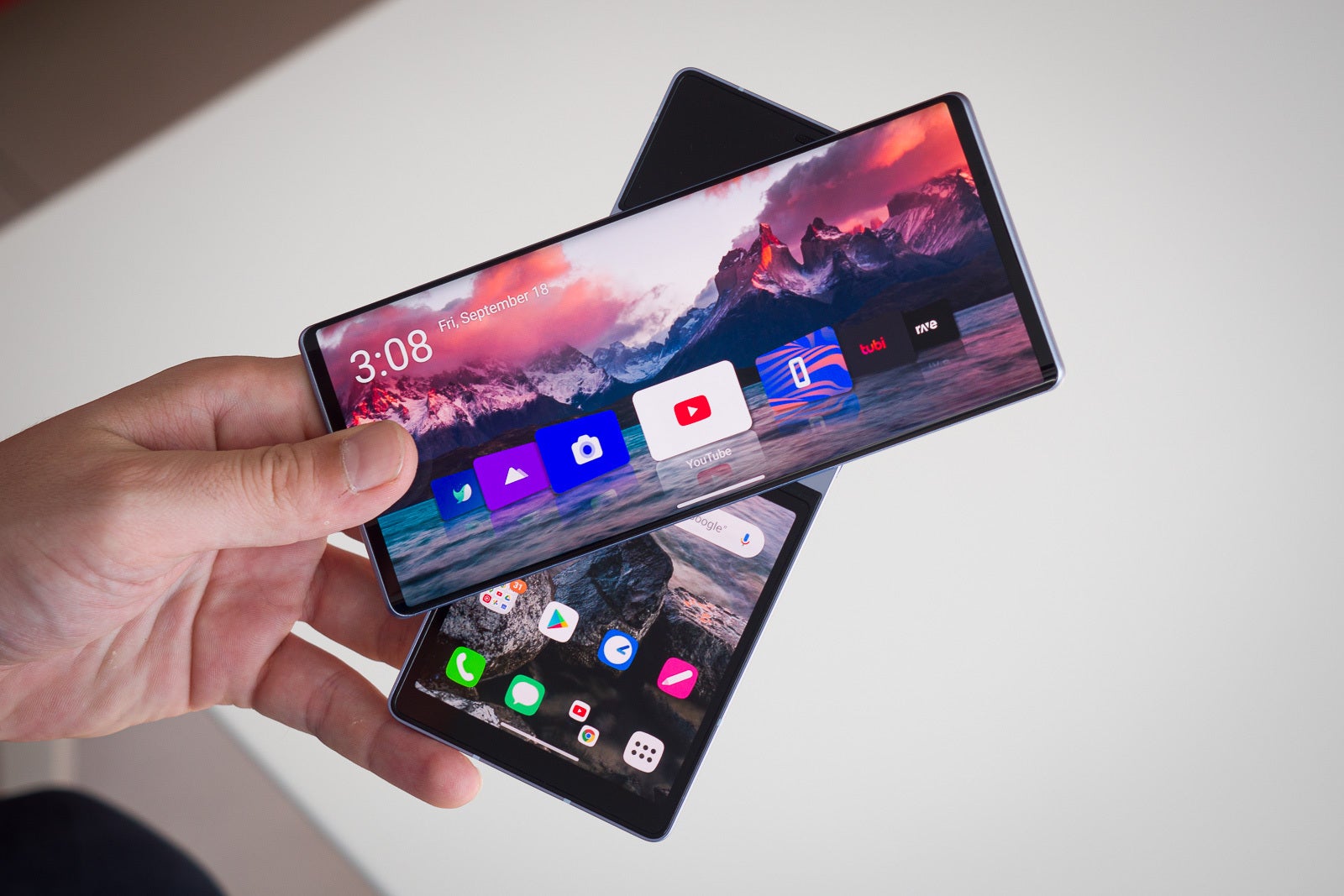 Swiveling the display out is super-satisfying and I can just sit there, clicking it over and over again, annoying everyone at the office. It's a tight mechanism, which feels smooth and solid to operate, with a satisfying "click" at both ends of the swing. There's even a software "click" sound effect, which you can mute if you choose. The mechanical one is good enough, though.
The LG Wing's main screen is a 6.8-inch P-OLED panel with a resolution of 1080 x 2460 pixels (20.5:9 ratio) and curved edges. The side bezels are super-thin, but the phone does have just a bit of a chin and forehead. The secondary screen is a 3.9-inch OLED panel with a 1080 x 1240 resolution.
As expected, the OLED panels allow for infinite contrast as well as very punchy colors. The LG Wing's main screen does have a slight cold hue to it — either bluish or greenish, depending on what mode you set it in. I did manage to kind of negate the cold cast by adjusting the screen to taste in Custom mode.
Display measurements and quality
You can set the color profiles of both screens individually, or have them synched to each-other's settings.
What do you use the LG Wing's secondary screen for?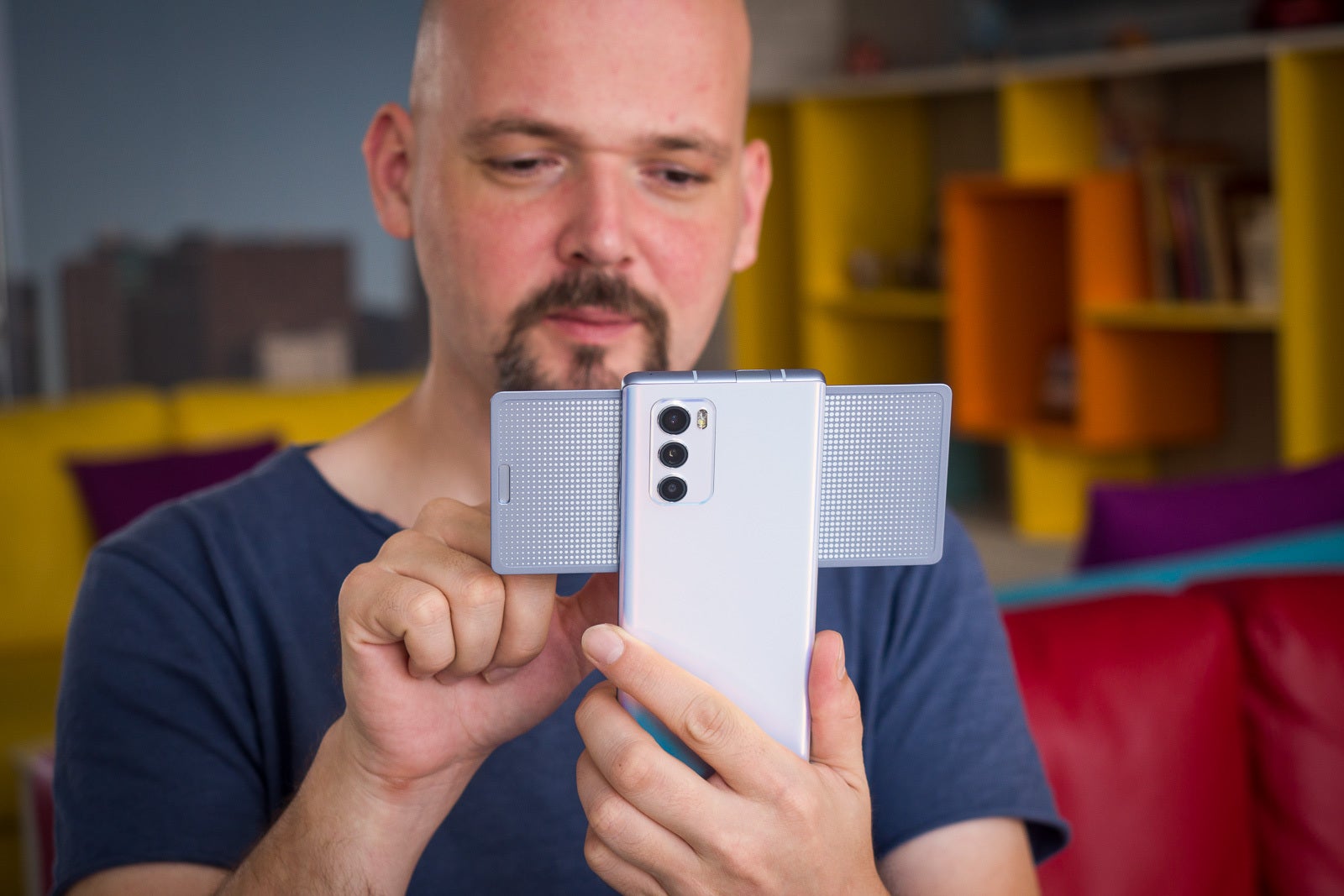 It's a two-screen phone made with multitasking in mind. The 3.9-inch screen is mostly meant for you to run "backup" apps on — you know, the kind of app that doesn't always need to be stretched across a huge 6.8-inch display. Like Spotify or your recent texts, or the settings app when you want to make a quick adjustment, or your calendar. You can even have your notifications show up on the tiny screen, so your media experience doesn't get disrupted. You can make shortcuts to your favorite app pairs, so they open up on their respective screens with a single tap.
There's a Naver Whale browser onboard which is specifically made to work with the Wing's two screens. It'll automatically play video on the main display and let you keep scrolling around in different tabs on the bottom screen.
Additionally, some apps can use both screens to enhance your experience. For example, if you are playing a YouTube clip, the secondary display will hold your media controls. So, you can fast-forward or change brightness without touching the main screen and disrupting the video in any other way.
The same goes for gaming — you can have the Game Launcher and its optimization settings shown on the tiny screen, while you game on the big one. LG has partnered up with the developers of Asphalt 9 to show how the secondary screen can be used to expand gaming — you can race your car on the main screen, while the minimap and other UI elements can be away on the secondary screen, just to leave more real estate on the big display.
In all honesty, it kind of felt weird to play this way, as the phone's weight and ergonomics get really unbalanced — you need to control the game by holding the super-thin swivel-out screen, while the phone's body weighs you down and doesn't let your fingers rest comfortably.
This would work fantastic for action games that need virtual joysticks — if the developers let you place said joysticks on the small screen. Then, you'd have a good grip on the phone and full view of the big display.
Also, I've found it works quite well for the now super-popular game Among Us. Since this game involves a lot of chatting and writing (something that's hard to do in landscape mode), the LG Wing's keyboard, which will open on the small screen whenever it's unfolded, was perfect for me.
Does that sound like a limited use case? Well, "niche" is pretty much the LG Wing's entire schtick. Its rather awkward interpretation of the dual-screen concept can be useful — really useful — to a select few people. I've heard stories about Uber drivers or food delivery people often needing dual phone setups — one for navigation and one for apps and calls. The LG Wing might be helpful there since its dual-screen form is still very friendly to car mounts.
The LG Wing and cases
That swivel mechanism needs some room for the display to swing out. So, forget about cases with "protective lips". In fact, the Wing barely offers a protective case anything to latch on to. The phone does come with an LG-made case in the box. It's a shell that only covers the back side of the phone and it attaches to it with a light adhesive that's pre-applied on the case.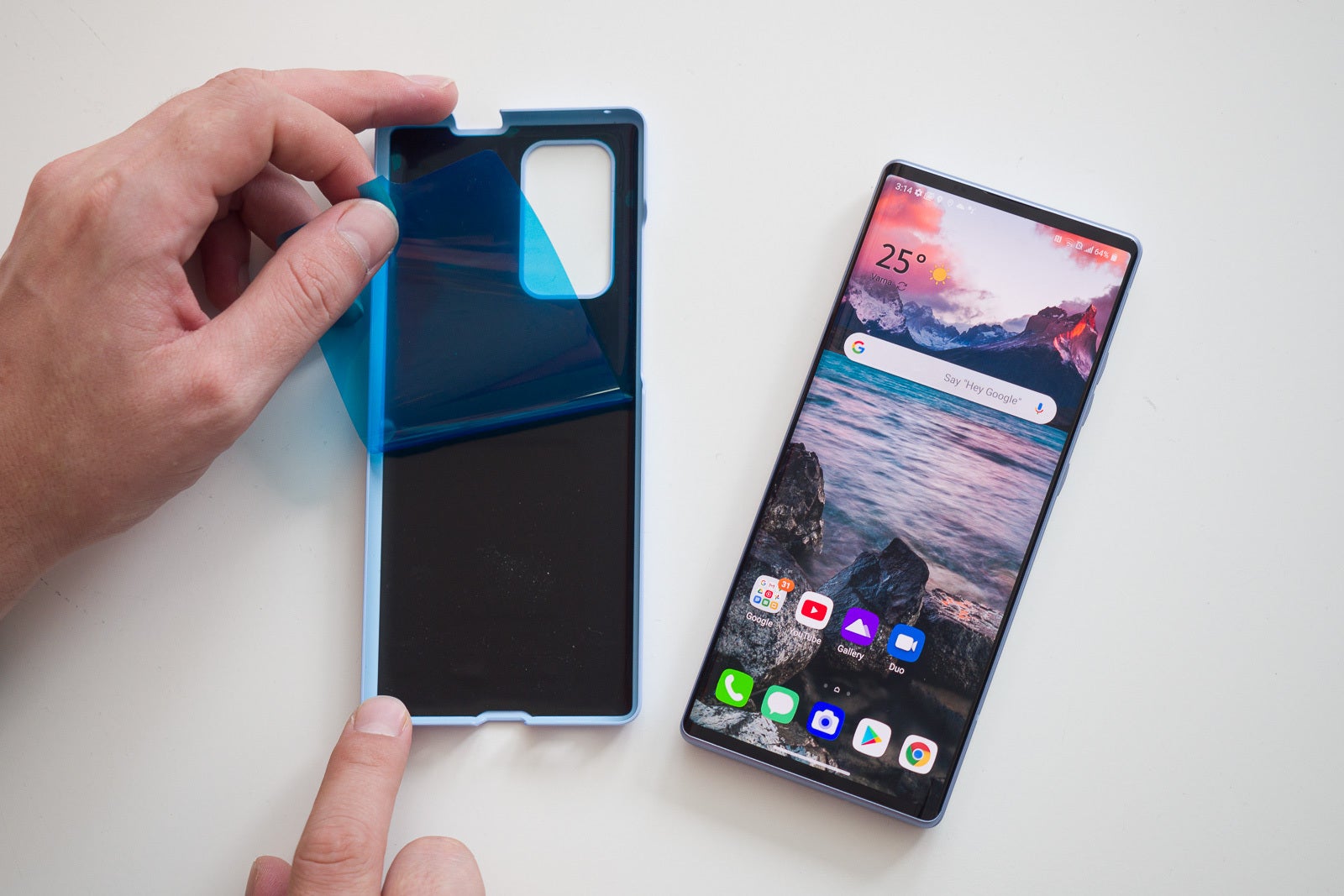 The LG Wing case needs an adhesive to stay on
Yep... not the best solution. But then again, is there any other way to attach a case to such a crazy design?
Needless to say, your 3rd party case options will be limited. And this phone won't really be fully protected by anything out there. Not unless you wrap it in a conventional case, which will block the swing-out mechanic.
LG Wing camera: the gimbal phone!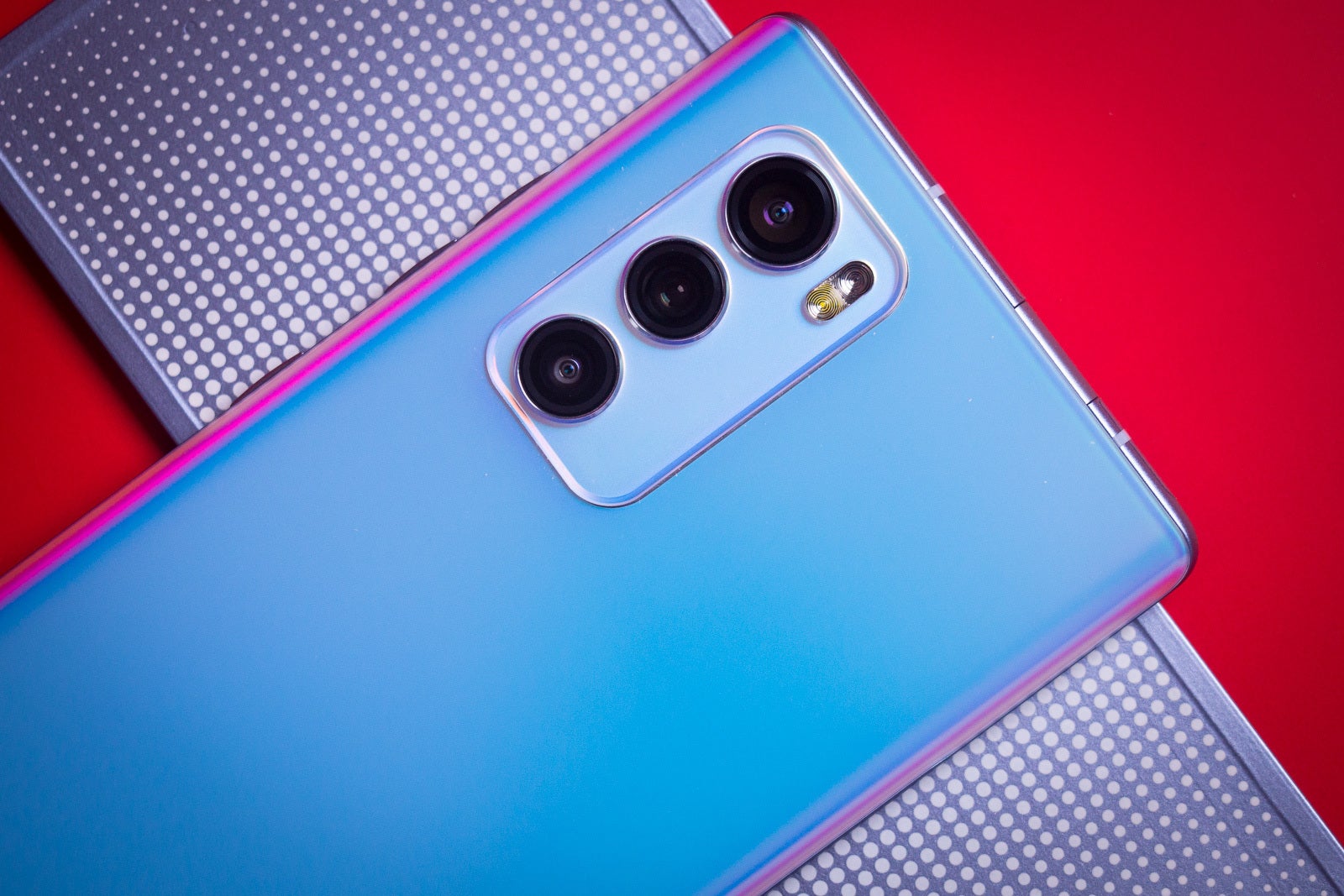 Still, we are not done with the use cases of the LG Wing's crazy swivel design! The triple camera on the back has one camera that's only accessible when you unfold the phone. It has a 12 MP sensor, tucked behind an ultra-wide lens, that's supposed to have some crazy stabilization.
The UI is set up to represent a gimbal-like experience with its smooth controls and stabilizers. The bottom screen becomes a controller for the camera. You have a virtual joystick, which allows you to rotate the camera around, a lock mode, which will keep the camera view locked even if you rock and shake the phone, and three shooting modes for different types of stabilization.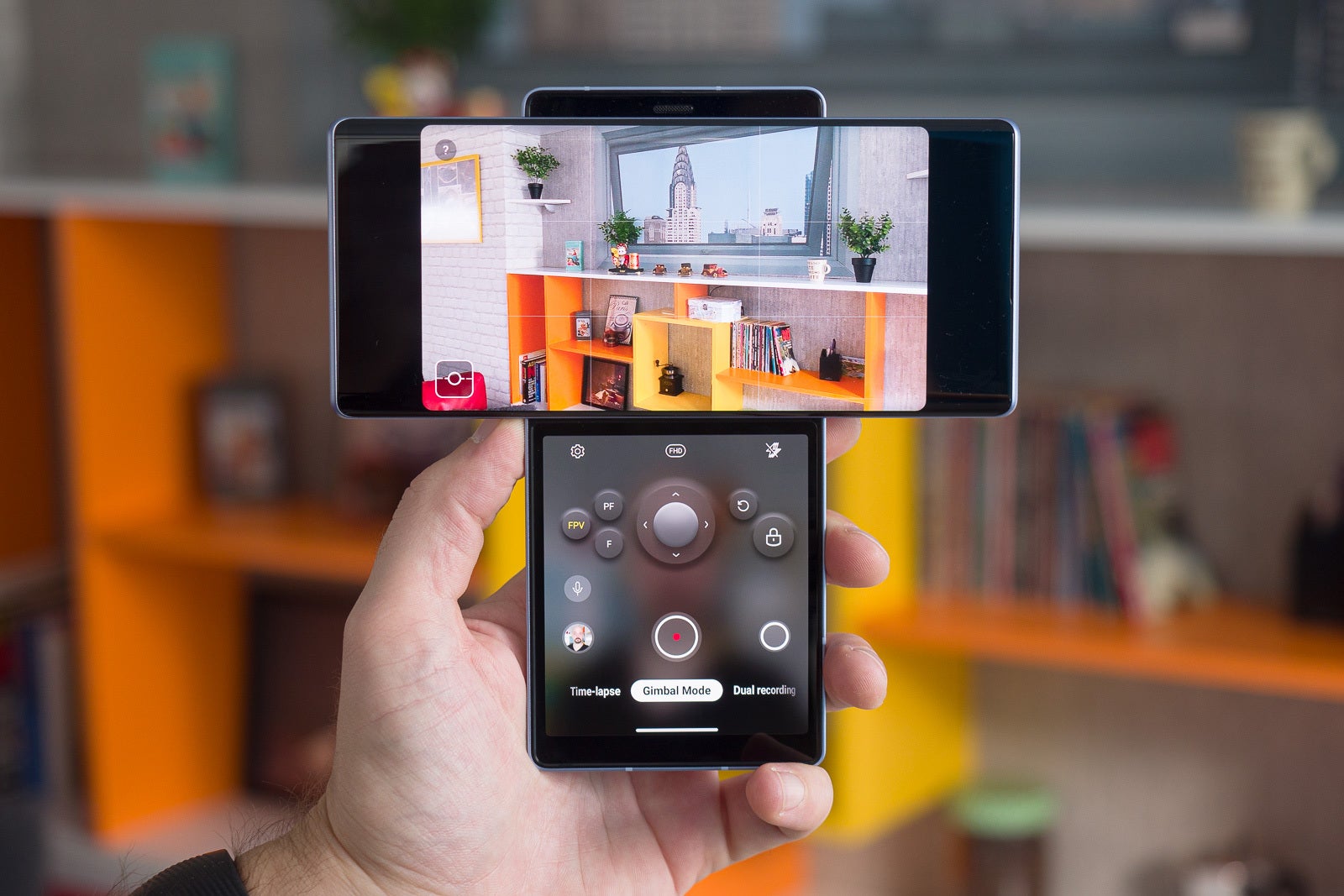 It's pretty fun to play with, but the image quality is not really something to write home about. Details are soft and colors look a bit washed out. To top it off, the stabilization of the main camera seems to be doing pretty much as good as (if not better than) the "gimbal" secondary camera.
As for the LG Wing's "regular" cameras — we have a 64 MP main sensor and a 13 MP ultra-wide shooter. The camera's Portrait Mode also allows you to crop in at 2x zoom, so it basically uses the high res sensor to emulate a telephoto lens (like the Galaxy S20 and Note 20 do).
The main camera is pretty good. It can handle high dynamics well — it's not outstanding, but it can hold its own when facing rays of light against darker areas. There's a lot of post-shot oversharpening going on, to the point that some objects may have a halo over them. This needs to be dialed down a notch for sure.
Colors will usually come out accurate, though a bit oversaturated. The Auto Scene Optimizer is usually helpful here, but it will sometimes dial colors way up. Check these samples — these roses were already extremely red, so dialing up the saturation was not a good idea. When I turned the Scene Optimizer off, I got a better photo.
< Optimizer ON
Optimizer OFF >
Then, there's a selfie camera. It pops out on a mechanical module, which we've seen before, but it just never gets old. It has a 32 MP sensor, which sounds like it should make super-sharp selfies, but it's nothing crazy. The selfies from the LG Wing look OK — a bit soft, but detailed enough. Nothing too glamorous here.
With the phone unfolded and the selfie camera popped out, the LG Wing has a dual camera mode, which lets you record video with the front-facing and rear-facing camera at the same time — something for content creators who might want to get footage of the action and their reaction at the same time. Or recording a fun skit in a conversational style. Or… whatever the imagination comes up with.
Granted, we've seen "bothies" before — using two cameras hasn't exactly picked up. But it doesn't hurt to have it on board, too.
LG Wing audio quality
The Wing only has one loudspeaker, situated at the bottom of the phone. It's nothing that will rattle your bones — a slightly honky phone speaker that gets loud enough to be heard. Not really something you will be listening to Spotify through.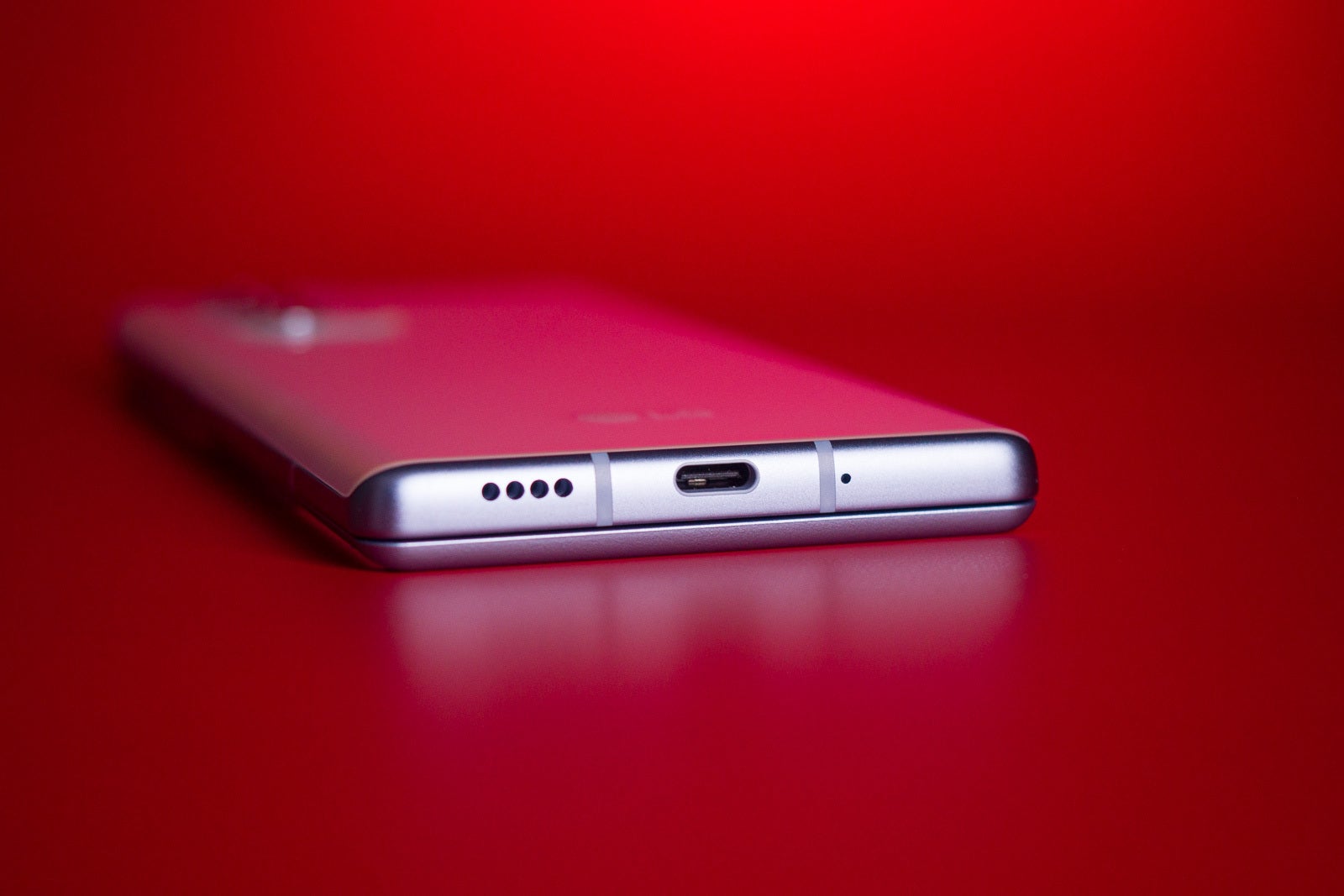 The earpiece sounds decent — voices come in loud and clean. Though, since it's recessed behind the swiveling display, it does always sound like you are holding the phone at a distance from your head.
LG Wing processor, hardware
It's a cool-looking phone for sure, but it's internals aren't really top-tier. The LG Wing is powered by the upper-midrange Qualcomm Snapdragon 765G. Though, to be completely fair, it's not a bad processor in any way — it may not be crushing benchmark charts, but it can definitely run anything and everything from the Play Store.
It also comes with 8 GB of RAM, which is still plenty enough, and 256 GB of storage (128 GB in international markets).
So, some corners may have been cut to pay for that swivel mechanism. And this is where most people will find it hard to get the LG Wing — $999.99 can buy you a top-tier phone with a 120 Hz screen and a top-shelf processor. Does the Wing's swivel justify the sacrifices here?
For what it's worth, I found the phone to run pretty well. Yes, I definitely miss the smooth animations of a high refresh screen, and I did have to play with lower settings on Modern Combat 5. But I could still play just fine. I could multi-task just OK. It doesn't fly like a Note 20 Ultra, but it can get you through all your regular, daily smartphone tasks without making a fuss.
LG Wing battery life
The Wing's 4,000 mAh battery can keep the lights on for quite a while. In our tests, the phone didn't give us any less than 8 hours of usage. In real life, I can say that I confidently carry, use, and swivel the LG Wing, knowing that its battery can last me well into the evening.