LG Optimus Chic Review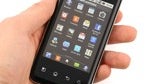 This is a global GSM phone. It can be used with
T-Mobile
USA and
AT&T, but
without 3G.

Introduction:
The new Optimus line of LG handsets was announced in the summer with the precondition that it will include no less than ten devices by year end, both Android and Windows Phone 7. There is even an Optimus Pad tablet rumored to be in the works, as well as a top of the line dual-core smartphone.
The
LG Optimus Chic
was one of the two handsets announced simultaneously in the first press release about the Optimus line, and its alleged virtues were that it will look good, and run Android 2.2 from the start. Well, fast forward a few months, and the Froyo-blessed handset is in our hands for a review, so let's give it a chance to prove just how chic it is...
Design:
The streamlined design of the LG Optimus Chic is indeed a looker – entirely black with a chrome-like rim surrounding the phone is always classy. There are no sharp edges, just smooth curves both in the corners, and on the back. The plastic feels a bit cheap, we've come to expect soft-touch coating in well designed handsets, but we guess LG wanted to keep the phone glossy all around, so as to justify the "Chic" moniker.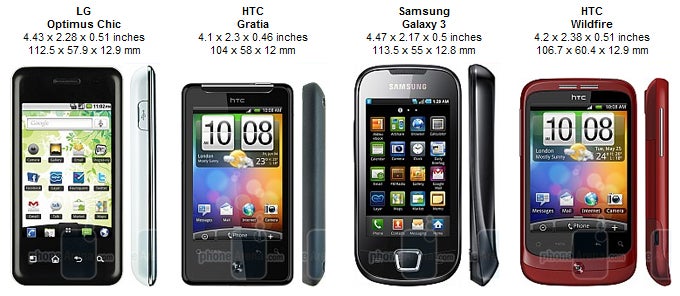 You can compare the LG Optimus Chic with many other phones using our
Size Visualization Tool
.
The black rectangular slab feels a bit on the heavy side in the hand, and is of average size, despite that the screen is not large. A 3.2" LCD screen is modest for today's standard, and comes at 320x480 pixels of resolution on the LG Optimus Chic. Underneath it are the four traditional Android buttons – menu, home, back and search, which seem capacitive, but are rather finicky, and require significant pressure to register a touch. It's probably the main gripe we have with the hardware.
LG has kept it simple around the handset, with just a volume rocker on the right, protected microUSB port on the left, and the standard audio jack placed on the top. The lock/power button is also placed at the top, but is tiny, hard to distinguish, and takes getting used to. The only elements on the back are the round opening for the 5MP camera, as well as the LG logo.
The LG Optimus Chic has a simple and elegant design, which might have earned it the appreciation of the fashion-conscious crowd, if it wasn't a bit bland, but appearances are subjective anyway.
LG Optimus Chic 360-degree View: