LG G8X and Dual Screen Review
28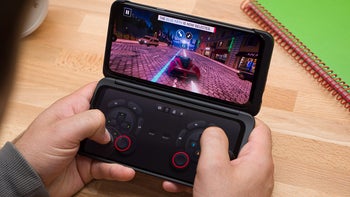 Foldable phones may be the future, but they're certainly not the present. Sure, they do look awesome, but a $2000 smartphone with questionable durability is hard to recommend at this point in time.
The LG G8X, on the other hand, costs just $700, and with its DualScreen accessory, it provides more screen space than you've ever been able to put in your pocket. You get two 6.4-inch screens for next-level multitasking, driven by the powerful Snapdragon 855 chip and a long-lasting 4000mAh battery.
But after several weeks with the LG G8X, I feel like the best feature of LG's Dual Screen case is that it can be taken off.
In the box:
LG G8X phone
Wall adapter (16W)
USB to USB-C cable
Microfiber cleaning cloth
SIM card ejector tool
Quick start guide and warranty information
LG DualScreen case
Proprietary magnetic adapter (for charging the phone while in the DualScreen case)
Design
On its own, the LG G8X looks like a typical 2019 smartphone. It is made of glass and metal, a small notch at the top houses the single selfie camera, and a fingerprint reader is built into the display. You also get conveniences like a headphone jack and a dedicated Google Assistant button on the side.
What's not so typical is that there is no camera bump sticking out. Instead, the camera lenses at the rear are protected by the same piece of glass covering the entire back of the phone. While this results in a cleaner look that some people might prefer, having no bump means that the glass over the lenses is super easy to scratch as it comes in full contact with any surface the phone is resting on.
The in-display fingerprint reader is of the optical variety. Unfortunately, it is one of the slowest readers of this kind I've tested and reliability isn't great either. Alternatives include the old-school PIN, pattern or password. There's no face recognition of any kind which is a shame when the G8's face recognition worked really well.
LG DualScreen case
The key selling point of the LG G8X is the DualScreen accessory it comes bundled with. Think of it as a folio case with a second display on the inside, and when you lift the cover, you're greeted by two 6.4-inch screens for some serious multitasking action. A tiny monochrome screen on the outside shows you status information like the time and battery level. It also lights up when you get a notification. But it's not a touchscreen, and you can't read those notifications until you actually lift the cover.
The hinge on the DualScreen case feels robust and allows the cover to be fixed at any angle. It can even act as an improvised tripod or kickstand. But it leaves a gap between the two screens of about 16 millimeters (5/8 of an inch) and it doesn't look particularly pretty.
Fundamentally, the purpose of the LG G8X with DualScreen is to let you use two apps side by side. For example, you can have a YouTube video playing on the left screen while scrolling through Twitter, Facebook, or Instagram on the right. Or you can have Google Maps on one screen and a messaging app or your email on the other. You can "throw" an app from one screen to the other with a 3-finger swipe gesture.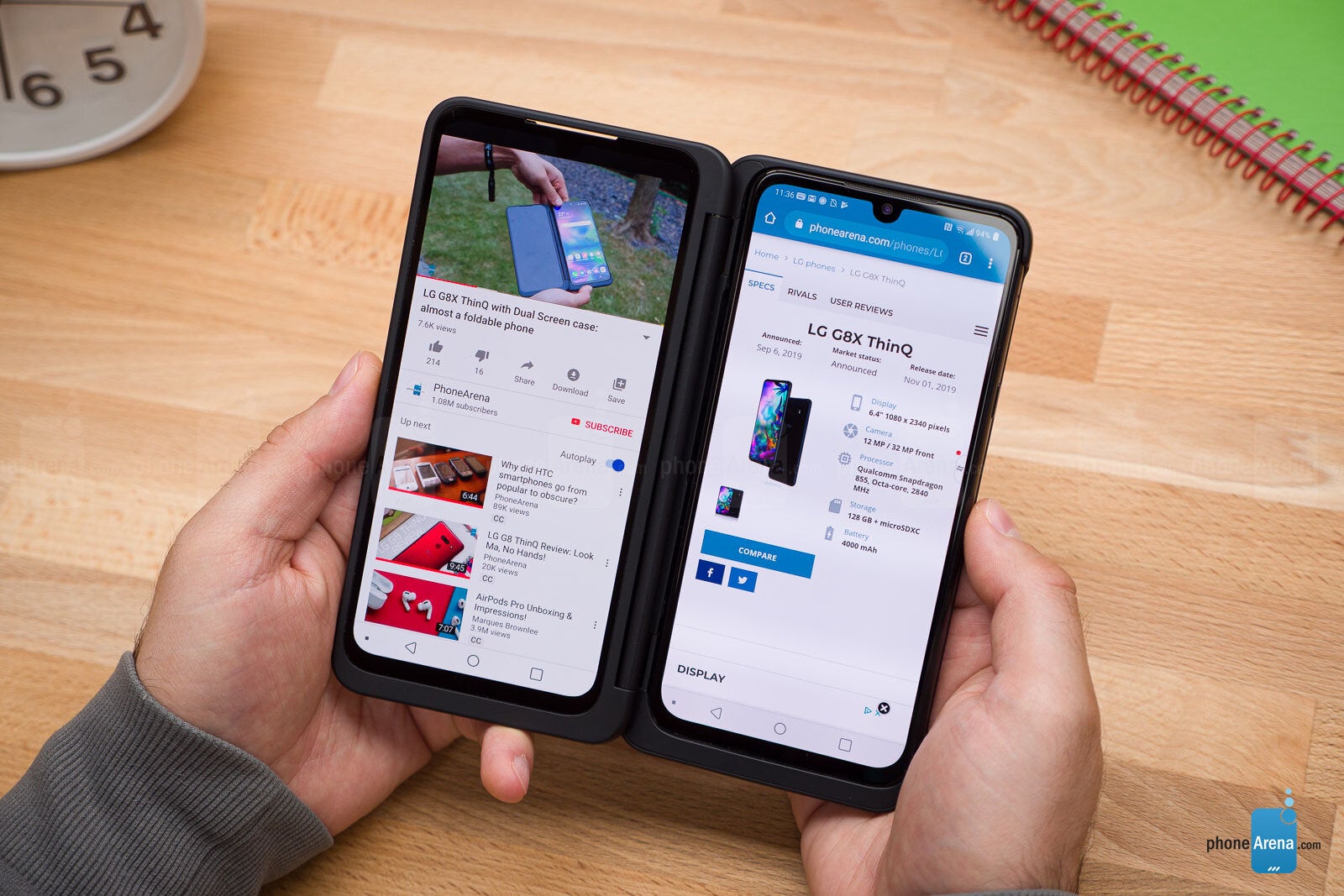 But when you don't need to do any multitasking – which, let's be honest, would be most of the time – you're left lugging around a bulky case while a second screen is draining your battery. Thankfully, you can take the DualScreen off if you know that you won't need it anytime soon.
There's a mode called Wide View that allows you to use one app across both screens – and the only app I found that works is Google Chrome. I must agree that some websites do look great when shown across both displays. Pinterest, for example, shows me pictures of dinner ideas across four columns instead of the usual two. But other pages just look bad when they're split down the middle by the case's hinge. Making matters worse, the home on-screen button gets obscured by the hinge – a flaw LG has yet to fix.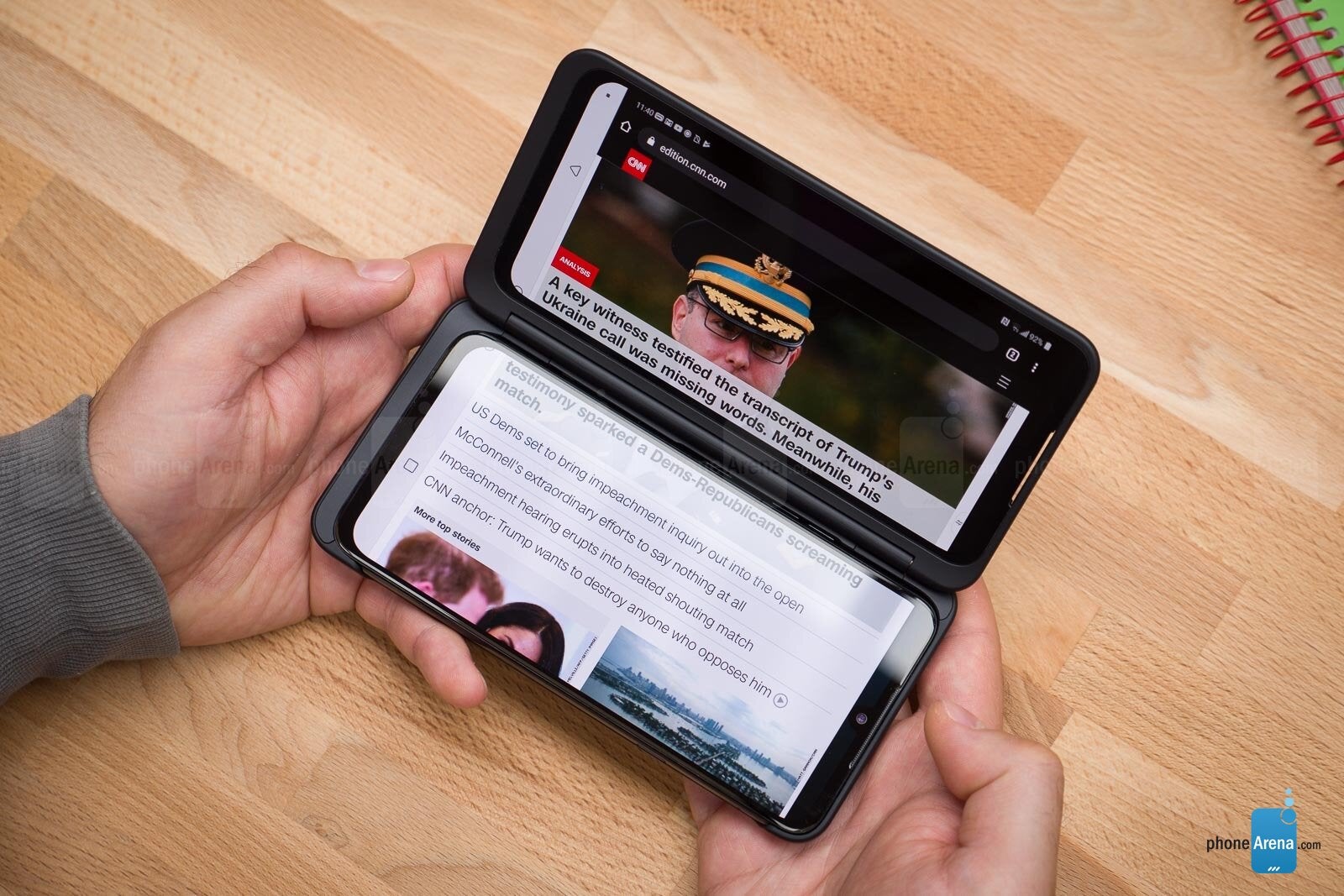 For those that do a lot of typing on the go, LG's keyboard has a split landscape mode. You can have a notes app on one screen and the keyboard on the other – pretty cool, in my opinion.
LG GamePad is another feature taking advantage of the DualScreen case. Basically, you can have a game running on one of the displays while the other is occupied by a virtual gamepad. All of this sounds great in theory, but in practice, not all games work with LG GamePad and even fewer work well. With racing games, for example, the analog stick is too sensitive while the dedicated steering wheel is too big and uncomfortable to use. You can design your own gamepad layout, but it's a slow, frustrating process.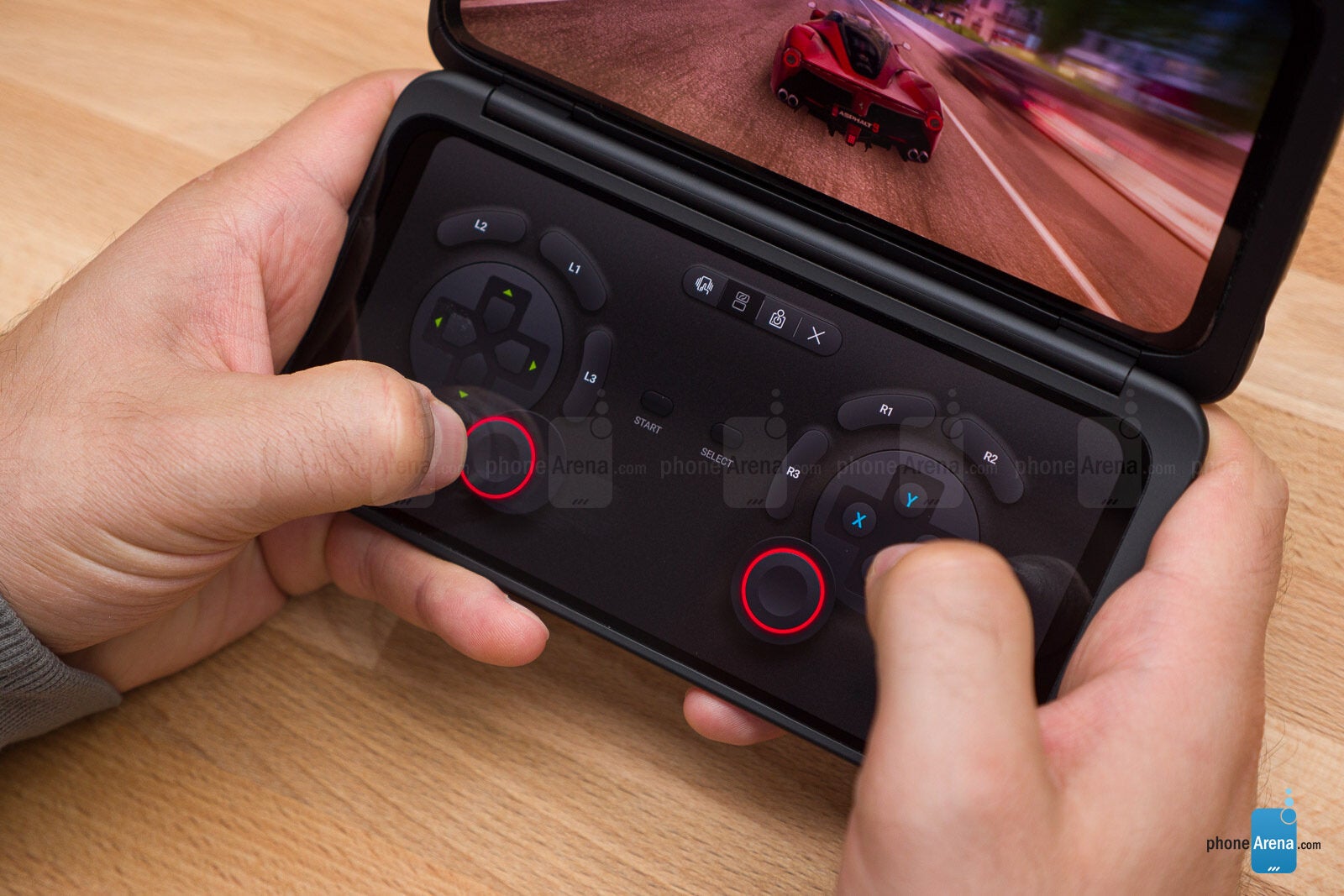 Display
The 6.4-inch OLED display on the LG G8X is really good. It produces vibrant colors and accuracy is commendable. It gets plenty bright and its low minimum brightness allows comfortable reading at night. I must note that the resolution of the screen has been lowered from 1440x3120 on the LG G8 to 1080 by 2340 pixels. But in practice, 99% of people wouldn't be able to tell the difference. Overall, this is one good-looking screen!
The DualScreen case uses the exact same display panel as the LG G8X. This explains the notch at the top of the case's screen, even though there's no actual need for it. Theoretically, image quality should be identical on the two screens, but on my review unit, colors on the case's screen look colder. There is no fingerprint reader in the case's display, in case you're wondering.
Display measurements and quality
Software and performance
The LG G8X comes running Android 9 Pie, which is sad to see when Android 10 has been out for several months. On top we have LG's custom interface which has been tweaked for easier single-handed use: for example, the toggle buttons in the pull-down menu are now positioned at the bottom. But overall, the entire experience feels rough at this time. Minor glitches have spoiled the experience for me: things like the phone freezing on the lock screen for about 20 seconds or the screenshot button combo simply refusing to work. A future software update might fix things, but the software my review unit is running feels a bit rushed.
Moreover, I notice lags and choppy transitions more often than I do with other phones, and the keyboard often takes a second to pop up. The LG G8X is supposed to be a powerful phone with its Snapdragon 855 and 6GB of RAM, but in reality, it doesn't feel fast. On the other hand, the 128GB of storage space are plentiful for my needs, and there's a microSD card slot for those who may need it.
Camera
The LG G8X has a familiar set of cameras: a main camera for every-day use and a super wide-angle camera for fitting more in the frame. The 32MP camera at the front combines four pixels into one and promises to produce brighter, clearer 8MP pictures.
12 MP (OIS, Laser and PDAF)
Aperture size: F1.8; Focal length: 25 mm; Sensor size: 1/2.55"; Pixel size: 1.4 μm
13 MP (Ultra-wide)
Aperture size: F2.4; Focal Length: 16 mm; Sensor size: 1/2.8"; Pixel size: 1 μm
3840x2160 (4K UHD) (60 fps), 1920x1080 (Full HD)
OIS, HDR, Time-lapse video, Object tracking, EIS
Image Quality
Overall, the LG G8X takes good photos with its main camera. Photos are not perfect – the boost in contrast and saturation can be a bit too aggressive at times – but they're certainly good enough for most people. The super wide-angle camera is as useful as always: images are less detailed and you have no autofocus, but the ability to fit so much more in the frame is invaluable in tricky situations.
In low light, the LG G8X lags behind the competition. Photos are usable, but the lack of a good night mode is evident. There is a mode called Night View, but in most cases, the difference isn't all that big. This is one of the few instances where LG's night mode made an easily noticeable difference.
The front-facing camera is a disappointment. Despite the high number of megapixels, selfies lack detail and look as if the focus is somewhere on the background, not on my face. Moreover, images often come out blurry, especially in low light.
LG has thrown in a couple of new features for shooting video. One is the awesome ability to switch between the main and the rear cameras while shooting. Why haven't we had this before? Another new video feature is the ASMR mode which boosts the sensitivity of the already-good microphones to let them capture faint sounds. It's a bit gimmicky, but it's fun to try.
Speakers and audio quality
One of the pleasant surprises with the LG G8X was the quality of its speakers. The phone has a pair of stereo speakers, 1.2W each – a bottom-firing one and another in the earpiece. The sound is loud, well balanced, and even has a good amount of bass for a phone. An iPhone 11 still sound better, but the G8X definitely has the best speakers on an LG phone so far.
For die-hard wired earphone users, the LG G8X offers a classic headphone jack. It is powered by the familiar Quad DAC we've seen on previous LG phones, producing clear, powerful sound and capable of driving high-impedance, audiophile-grade headphones.
Battery life
The LG G8X comes with a big, 4000mAh battery, and as you would expect, battery life is really good. Even with the DualScreen case on, it easily lasts through a day and a half of use. Without it, you'd be able to get through two days of use without much effort. My positive real-life impressions are backed by our in-house testing, which indicates that the G8X can outlast rivals like the iPhone 11 Pro Max and Galaxy Note 10+ in areas like gaming and video streaming.
The 16W charger in the box is far from the fastest we've seen, but given the capacity of the battery, it is good enough. A full charge from zero to full takes about 2 hours.
Conclusion
The LG G8X is a strange phone – and one showing that LG's mobile division is in dire need of a better strategy. LG's G series is supposed to be represented by quality phones with mass appeal. Instead, the G8X's key feature is a DualScreen case that few people need and fewer people will use. LG's energy and resources would have been much, much better spent had they been invested in a reliable fingerprint reader, a quality selfie camera, and a better software experience.
Of course, there
are
things to like about the LG G8X. It has a good-looking screen, excellent battery life, and a quality pair of speakers. Most importantly, it costs just $600 right now at Best Buy – considerably less than a Galaxy S10. But again, the underwhelming day-to-day performance of the G8X makes it difficult to recommend, especially when a OnePlus 7T costs the same and gives you much more bang for your buck.