GIGABYTE GSmart S1205 Review
3

This is a global GSM phone. It can be used with
AT&T and
T-Mobile
USA.

Introduction:
In these days of economic troubles it's hard to balance work and personal life. Do you feel like you have a million things to do and still need to find time for friends and family? It seems the folks from GIGABYTE think that's an issue worth considering and took on the task. The result is the budget savvy
GIGABYTE GSmart S1205
, a
dual SIM
Windows phone. Double the SIM cards means double the connectivity – and if dual SIM and Windows Mobile are what you are looking for, then you will barely find any alternative on the market.
That alone makes the GSmart S1205 a handset worth examining. However, it also packs some useful features such as Wi-Fi, GPS, 3MP camera and a bunch of in-house made Flash-based themes to customize its interface.
Design:
The phone has balanced looks that GIGABYTE claims to reflect the idea of duality. To tell you the truth, one needs to have a really great power of imagination to see this kind of stuff in the GSmart S1205's design. Still, The S1205 is packed with features, but it seems the producer manufacturer was too eager to show off and forgot to optimize performance on par with the functionalities.
The overall construction is balanced and symmetrical, although the matted plastic back cover gives it a cheap look and makes the build feel less solid.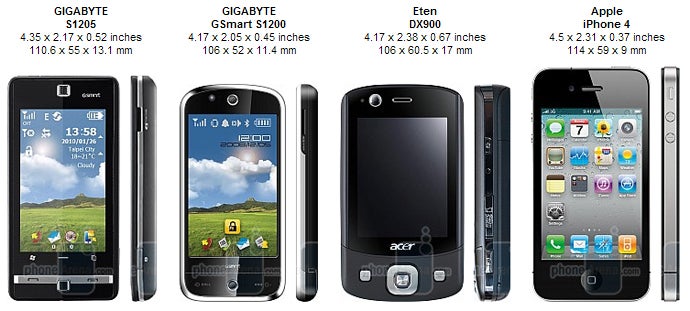 You can compare the GIGABYTE GSmart S1205 with many other phones using our
Size Visualization Tool
.
The
resistive screen
is fit enough at 3.2" but the 240x400 pixel resolution does not make for a smooth picture. Screen legibility is average. It is passable when indoors and looked straight at, but suffers significantly when you put it to the test of an awkward viewing angle or direct sunlight. Below the screen there are five buttons, the three on the bottom have a distinct feeling when pushed and seem solid. GIGABYTE has added a stylus – and we are really thankful for having it. It comes out from the bottom and increases typing speed on the on-screen keyboard significantly. The battery cover is easy to remove, while
the two SIM card slots
are nicely placed above the battery itself. They are securely locked with a small latch.
The volume rocker which also works to navigate through the menus is nested on the left and the unlock button is on top. Unlocking is something that you do every time you reach for your phone and it is a shame that the dedicated unlock button is so hard to press. GIGABYTE had the same issue on the S1200, but unfortunately it is still present. On the right, we see an unprotected microSD slot and the camera key. The 3.5mm jack on the bottom makes it easy for you to hook up your favorite headphones and enjoy the rhythm, while the standard microUSB slot right next to it is also a a good decision.
GIGABYTE GSmart S1205 360 Degrees View: