Camera comparison: Samsung Galaxy Note 4 vs iPhone 6, iPhone 6 Plus, Sony Xperia Z3, LG G3, Galaxy S5, Galaxy Note 3
99+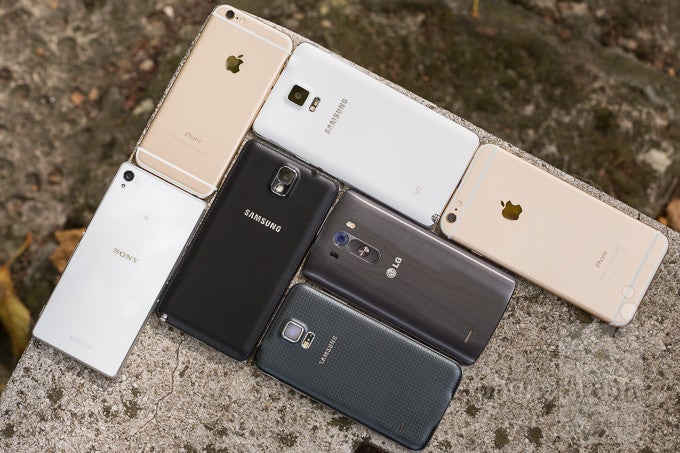 Introduction
Rememeber the last time you used one of those basic, point-and-shoot cameras? It must have been a while if you own a phone with a good camera on it. That's the case for millions of folks and it comes as no surprise – most modern high-end smartphones take quality photos, as our numerous camera tests and comparisons have shown.
Today we bring you another of our camera comparisons, and the star of the show is the
Samsung Galaxy Note 4
. It is a phone with plenty of potential as far as photography is concerned – with a 16MP snapper and optical image stabilization, it impressed us greatly when we took it through the review hurdles. Our readers favored it as well in a recent blind camera comparison. Now, however, will it stand its ground in a full-on camera comparison against 6 other heavyweights?
We've chosen to compare the Samsung Galaxy Note 4 against some of its biggest rivals, including the
iPhone 6
and
iPhone 6 Plus
. We've also invited the
Sony Xperia Z3
and the
LG G3
to the party. In addition, we feel obliged to put Samsung's own
Galaxy S5
and last year's
Galaxy Note 3
in the ring as well. Here's what all these phones have to offer in terms of specs.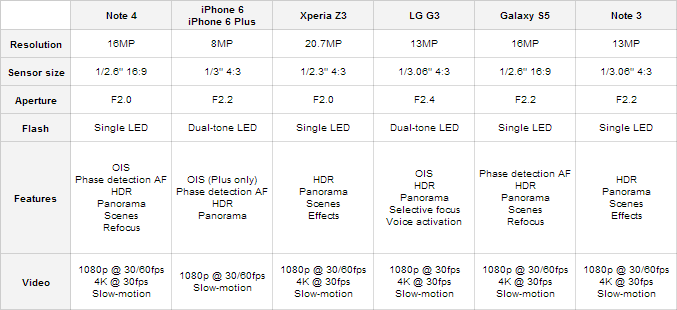 Colors
As we know from experience, Samsung's recent phones have this general tendency of producing images with a colder color tone. The Samsung Galaxy Note 4, however, is rather different. Color accuracy in its images is spot-on, with colors being neither warm, nor cold. Also, the sky's shade of blue, which is usually hard for a smartphone camera to represent faithfully, is reproduced very close to its real-life hue. As far as saturation goes, colors are vivid, but not overblown.
Hardly a surprise, the iPhone 6 and iPhone 6 Plus perform well in this category. Like the case is with the Note 4, colors in their images are lively and eye-pleasing, but never too saturated. We're noticing a slightly warm tone in them – it is more pronounced in some scenes, but barely noticeable in others – but we're okay with that slight imbalance.
Photos from the Galaxy S5 and Note 3 exhibit a slightly cold-ish tone, but this is only noticeable in some of the photos that we took. Color saturation is slightly boosted, giving the images a more lively look.
Similarly, a colder tone is noticeable in the LG G3's images, but it tends to be a bit more pronounced. Whether you'll notice it or not depends on the kind of scene. Either way, it isn't likely to bother you, unless you're very picky about image quality.
The Sony Xperia Z3 has a somewhat different approach to color reproduction. Colors in its photos are neutral to washed out, and we find them lacking in saturation. There's a coldness to them as well.