Apple iPad 3 vs Asus Transformer Prime
83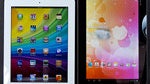 Introduction:
At long last, it finally boils down to this! We know you've been waiting for this one eagerly, and so have we, especially when the
new iPad
seemingly proved itself against its rivals in the
Motorola DROID XYBOARD 10.1
and
Samsung Galaxy Tab 10.1
most recently. Naturally, there is only one Android based tablet that can give the new iPad a run for its money, and surely enough, the
Asus Transformer Prime
is bent on showing why it's that other benchmark device. Honestly, it's a clash of the titans with these two behemoths, but much like everything else, there can only be one that can reign supreme from the ashes of battle.
Design:
Even before looking over their specs sheets, we have to applaud these two titans for having killer industrial designs that are conceivably memorable in many ways. The more we hold and check out the two, the more we realize they share a lot of commonalities – such as streamlined constructions, metallic casings, and that perfect balance of weight. Technically though,
the Asus Transformer Prime is skinnier and lighter
, but it's barely noticeable to the eye or hand. On the other end, we prefer the milled aluminum casing of the new iPad since it seems to repel dirt and debris much better than its rival, and on top of that, caressing and tapping it shows us that it's the sturdier as well. Overall, there isn't a definitive winner in which one boasts the better design, but more importantly, they embody all of the qualities of what it means to be a premium tablet.
Adjusting volume and powering on isn't a problem with either device, that's because they exhibit springy responses with their
physical buttons
, but the iPad's set are raised higher – thus, easier to feel out. Hardly a shocker anymore, they feature proprietary
docking ports
for charging and data connectivity, but we like it that the Asus Transformer Prime carries a separate microHDMI
port
for video-out. To gain that function with the new iPad, it requires the purchase of an optional digital AV adapter. Yet another reason why these two are so similar to one another, micro dots in their casings shield their internal
speakers
.
Normally, tablets don't get that much love when it comes to
cameras
, but that's not the case with these two as they sport some respectable ones. With the Asus Transformer Prime, it boasts the higher 8-megapixel auto-focus camera with LED flash – whereas, the iPad carries a 5-megapixel one sans flash. To sweeten things, these two actually feature some other tasteful features such as an F2.4 aperture lens, sensor with backside illumination, and full 1080p video recording. As for their
front-facing cameras
, the Transformer Prime is outfitted with a 1.3-megapixel snapper, while the iPad simply packs a VGA one.
Display:
Impressively, each tablet's display is a sight to behold and again reaffirms why they're regarded as premium. Just as a refresher, the new iPad thrills us with its 9.7" IPS LCD panel, dubbed as the Retina display, because of its reality warping resolution of 2048 x 1536. Meanwhile, the Transformer Prime is still an illustrious one with its 10.1" WXGA (1280 x 800) Super IPS+ LCD panel. On paper, the new iPad has the obvious edge with its 264 ppi pixel density, which is substantial over the 149 ppi figure attached to the Transformer Prime. Calculations aside, though, our eyes really tell us which one is superior. Now seriously people, it's almost negligible from a far distance to distinguish which one is more detailed, but upon closer inspection, the iPad shows it absolute superiority. Simply, we're enchanted by its immaculate details that make even the tiniest of text within the web browser more than visible.
Other than that, they share the same
wide-viewing angles
and
vivid color tones
to capture our attention from afar. However, we find that the Super IPS+ display of the Transformer Prime to be higher in contrast, which translates over to a brighter appearance – though, it exhibits a warmer tone. In any event, we're captivated by the two since they're usable in outdoor conditions with the sun present. No doubt that they're both lovely in many aspects, but it's ultimately the iPad's stellar detail that jumps at us the most.