Samsung Galaxy Note 10.1 vs Apple iPad 3
63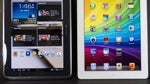 Introduction:
Unless you've been hiding under a rock the last month or so, you're probably well aware about the all-out no holds barred war raging between Apple and Samsung in the court system. For consumers though, the battle that concerns them right now is between two highly prized tablets vying for supremacy in the market. Very recently, Samsung launched its long awaited
Galaxy Note 10.1
Android tablet – the Korean company's answer to Apple's ever-beloved
new iPad
. With its S-Pen stylus in hand, Samsung is betting that its pen is going to be mightier than the metaphorical sword wielded by the new iPad, which so happens to have a stranglehold on the market.
Design:
Frankly, neither tablet exudes a fresh design enough to enamor our inner most desires – especially when they're oh so conventional. Regardless of that, it's the iPad's premium brushed aluminum casing that cements itself as the more solidly constructed tablet. Well, it's not to say that the Galaxy Note 10.1 is an ugly duckling, but considering that it's almost similar in footprint and weight, especially when it's donning an all-plastic body, it's not going to win people over as much from a first impression. It is slightly thinner though.
Taking a quick peek
around the sides
of these two highly esteemed tablets, they share many commonalities – such as a proprietary dock port, microphone, 3.5mm headset jack, volume control, and dedicated power button. However, Samsung throws in some additional goodies that seemingly increase its value. Specifically, these appreciated additions include an IR blaster that turns the Galaxy a note 10.1 into a universal remote, and the specialized functions found with its S-Pen stylus.
Display:
Visually speaking, the iPad's Retina display is a remarkable thing to behold, even more when its 2048 x 1536 resolution obliterates the 1280 x 800 resolution of the Galaxy Note 10.1. Without question, the iPad's 9.7" IPS LCD panel surely boasts the initial appeal due to its sharper looks, superb viewing angles, and slightly warmer color tones. In contrast, however, the 10.1" Super PLS LCD panel of the Galaxy Note 10.1 is still a decent looker – though, it's less inclined to wow people with its lower resolution and weaker viewing angles. Still, it has the distinct advantage of offering superior accuracy and precision thanks to its S-Pen functionality using Wacom technology. Come to think of it, there's no other mainstream tablet that offers that kind of technology.
Recommended Stories