Amazon Kindle Fire HD vs Google Nexus 7
18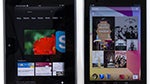 Introduction:
Once believed to be impossible feat, we're now in an era where decent tablets can be bought for as low as $200. As we look back on how it all unfolded, the chain of events first kicked off with the
Amazon Kindle Fire
last year, and most recently, Google came roaring onto the scene with its spectacular
Nexus 7
tablet. Well folks, now that Amazon is back for round two with a newly improved tablet in the
Kindle Fire HD
, it's sure a going to be an epic battle to the finish in the budget tablet market – so the question we're left asking ourselves, is which one of these value filled tablets will win over your hard earned cash.
Design:
Visually speaking, we can agree that there isn't one particular tablet that outshines the other in the design department – mainly because they both feature solid constructions, soft touch casings, and streamlined bodies. However, since the Nexus 7 is skinnier at 4.72-inches wide in portrait, versus the 5.4-inch waistline of the Kindle Fire HD, we find it significantly easier and more comfortable to grasp with one hand. Furthermore, Google's pride and joy is also lighter at 11.99 oz, which makes a big difference compared to the slightly weightier 13.9 oz Kindle Fire HD.
Secretly, we're not that upset to know that neither tablet boasts a rear camera. Regardless of that, we can still reap the benefits of video chatting with the two – as they
both pack front-facing cameras
.
We've complained enough about the flush appearance of the Kindle Fire HD's dedicated power button and volume control in our review of it, so that's why we prefer the distinctive buttons of the Nexus 7 instead. Still, both offer springy responses when pressed.
As we take a meticulous look
around both devices
, it's undoubtedly obvious that they share many commonalities – like their 3.5mm head jacks, microUSB ports, and microphones. However, call it an advantage for the Kindle Fire HD, there's something inside of us that screams for joy knowing it's packing a useful microHDMI port, which gives us that superb mirrored experience on a high-def TV.
And lastly, the Nexus 7 packs a single
speaker
in its rear, while its rival seems to have an edge with its left and right speakers that are positioned towards the edges.
Display:
Cheap tablets don't necessarily mean they'll be packing equally cheap displays as well, especially when it's being proven by these two affordable tablets. On the surface, it's almost indiscernible to say which offers the superior display, seeing that they both packing 7" WXGA 1280 x 800 IPS LCD displays – with pixel density of 216 ppi. However, the warmer color production found with Kindle Fire HD display is more favorable in our eyes mainly for its richer tones and vibrancy. Regardless, they're both able to maintain their clarity even in outdoor usage. Overall, we're comforted to know that super affordable tablets can still shine with some sharp displays.
Recommended Stories