ZTE makes a discreet US carrier comeback with the $99 Visible R2
1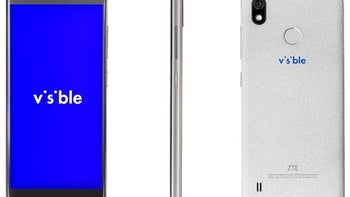 After
escaping from the brink of bankruptcy
, embattled Chinese smartphone maker ZTE made a
pleasantly surprising return to the market
with the high-end
Axon 9 Pro
. But stateside, the company made far less noise with the release of the unlocked mid-range
Blade Max 2s and Blade Max View
.

Interestingly, the selection of devices you can purchase straight from Visible remains rather limited, including a bunch of different iPhone models, Samsung's high-end Galaxy S9 and S9+, and now the entry-level ZTE-designed Visible R2.

You obviously can't expect much from a $99 phone in terms of raw power, camera capabilities, or trendy design elements, but as long as you keep your expectations low, you might be pleasantly surprised by the Visible R2.

A few technical details are unfortunately too vague to analyze, like the unnamed 1.4 GHz quad-core processor and completely unspecified RAM count, but the 5.45-inch HD+ screen does sport a modern 2:1 aspect ratio, while the 3,100 mAh battery is purportedly capable of keeping the lights on for "up to 24 hours" of typical usage.
The 13MP rear-facing camera with HDR, panorama, collage and timelapse flash capabilities and 5MP selfie shooter with screen flash don't sound all that bad either, with the back of the device also carrying an... interesting pattern that could help the Visible R2 stand out in the
ultra-affordable market segment
.
There aren't a lot of good phones available for around 100 bucks nowadays, either unlocked or sold directly by carriers. For instance, the $95
Moto E5 Play
you can get with a Verizon Prepaid plan comes with an outdated design, unimpressive screen, and relatively small battery.