Watch an iPhone spontaneously combust in Ohio (video)
5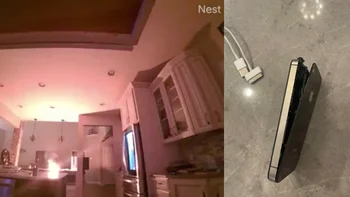 You may remember the
Galaxy Note 7 fiasco
from several years ago, but a recent video shows that iPhones are not bulletproof against spontaneously catching fire. In Apple's defense, this device was a decade old—an actual iPhone 4 in perfect working order. Well, not anymore.
The fire happened in the house of Brian and Jennifer Leisgang of Ohio, who left the iPhone charging overnight on the kitchen counter. Fortunately, nobody got hurt during the incident, and a security camera caught and recorded everything.
"We were extremely lucky to avoid a house fire. Our kids were charging our old iPhone 4 with the apple charger last night and it exploded and caught on fire in our kitchen while we were sleeping. Luckily we had just cleaned off the counter yesterday as it usuay has lots of school books and papers in that area. There we're small pieces of the phone and black soot all over the counter this morning. I've posted the video below and hope sharing this can possibly help prevent a fire in someone else's house,"
wrote the couple in a
Facebook post
.
The event looks pretty spectacular (reminds us of firecrackers), but it could've very well burned the house down, so it's no laughing matter. In all fairness, leaving a 10-year-old gadget to charge unattended is also pretty risky.
Lithium-ion batteries have a very limited working temperature range, and they can swell with time (due to gas being released by the chemicals inside). When the voltage falls below a certain threshold, they are unable to charge properly and generate excessive heat. Physical damage, old insulation between the cells, and other problems could also result in disaster.