Charging OnePlus One unit allegedly explodes
64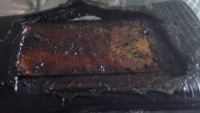 Friday was not a great day for a gentleman who lives in New Delhi, by the name of Ankur Dugar. Yesterday morning at 2am Indian time, Dugar as usual, had his 64GB Sandstone Black
OnePlus One
plugged in bedside as he hit the sack. At around 9am, Ankur awoke to the smell of fire. Quickly, he discovered that his OnePlus One was the source of the smell as his handset was on fire.
Dugar quickly tossed the phone off of the bedding and realized what might have happened had he not awakened when he did. Photos of what was left of the device show the charred remains. Most of the damage to the phone appears to be in the location of the battery, which would make sense.
Friday morning, Dugar contacted the OnePlus customer care team. He was instructed to "
Go to (the) service centre, if your replacement is approved, you'll get a replacement.
" Dugar has told us directly that despite earlier reports, he has yet to take the phone to the service center. He says that he has been approved for a replacement model, but is currently awaiting to hear from an attorney. Meanwhile, you can click on the slideshow to see a few images of the OnePlus One after the incident.
Thanks for the tip!
source:
AnkurDugar
via
Gadgetraid