Verizon unveils new Unlimited Mix & Match plans with 5G service
3
Verizon today announced
new 5G Unlimited Mix & Match plans that deliver more value and entertainment for subscribers without costing them more money. Starting as low as $35 per month, the plans unveiled by the nation's largest wireless provider will offer access to its nationwide 5G network once it launches later this month. The new plans will be available starting on August 20th.
With the new 5G Mix & Match, a parent can hook up his kid to a plan called
Just Kids
for as low as $35 per line per month. This plan will allow Dad or Mom to control their kid's screen time, monitor what he or she is watching, and track Junior's location. Data speed tops out at 5Mbps. The top plan is titled
Get More Unlimited
, and costs $55 per line for a family of four with Auto Pay and paperless billing. It includes Verizon's faster 5G Ultra Wideband service, Unlimited Mobile Hotspot (with 30GB of 4G LTE data monthly), free Disney+, Hulu, ESPN+, and Apple Music. It also chops 50% off Unlimited connected device plans, and provides 600GB of cloud storage.
Existing
Verizon
customers currently in the midst of enjoying their free year of Disney+ can switch to the Play More and Get More Unlimited plans with The Disney Bundle included. These subscribers can also decide to stay with their current plan and add ESPN+ and Hulu by paying $6 per month.
Frank Boulben, SVP Marketing and Products of Verizon Consumer Group says, "Our new Mix & Match plans make the choice clearer than ever: customers get the best network and the best value with Verizon. We led the industry by giving customers Disney+ on us. Now we're adding The Disney Bundle, which includes Disney+, Hulu and ESPN+, for more entertainment choices that appeal to a variety of interests. We can't wait to see what customers choose to suit their needs."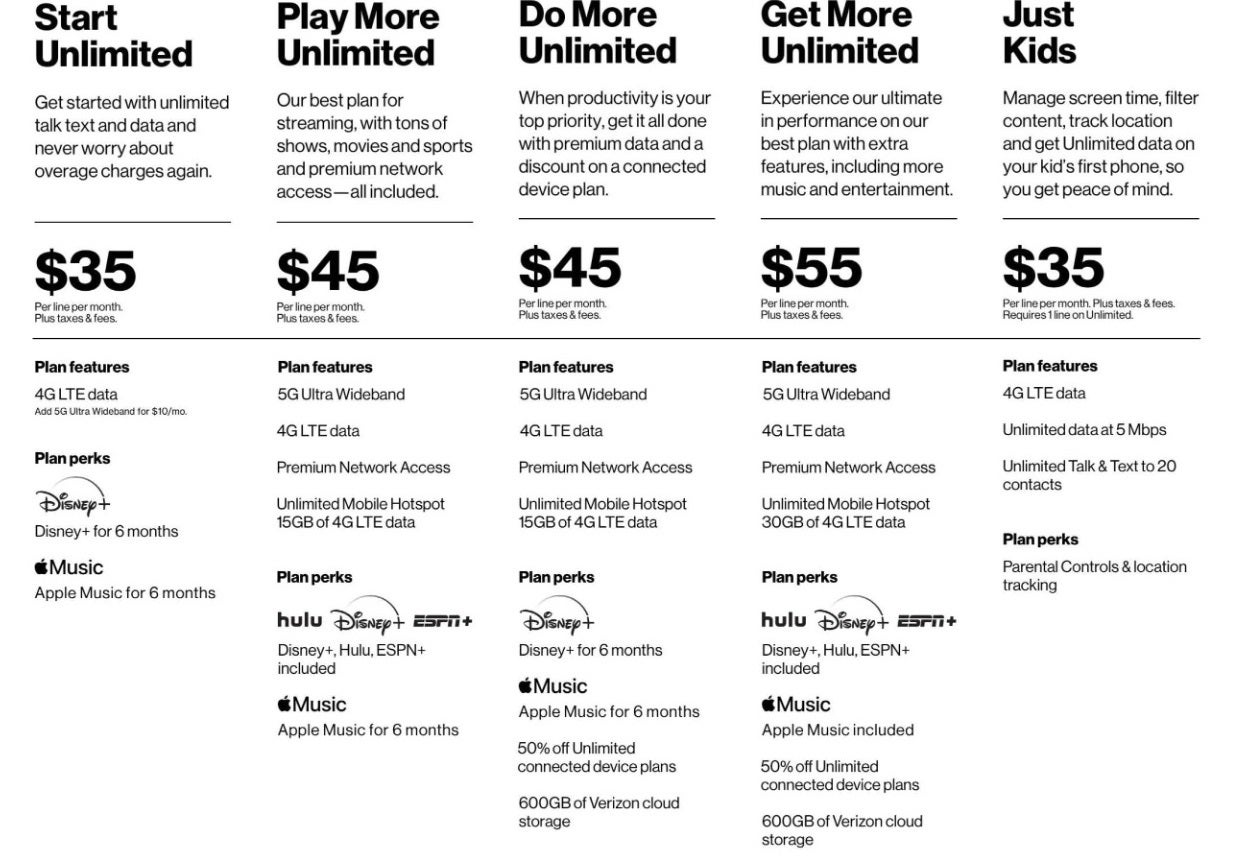 Verizon's new Mix & Match plans that go into effect on August 20th
Again, the new plans kick off on August 20th and you can sign up on that date by going to verizon.com/plans.