Are the bezel wars still a thing? TCL reveals a tablet with amazingly thin bezels
5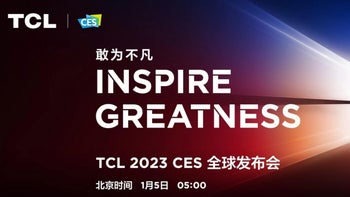 It's 2023 and we still are as fixated as ever on size. The size of the bezels on our mobile devices that is. Just the other day we showed you a picture that allegedly revealed a DVT (Design Validation Test) unit of the upcoming mid-range Pixel 7a. And as we pointed out,
the bezels seemed unusually thick
. A few years ago, the size of a phone's bezel was an important selling point with thinner bezels considered more desirable
even if it is not better from a technological standpoint
.
In Las Vegas for the Consumer Electronics Show (CES) 2023, TCL brought thin bezels back to the conversation by displaying a tablet prototype with bezels so thin that the device sports a 94% screen-to-body-ratio. That compares to an 85.43% screen-to-body ratio for the most recent iPad Pro units.
The bezels on this prototype TCL tablet are insane!! pic.twitter.com/QAS8X7LiBD

— MilesAboveTech (@milesabovetech) January 6, 2023
What kind of Black Magic did TCL conjure up to make this prototype slate? Well, we'd expect to see some sensors (such as an image sensor for the front-facing camera) moved under the display. Judging from the current quality of under-display cameras, the manufacturer is giving up some image quality in return for thinner bezels. And the bezels on this tablet are so thin that accidental touches are likely to happen when the device is held.
The tablet was displayed on Twitter by
MilesAboveTech
(via
Wccftech
) and the specs revealed at CES show that the prototype features a 14-inch 4K OLED display carrying a resolution of 2400 x 3840 with a 120Hz refresh rate. It isn't known which chipset is driving the tablet nor is it known whether TCL plans on producing this product for mass consumption.
Last week at CES,
TCL introduced three budget 5G phones
with big batteries, a new pair of low-priced true wireless Bluetooth earbuds, a tablet, and a pair of AR specs. The CES 2023 trade show concludes tomorrow, January 8th.