T-Mobile has a new prepaid plan for high-speed mobile hotspot addicts
2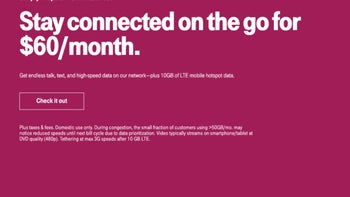 T-Mobile has
a big announcement in the pipeline for next week
, most likely preparing a major overhaul of its main plans in anticipation of a
Sprint merger
predicted to finally wrap up early next year, but until then, the "Un-carrier" seems to have recently made
a small and discreet change to its prepaid lineup
.
Previously, that only included two options, with
a third one added
for folks wanting even more flexibility and higher speeds without having to go the traditional postpaid route. The aptly named Simply Prepaid Unlimited Plus plan differs from the non-Plus Unlimited option in two ways, letting you enable and disable the Data Maximizer feature at will and, more importantly, including a monthly bucket of 10 gigs of 4G LTE mobile hotspot data.

In contrast, you get unlimited tethering at reduced 3G speeds with a "standard" Simply Prepaid Unlimited plan, while the 10GB Simply Prepaid option allows you split that allotment between good old fashioned data consumption on your phone and mobile hotspot however you want. As for the Data Maximizer functionality, which "enhances" your network by optimizing all "detectable video streaming to DVD quality", you cannot switch that off on a Simply Prepaid Unlimited plan, but deactivation is possible on both the entry-level Simply Prepaid and Simply Prepaid Unlimited Plus options.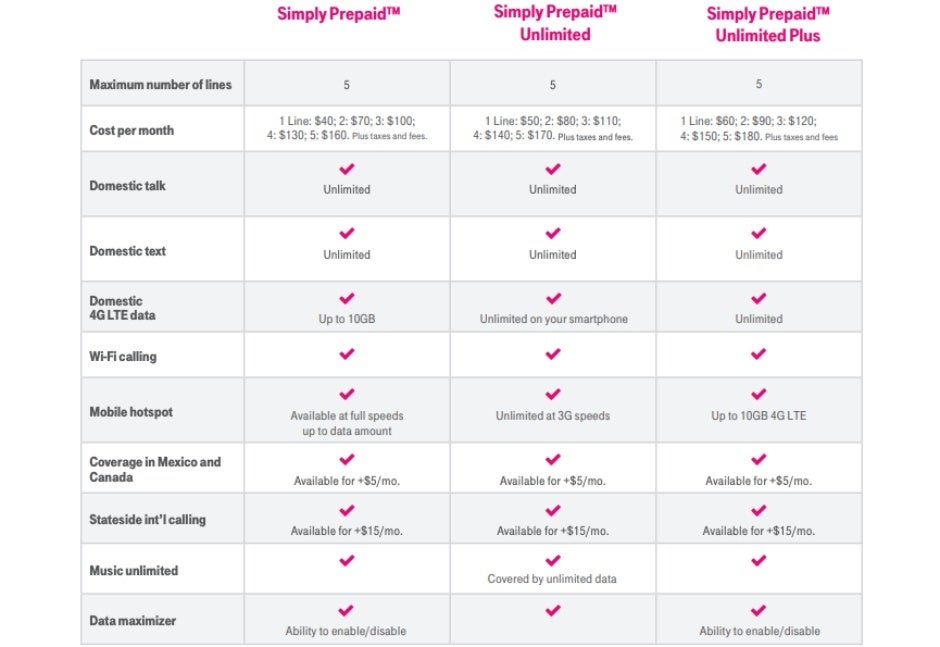 Naturally, the new Plus plan costs extra, starting at $60 for one line of service and setting you back an additional 30 bucks a month for lines number two through five. That's only $10 more than the pricing scheme of the non-Plus option, which feels pretty fair.

Interestingly, the T-Mobile Simply Prepaid Unlimited Plus features are not perfectly mirrored by any of the unlimited options available over at Magenta's Metro "flagship" prepaid brand. Instead, Metro by T-Mobile can hook you up with 5 gigs of hotspot data starting at $50 a month or a 15GB monthly tethering quota in exchange for $60 and up. Meanwhile, Verizon's $65 unlimited prepaid plan may come with no mobile hotspot perks, but at the same time, it does include unlimited calling to Mexico and Canada, which costs extra at T-Mobile. In other words, it's all very complicated, but more choice is always a good thing.