Sony forecasts 6.5 million smartphone sales for a full year - is this rock bottom?
27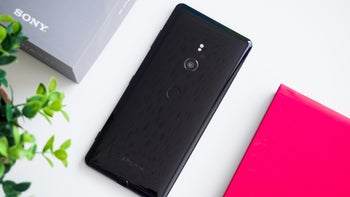 The final calendar quarter of 2018 was a
tough period for smartphone vendors
in general and major companies like
Apple
,
Samsung
, and
LG in particular
. Sony's mobile business didn't do very well between October and December either, but luckily for the Japan-based tech and entertainment giant, several of its other divisions were profitable enough to offset the Xperia family's latest
big losses
.
While overall sales and operating revenue were down for
Sony's third quarter of the 2018 fiscal year
compared to the October - December 2017 timeframe, operating income (aka profit) surged from 350.8 to 377 billion yen ($3.46 billion) year-on-year.

The biggest money earners were the music, gaming, and home entertainment departments of the multinational conglomerate corporation, while the mobile communications (MC) division was the only one that generated less than it spent during the holiday season.

Quarterly smartphone sales declined a heartbreaking 37 percent or so compared to 2017's fourth calendar quarter, from 217.5 to 137.2 billion yen ($1.2 billion), yielding a substantial loss of 15.5 billion yen ($142 million) after generating 15.8 billion yen in profit the year before.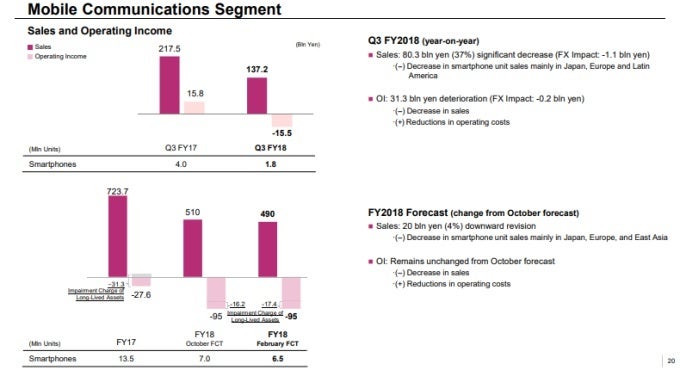 Sony's handset unit sales apparently took a dive in regions like Japan (ouch), Europe, and Latin America, although the company seems to suggest things could have been even worse if it wasn't for recent "reductions in operating costs."

Looking ahead, the company really doesn't have many reasons for optimism, expecting full-year smartphone shipments at a lower level than previously forecasted. We're talking a measly 6.5 million units between April 2018 and March 2019, down from an October projection of 7 million and a fiscal year 2017 total of 13.5 million.

Exactly how bad is that? Let's just say LG, the world's seventh-biggest smartphone vendor right now, managed to ship 9.5 million units in Q4 2018 alone. And that's hardly a success story in today's mobile industry.