Samsung Gear S4 a.k.a. Galaxy Watch rumor review: All you need to know about the upcoming smartwatch
23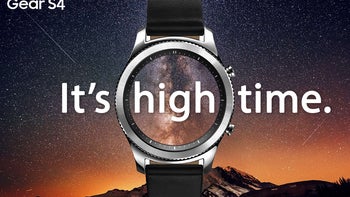 In late March, a new rumor came along to further reaffirm our expectations that Samsung will release the fourth generation of its popular Gear S smartwatch. While the smartwatch market is dominated by Apple, Samsung remains the only other comparably large manufacturer to remain competing on the market and that success can solely be attributed to said device lineup.
The Gear S3 Classic, its manly spinoff, the Gear S3 Frontier, and the sporty Gear Sport were all excellent wearables which definitely set our hopes high for the upcoming Gear S4. Of course, the juicy gossip that's circulating around makes it even harder not to get mildly excited about Samsung's upcoming wearable offering.
And the rumors show no signs of stopping - if anything, they have only improved their pace, which is inadvertently hinting that the wearable is likely just around the corner.
Let's explore what this one might have to be worth its salt:
Design & hardware


Never change a winning team
Don't expect anything alien or extraordinary going on in terms of design: the Gear S4 will most certainly look -- and feel -- like any regular circular smartwatch which on its own is a digitalized reflection of analogue timepieces. No new weird shapes are expected due to the unique Tizen design language that the software employs - this one commands for a round watchface and it's doubtful that Samsung would throw that away.

In terms of build, we expect Samsung to continue using premium materials. Think stainless steel, aluminum, and Gorilla Glass 5. We wouldn't dare mention sapphire, as the material is still too expensive to use in a regularly-priced smartwatch like the Samsung Gear S4. Still, a small part of us hopes that Samsung would come up with a super-premium version of its upcoming gadget that will be a belated answer to Apple's super-premium Watch Edition.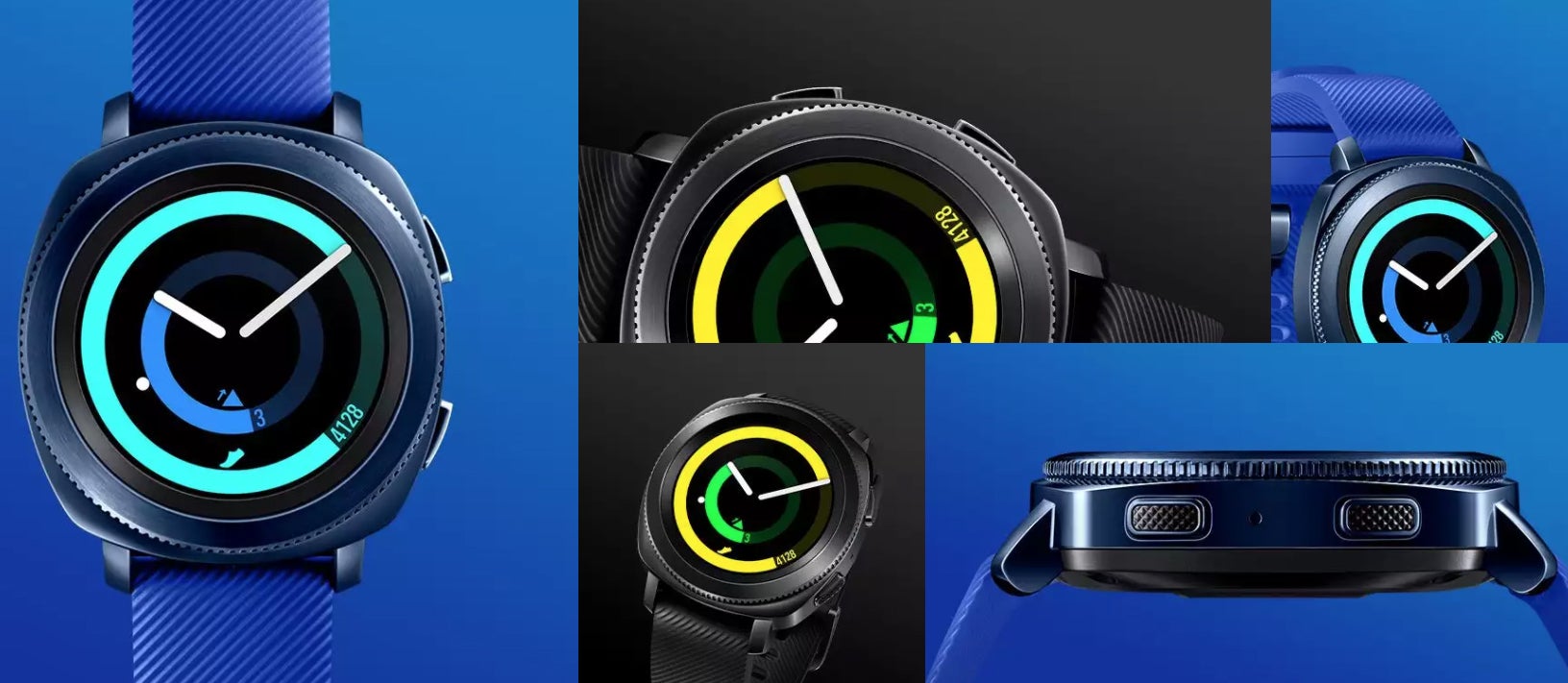 Gear Sport
Rotating bezel with sub-display
The now signature circular dial will most certainly to be an integral part of Samsung's smartwatch feature list as it has been deeply intertwined with the interface over time. This big boon to usability has been patented by Samsung so you can bet your socks that no smartwatch lineup will ever employ a similar functionality. What's more, we are certain that the rotating bezel is here to stay and it's beyond doubt that the Gear S4 will proudly wear this design element. Thus, we can certainly rule out the unsubstantiated rumors that the Gear S4 will feature a bezel-less Infinity display like the company's flagship phones.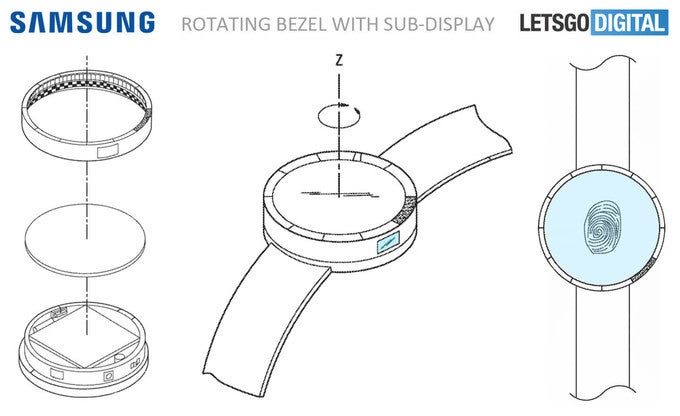 Two sizes
Just like the Apple Watch, the Gear S4 might be available in two sizes, which would make it that much more versatile. The smaller version will probably be geared (no pun intended) towards female users, while the larger one would be aimed at men. Nothing sexist, just bone structure.
An interesting speculation floating around suggests that Samsung could employ a rather unique design decision and put a sub-display below a translucent rotating bezel that will allow users to reportedly access different menus on each and every rotation. It will be rather interesting to see how this one works in real life, provided that it is real and not merely a patent chimera.
Water-resistance
Samsung would certainly want to keep its Gear S4 water-resistant. The Gear S3 Frontier, S3 Classic, and Gear Sport were all IP68-rated which means that they can resist submersion in up to a meter of water for as long as 30 minutes, so there's really no reason for the Gear S4 to not have the same functionality thrown in.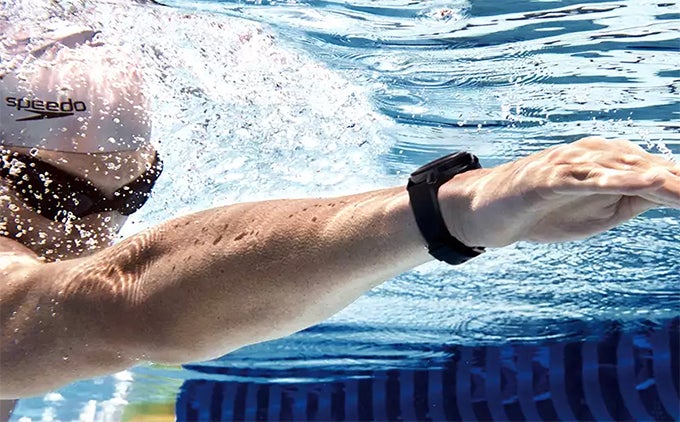 OLED is here to stay
Nothing has been set in stone when it comes to the display of the Gear S4, but there's little to no uncertainty that Samsung will continue using OLED displays for its wearables. This type of display is perfect for wearables that often feature always-on display functionalities as OLED not only looks great thanks to its superb contrast qualities but also helps save precious battery juice
Efficiency
The Gear S4 is rumored to come with a speedier new chipset, which is both logical and expected. While the S3 is no slouch, a newer chipset built on a smaller manufacturing process would greatly benefit both the performance and the single most important aspect of a wearable gadget: its power efficiency. The Exynos 7270 system-on-chip of the Gear S3 was built on a 14nm manufacturing process which leaves plenty of room for improvement. Now, we haven't specifically heard anything new about a possible follow-up to the Exynos 7270 mobile SoC, but it's almost a given that Samsung is working on something in secret. We will most certainly learn more details once the Gear S4 becomes official. A single gigabyte of RAM and a few more of native storage should further complement the specs list.

Better battery life
As we already mentioned, battery life is crucial for wearables. There's a chance that the Gear S4 will arrive with a slightly larger battery than its predecessors, the Gear S3 Classic and Frontier, both of which featured 380mAh batteries. There'[s a rumor flying around that Samsung could embed small flexible batteries inside the watch strap itself which is a viable possibility given the rather restricted space that smartwatches are required to deal with. A patent application suggests that two flexible strips could be embedded inside the watch strap and potentially improve the battery life of the wearable.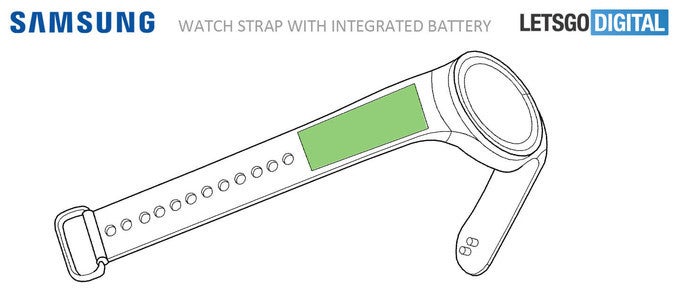 Proposed Gear S4 with integrated flexible batteries in the strap
Connectivity
The Gear S3 Frontier and the 3rd-gen Apple Watch set rather high standards for smartwatch connectivity. Both of these have LTE capabilities which means that you can throw in a SIM card inside and leave your phone at home without ever missing a notification or a phone call. Why are we telling you this? Simple, it's pretty logical that the Gear S4 would also have an LTE-enabled version coming down the line. Of course, other essential means of connectivity like Wi-Fi, Bluetooth, NFC, and most likely MST for Samsung Pay will also be on board the smartwatch.


Colors
The device will likely be available in plethora of colors, one of which will likely be gold. This will be a new one for the smartwatch lineup, which usually come in black or silver.


Software & features

Samsung Health improved; blood pressure measurement incoming?
You guessed it, many of the features of the upcoming smartwatch that we've been hearing about are mostly fitness-related ones. Word on the street is the Gear S4 will be sporting an even better integration with Samsung Health, which would surely come in handy (no pun intended) to all potential adopters of the wearable. The Gear S3 was already a great hardware extension to the software capabilities of the Samsung Health hub which is available for most smartphones but there's always room for improvement.
For example, the Galaxy S9 and S9 Plus proved that smartphones could theoretically be used to measure blood pressure correctly, so there's a rather high chance that the Gear S4 could introduce a similar functionality to the smartwatch scene. To further fuel the plausible speculation comes the fact that Samsung has already filed a patent application for a smartwatch that is capable of measuring your blood pressure.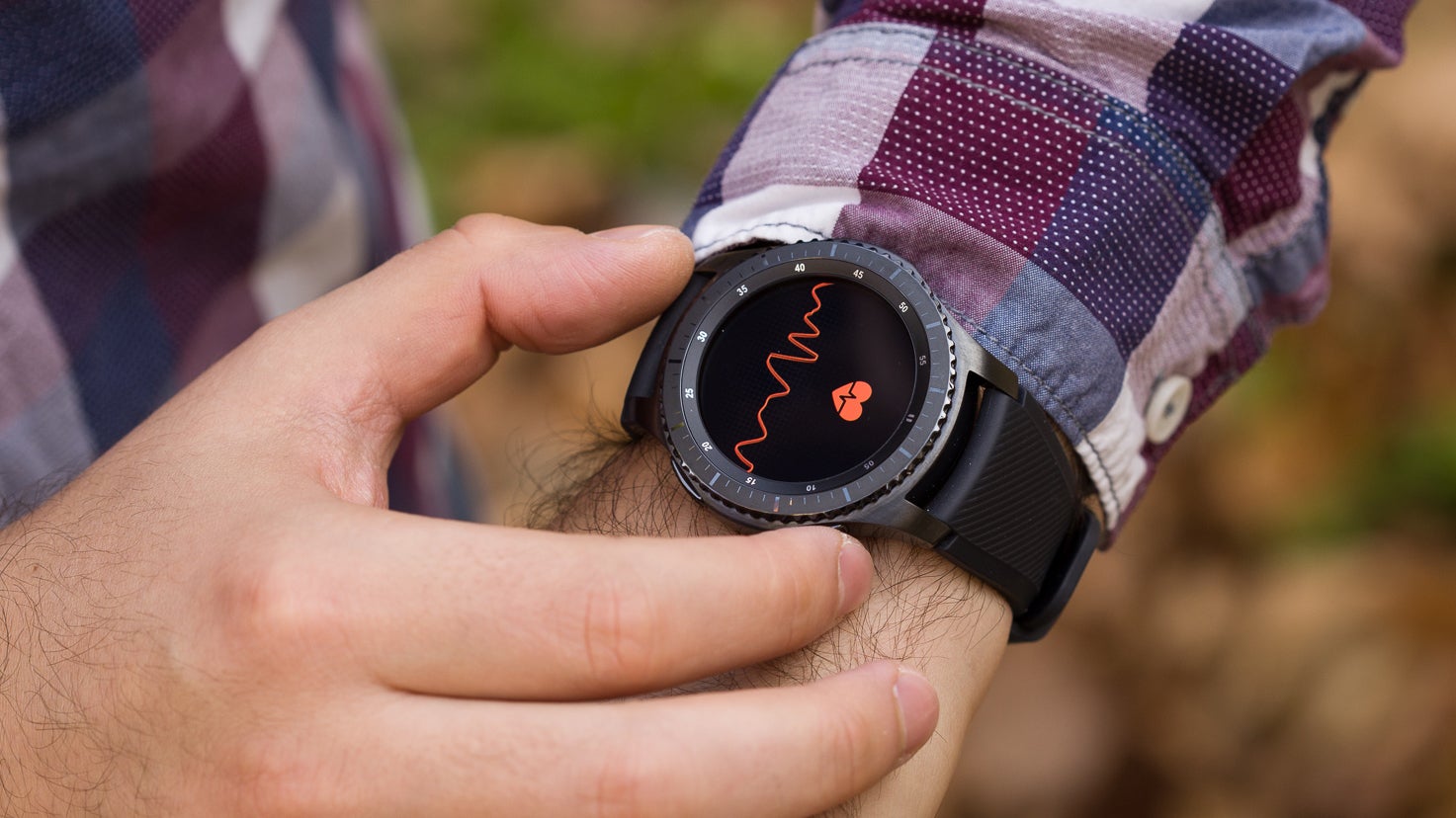 Enhanced sleep tracking
Another feature that was already available on the Gear S3 but will reportedly get immensely improved on the Gear S4 -if the rumors are to be believed, the device will be much more capable at keeping tabs on your sleeping habits. Of course, this feature implies that you wouldn't take the watch off when you hit the hay.
Oh, sweet Tizen!
Samsung's own wearable platform has mostly proved to be an excellent smartwatch platform and at this point it's so well-developed that it makes zero sense for Samsung to switch to another platform with the chief suspect being Google's WearOS. Zero chances for that one to ever happen, if you ask us.



Device compatibility
Fret not, iOS users, you will most certainly be capable of using Samsung's upcoming watch crown jewel with your iPhone. The Gear S3, S3 Frontier, and Gear Sport are already with both Android and iOS devices thanks to the cross-platform Gear Manager app which can be downloaded on
both iOS
and
Android devices
.
However, rest assured that while the Gear S4 will likely be compatible with almost any contemporary phone, certain essential features like calls and messages might only work as intended when you pair it with a Galaxy smartphone. To put things in perspective, the table below you will find a handy table depicting what Gear S3 features were available on the different platform-device combinations.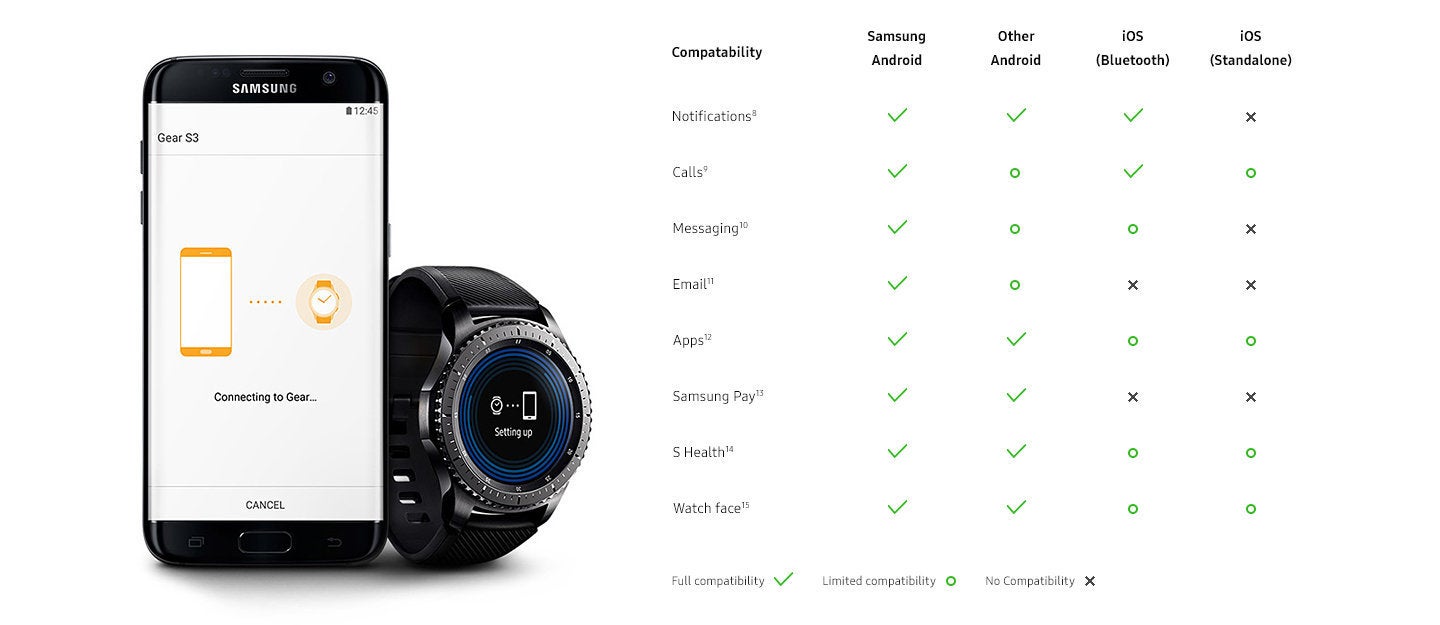 Price and release date
Samsung has the habit of releasing its wearable devices on a yearly basis at the IFA trade show in Berlin, Germany. The Gear Sport was introduced last year, while the regular Gear S3 and Gear S3 Frontier came in 2016. Following this pattern and the heightening amount of rumors surrounding the Gear S4, we can easily draw the prediction that the Gear S4 will be Samsung's heavy hitter for this year's IFA trade show.
This becomes even more plausible once you consider the rumors that the Galaxy Note 9, Samsung's anticipated next heavy-hitter, will reportedly be announced earlier in August and not at IFA 2018 as the South Korean giant will look for more dedicated media exposure. Earlier in June, we reported that the Gear S4 might be announced on August 9, which is also a probable announcement date for the Note 9, but recently this rumor has been shot down. Thus, IFA 2018 remains a more plausible announcement date.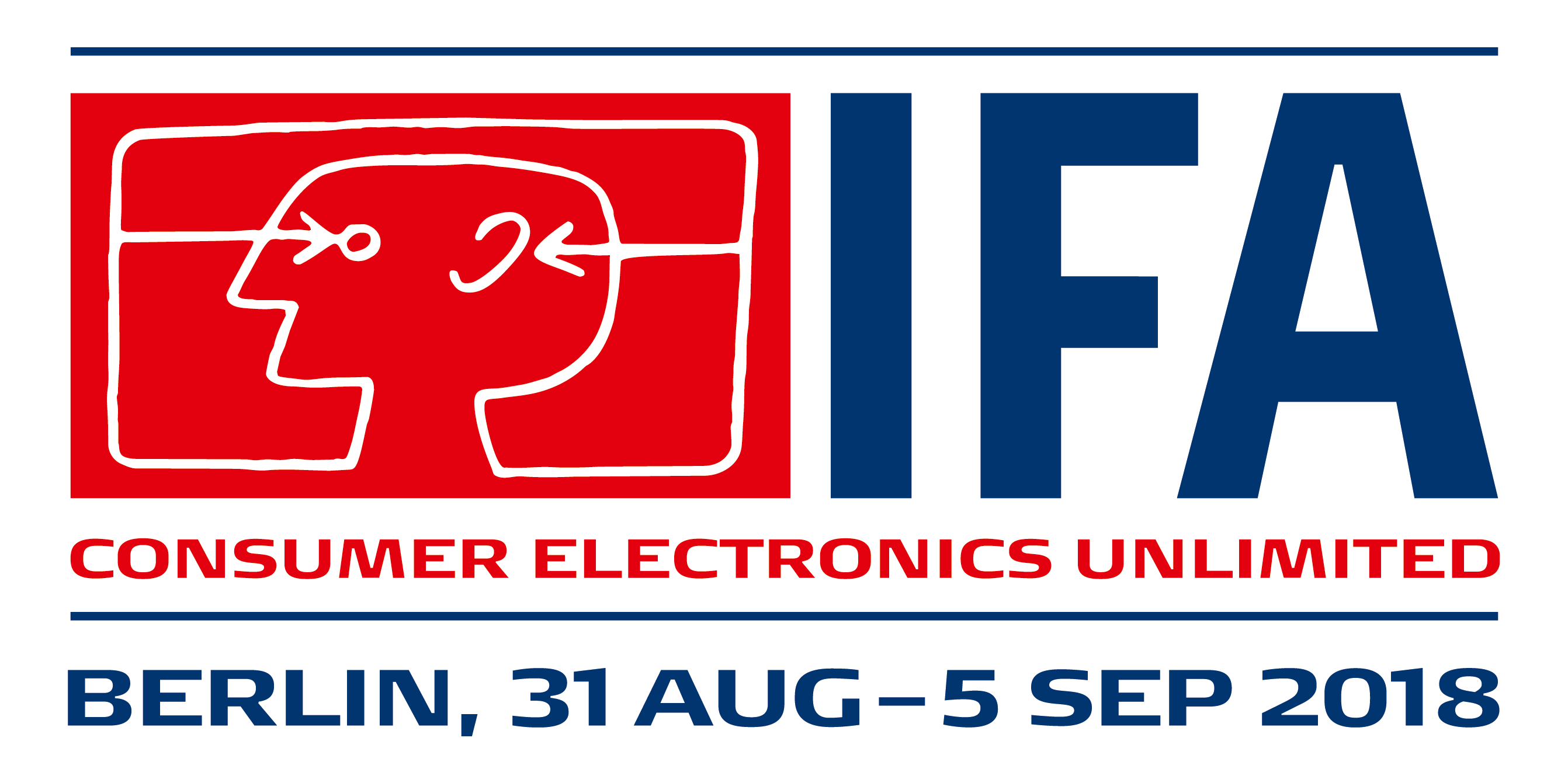 As far as price goes, we are probably looking at a sub-$400 price tag for the wearable. The Gear S3 Frontier started at $349 whereas last year's Gear Sport had a $299 price tag attached to it, which possibly means that the Gear S4 should gravitate in the vicinity provided that Samsung doesn't go all crazy with a super-premium design or a exquisite feature that will drive the price up.

While we haven't heard anything regarding a dedicated rugged, sport, or super-premium variation of the wearable, but any of these is certainly on the table as Samsung has proved time and time again that it has a penchant for such spin-offs.
Recommended Stories