Samsung might exclusively use Snapdragon chips for years to come, temporarily admitting defeat
3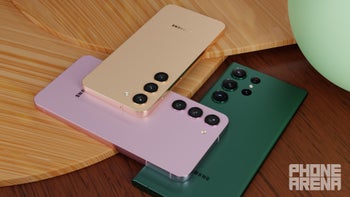 Up until 2023, Samsung used to release both a Snapdragon and an Exynos version of each flagship phone it has in store, with each one slated for a different region. This year, however, things took a surprising turn as the full Galaxy S23 lineup (
Galaxy S23
,
Galaxy S23 Plus
,
Galaxy S23 Ultra
) will be powered by the Snapdragon 8 Gen 2 chipset globally.
Samsung is, however, getting a special treatment, as its new Galaxies will get
a custom overclocked version of the Snapdragon 8 Gen 2
, unambiguously dubbed
"Snapdragon for Galaxy"
. This chip is developed by Qualcomm, both a partner and a rival of Samsung in the hardware space, but manufactured in-house
by Samsung Foundry
.
Established leakster Yogesh Brar has it that this
"Snapdragon for Galaxy"
wouldn't be an extraordinary, one-off undertaking as Samsung might continue to rely on Qualcomm's services for more upcoming flagships. This possibly means a Qualcomm Snapdragon Gen 3 for the Galaxy S24 series, Snapdragon Gen 4 for the Galaxy S25, and so on.
That's Samsung temporarily admitting defeat on the chipset scene, and a very good news for most hardcore Galaxy fans that have begged and petitioned
Samsung for years
to just quit it with the Exynos chipsets and rely on Qualcomm full-time
Yet, this complete reliance on Qualcomm will most certainly last until Samsung feels confident that its Exynos chips are once again competitive and on par with the best Qualcomm has to offer. Once that happens, however, Qualcomm will likely partner up with another phone manufacturer that could receive the same treatment and get to use slightly customized versions of its flagship chipset.
Head that this 'Snapdragon for Galaxy' for Galaxy S23 series is not a one off thing. Samsung will likely stretch this till the time their new Exynos chips are ready.

Post that Qualcomm might do this with a different OEM. Their market first program for new SoCs will run parallel

— Yogesh Brar (@heyitsyogesh) January 24, 2023
As a refresher, the Samsung-exclusive Snapdragon 8 Gen 2 appears to be overclocked all the way up to 3.32GHz, in contrast to the standard Snapdragon 8 Gen 2, which features a high-performance Cortex-X3 core "merely" clocked at 3.2GHz. The Snapdragon 8 Gen 2 also has two Cortex-A715 and two Cortex-A710 performance cores operating at 2.8GHz, as well as three efficiency Cortex-A510 cores running at 2.0GHz. Quite a new arrangement that differs substantially from the 1+3+4 setup that made the rounds on the Snapdragon 8 Gen 1, a processor riddled with issues that Qualcomm has mostly addressed.
The Galaxy S23 series is coming February 1st, with in-story availability reportedly scheduled for February 17. The rumor mill was quite active this year, so we pretty much know everything there is to know about the Galaxy S23 series. The Galaxy S23 Ultra will once again be the most exciting phone, at least for the first half of the year, but the Galaxy S23 and Galaxy S23 Plus are also reportedly coming with some decent improvements that could make them pretty lucrative wares on the market.
The Galaxy S23 Ultra comes with a 200MP camera, a first of its kind on a Galaxy flagship, and also has the S Pen stylus in tow for quick and easy note-taking. There's also the Snapdragon 8 Gen 2 paired up with 12GB of RAM, and a large 5,000mAh battery to keep it all running. Meanwhile, the Galaxy S23 and the Galaxy S23 Plus are both scoring fresher design, improved camera performance in low-light scenarios (which would also be a big selling point of the Galaxy S23 Ultra as well), and larger batteries to keep the lights on.