Samsung keeps adding Galaxy S20 pre-order bonuses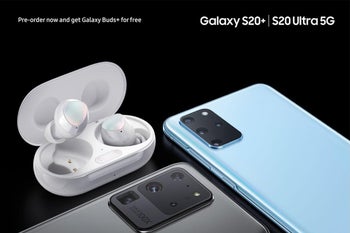 UPDATE
:
We are listing all of Samsung's new Galaxy S20, Plus and Ultra preorder gifts and trade-in prices post-announcement below
Believe it or not, the fact that they come as a gift with the
Galaxy S20
series pre-orders isn't the only thing that the new Galaxy Buds+ will have going for them. The pair that Samsung is expected to announce next Tuesday, is scheduled to last the whopping 11 hours on a charge from the buds alone when you listen to music, according to
leaked Buds+ specs
.
That's not all though, as Samsung augmented the
pre-order registration page for the Galaxy S20
to include a bonus credit that will be good for purchases from its web store, so you can grab yourself a nice basic case to go with your new phone.
The Buds+ will probably be at least a $160 value, if their predecessors are any indication, so the total bonuses you will get for grabbing the best of Android at launch time are nearing two Benjamins. We are fairly certain that there will be other deals on the horizon shortly after the announcement, as it usually happens when good things happen to those who wait.
Samsung Galaxy S20, Plus and Ultra preorder gifts and trade-in prices
Free Galaxy Buds+
Up to $600 trade-in discount
$100 (S20), $150 (S20 Plus), or $200 (S20 Ultra) in Samsung store credits
Samsung's own web store may not be the best place to get the new Galaxy S20 series, unless you are gunning for the unlocked version. That's because all the free gifts and extended trade-in values are also available if you get them from, say, the carriers stores or Best Buys, but those are also tacking on their own perks. Here's how much money you'll get for your aging phone when you swap for an S20 model during the preorder window.
Galaxy S20 trade-in prices for Galaxy S10, S9, Note 9, iPhone 11, Pro and Max
| Device | Trade-in value |
| --- | --- |
| Galaxy Note 10+ | $700 |
| Galaxy Note 10 | $700 |
| Galaxy S10+ | $600 |
| Galaxy S10 | $600 |
| Galaxy Note 9 | $300 |
| Galaxy S10e | $300 |
| Galaxy S9+ | $300 |
| Galaxy S9 | $300 |
| Galaxy S8+ | $200 |
| Galaxy Note 8 | $200 |
| Galaxy S8 | $200 |
| Galaxy S8 Active | $200 |
| Galaxy S7 Edge | $200 |
| Galaxy S7 | $200 |
| Galaxy S7 Active | $200 |
| iPhone 11 Pro Max | $700 |
| iPhone 11 Pro | $700 |
| iPhone 11 | $600 |
| iPhone XS Max | $600 |
| iPhone XS | $600 |
| iPhone X | $300 |
| iPhone XR | $300 |
| iPhone 8 Plus | $300 |
| iPhone 8 | $300 |
| iPhone 7 Plus | $200 |
| iPhone 7 | $200 |
| iPhone 6s Plus | $200 |
| iPhone 6s | $200 |
| Google Pixel 4 XL | $600 |
| Pixel 4 | $600 |
| Pixel 3 XL | $300 |
| Pixel 3 | $300 |
| Pixel 3a XL | $200 |
| Pixel 3a | $200 |