Top Galaxy S10 version with 6.7-inch screen and limited 5G support could be in the works
19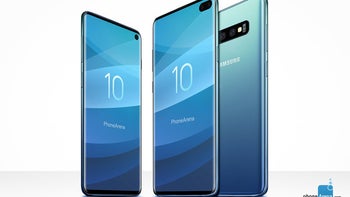 While we may already know pretty much everything there is to know about Samsung's three "main"
Galaxy S10
variants, it remains unclear whether or not a fourth next-gen flagship model is also in the works.
A somewhat hit-and-miss
Twitter leaker seems pretty convinced
the 6.4-inch Galaxy S10+ will not be the family's "top version", claiming Samsung's first 5G mobile device sports an even larger 6.7-inch screen.

Ice Universe appears to suggest he has somehow gained access to legit imagery starring this mysterious "Beyond X" product, describing its 5G logo as "very cool." Or perhaps he's seen the beast in the flesh already, although that feels highly unlikely.
Either way, the purported inside information he can share right now calls for both front and rear-mounted ToF sensors. Short for time of flight, that's a groundbreaking
3D-sensing technology
eclipsing Apple's TrueDepth camera system in complexity.
That would confirm previous gossip of a
quad-camera setup
sitting on the back of a top-shelf Galaxy S10 variant, with either two or three front-facing shooters in tow as well.
Unfortunately, another existing rumor today's tweet reiterates is the limited availability of this 5G-enabled Galaxy S10. But maybe South Korea and the US will simply
get it first
, followed by other markets later in 2019. Meanwhile, pricing remains under wraps, which
might be for the best
. You wouldn't want to have a heart attack right before Christmas, would you?