Relax, you don't need to buy the Samsung Galaxy Fold
17
This article may contain personal views and opinion from the author.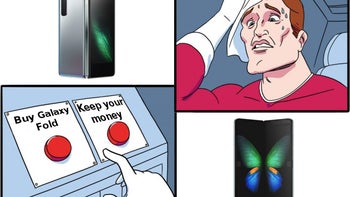 The Samsung
Galaxy Fold
is a truly remarkable device. A futuristic phone that comes straight from a techie's dreams, and that Samsung has teased for years. A display that folds can now finally be in the hands of the common users out there! That's a huge deal.
It also helps that it packs absolutely awesome hardware — it's easily more powerful than many laptops out there — and it looks like a jewel of industrial design. But it also costs a bunch of jewels as well... $1,980 for a phone? Does one really want to spend that much?
Now, I am pretty sure that there is nothing I can say to the early adopters out there who happen to be well off. You have the money, you love tech, you are a Samsung fan, and you must have it — yeah, your mind is probably set on it already.
But, to those that are super close to pulling the trigger, but still feel hesitant to do so, let me say... "Hold off on this one, guys".
And no, this is not about the recent "
foldgate
" debacle (
I'm just kidding, I hope the term "foldgate" doesn't pick up
), where some Galaxy Folds broke down because their owners may or may not have tampered with the protective layer of the screen. No, there are a bunch of reasons I believe you shouldn't go spending $2k on this phone. Let me lay them out here!
It's basically a portable tablet
They call it a "foldable phone", but I see the Galaxy Fold as more of an Android tablet. With how hideously small the outside screen is, it only makes sense that you will spend most of your time with this device using it in unfolded mode. This pretty much makes it a 7-inch Android tablet, which happens to be able to fit in your pocket and take the occasional call.
Undeniably, this is cool. But is it $1,980 cool? Not to mention, the software experience on Android tablets doesn't have stellar reputation.
It offers nothing better than the Galaxy S10+
Aside from the fact that it has a bigger display, you pretty much get everything you can get with the cheaper
Galaxy S10+
here — it's powered by the same processor and has the very same cameras. Fine, the Galaxy Fold has 12 GB of RAM while the
Galaxy S10
+ "only" offers 8 GB... which is still overkill. I can even get cheeky here and say "The Galaxy S10+ still has a headphone jack!", but let's not go there.
In fact, I'll do you one better — the
Galaxy S10 5G
(
yet to be released
) will come with a
ToF camera
on top of featuring all the cameras from the Galaxy S10+. Meaning, if camera experience is what you are after (and most smartphone fans are), the S10 5G will actually have something more special to offer than the Galaxy Fold!
That screen won't stay pristine for long
No, I am not talking about the recent scandal where some pundits
damaged the screen
by removing its top layer. I do fear that this layer will be capable of getting scratches all on its own.
How?
Well, it's plastic. In order to get the folding effect — it has to be. That's where our technologies are at, that's perfectly understandable. But this still means that any type of contact with hard items or even random debris will scratch it much faster than you would like.
Yes, there's the argument of "The phone folds inwards, so the screen is protected when you are not using it!". I am not convinced — when closed, the Galaxy Fold still has a tiny gap formed by the hinge, revealing a hollow tunnel, which will allow any debris to travel straight through the inside of the phone (grazing past that plastic display in the meantime).
You can be sure that hard particles will constantly be finding their way there. Murphy's law states that all dust, sand, and lint in the vicinity will find its way to that tunnel whenever your phone is in your pocket, on a table, or even on your nightstand. This plastic layer will not look pristine for very long.
Constantly being paranoid about checking my pocket for anything at all before putting the Galaxy Fold in there, and then still being heartbroken when I open it up and see that dust found its way to the screen is not the $1,980 experience I would like to have... or that I would recommend to anyone.
Oh yeah, it also doesn't support screen protectors, as per Samsung's own guidelines, so that option is out the window at this time.
It's a first generation device
Yes, it has been said time and time again. "
Don't buy 1st gen tech unless you are willing to deal with some headaches
". First gen is usually more expensive than later iterations, it comes with a bunch of kinks that need to be ironed out (crease joke right here... I missed it), and may or may not be fundamentally flawed in some manner, which was not immediately apparent.
Despite the fact that it's available for purchase, the Galaxy Fold is still very much an experimental or even a "concept" device. If history is anything to go by, the second generation of the Fold (assuming the concept lives on) will very quickly fix some of the major flaws the first one had and might even cost less out the gate.
So, unless you are a wealthy techie, my suggestion is to spend your money elsewhere. Hey, it can still be Samsung products — get a Galaxy S10 and a
Galaxy Tab S4
and you will still have a killer Samsung experience! For less!