Here are the two screen sizes of Samsung's foldable Galaxy F
6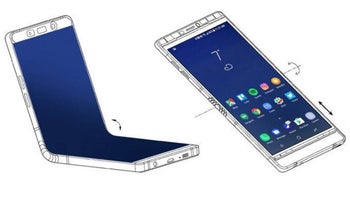 For some mysterious reason, Samsung keeps leaking information about its bet on the future of cell phones - the foldable Galaxy F, or whatever it is named. After Samsung's DJ Koh gushing about
a reveal as soon as November
, it turned out he meant that the near-final handset will be shown at Samsung's developer conference then, probably to a chosen few.
Thus, the announcement and release date arguably stay
for the first quarter of 2019
, as was speculated before. In any case, despite the fact that Samsung's next big thing may not hit the shelves this year, the company seems bent on building anticipation and taking our minds off the various flagships that are still to ship from major phone makers this quarter.
The last installment in this trickle-down theory is today's report, straight out of Korea, which details the exact screen dimensions of the Galaxy F, both when in-folded, and when unfurled at its full size. In line with what we've
heard before
, the foldable Samsung phone will have a 4.6" screen on the outside when bent, and on the inside a 7.3" screen that is bent out of shape when you don't need such a large display to browse or watch videos.
This sounds like a perfectly reasonable approach to the daunting task of developing such a device. The curvature when folded will reportedly be 1.5R, or just a maximum of 3mm gap where the phone bends, not bad at all. When we add the fact that you can do all you want to do on your phone with the smaller external display that will also be outfitted with a flexible OLED panel, the design surely sound workable. Samsung is planning to schedule the initial production in the 100,000-120,000 units monthly range, which may sound modest, but let's not forget this will be a pioneering device that likely won't come cheap, too.