Samsung crushes Apple and Huawei in global download speeds, new study finds
27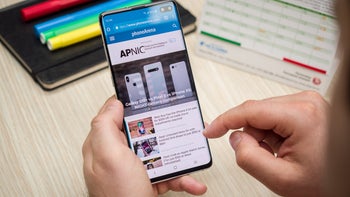 OpenSignal is a mobile analytics company primarily known for its detailed examinations of global cellular networks,
periodically pitting carriers
and countries against one another to find out where you can get the highest speeds, lowest latency, and widest 4G LTE availability.
For the first time,
a report compiled
after conducting a mind-blowing 117 billion measurements on more than 23 million smartphones around the world between April 1 and June 30 is evaluating the general mobile network experience based on handset brands rather than countries or specific wireless service providers. In other words, OpenSignal is looking at the different speeds achieved by devices from the top three vendors, concluding one thing that might take many of you by surprise.
Samsung tops the chart in 14 out of 40 markets
That may not sound like a very crushing domination, but Samsung's 14 individual wins easily trump Apple's 7 crowns, while the other 19 countries have two or three companies tied in a "statistical dead heat" in first place. That leaves Huawei without a single outright trophy, which is pretty disappointing for a brand that grew so quickly and expanded so impressively in recent years across Asia and Europe.
Samsung's most notable (and perhaps surprising) victory comes from the US, where average speeds of Galaxy devices are apparently ahead of iPhones' capabilities by a significant 8.2 Mbps. That's not a theoretical gap, mind you, as the survey explores the real mobile network experience of actual users rather than the cold numbers listed on the spec sheets of these products. Of course, speed tests are not always representative of real-life web browsing or streaming use cases, but OpenSignal's complex methodology and large sample size make this report highly reliable.
The main takeaway here is that if you live in the US, Australia, Chile, India, Indonesia, Ireland, Italy, Malaysia, Mexico, Netherlands, Norway, Russia, Spain, or Sweden, you're more likely to download stuff faster on a Samsung device than iPhones. Meanwhile, Apple has the edge in Brazil, Costa Rica, Kuwait, Morocco, Saudi Arabia, Taiwan, and the United Arab Emirates.
Most iPhones in circulation are categorized as "mid-tier" products
You probably wouldn't guess that by looking at the recommended price point of the
iPhone XR
, but the XS and XS Max are Apple's only handsets included in the high-tier division for the purposes of this analysis. That's because they fully support LTE Category 16 technology, unlike the XR, which packs a slightly humbler LTE Category 12 modem.
As OpenSignal points out, Apple has focused largely on upgrades and innovations in facial recognition, camera, battery life, and processing departments in recent years, paying far less attention to improvements in mobile network capabilities. Essentially, high-end Samsung and Huawei phones come with theoretically faster LTE components, which naturally translates into superior real-world experiences.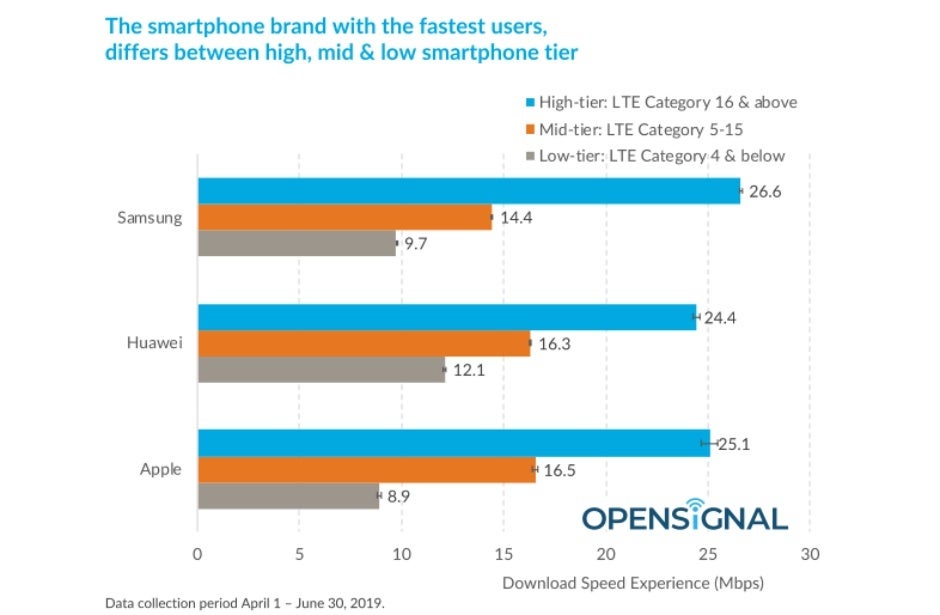 What's definitely worth highlighting is that country averages are based on speeds achieved by devices from all three tiers, which makes Samsung's advantage over Apple in places like the US that much more impressive. Looking only at high-tier handsets like the Galaxy S10, Note 9, S9, iPhone XS, XS Max, Huawei P30 Pro, and P20 Pro, Apple is 1.5 Mbps behind Samsung globally, closely followed by Huawei.
Interestingly, Samsung is ranked third overall in the mid-tier segment, behind both Apple and Huawei, the latter of which easily wins the low-tier battle, with an advantage of 2.4 Mbps over second-placed Samsung. Bottom line, if download speeds are the only thing you care about, you should probably buy a Huawei if you're on a tight budget, an iPhone XR if you can afford it, or a Galaxy flagship if money is no object. Then again, the
Galaxy S10
is often
more affordable
than the iPhone XR, so Apple definitely needs to
upgrade the cellular technology
of the
next LCD screen-sporting model
.