Razer joins forces with the giant behind PUBG Mobile to 'supercharge' mobile gaming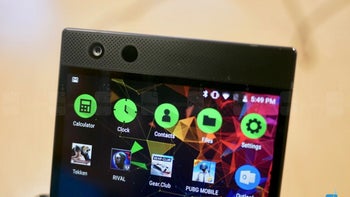 It seems more and more likely that the Razer Phone 2 will eventually get a sequel
You know how computer gaming hardware veteran Razer was recently rumored to
essentially throw in the mobile towel
less than two years after releasing
its first-ever smartphone
? That may have been the textbook definition of unfounded speculation, as the company
is
reportedly working on a
Razer Phone 3
after all, while also
entering into a high-profile collaboration with a little giant called Tencent
.
The China-based "leading provider of Internet value added services" is primarily known around the world as the publisher of Android and iOS blockbuster PUBG Mobile. For those living under a rock this past year or so, the mobile version of that insanely popular online multiplayer battle royale game managed to rack up
100 million combined downloads
on the world's two largest smartphone platforms way back in August 2018.
Since then, PUBG Mobile unsurprisingly crossed the 100 million Play Store milestone, also earning a couple of
top prizes in Google's year-end review
. While the game works fine on most high-end handsets, Razer and Tencent will apparently join forces to optimize the latter's titles (presumably including both existing and future ones) specifically for the former's hardware. We're talking the Razer Phone family, as well as Razer-designed mobile game controllers.
But hardware optimization is just one of a three-part collaboration strategy, with Razer and Tencent also focused on working together across software and services areas. Unfortunately, today's announcement is extremely light on specifics, but it's yet another sign that Razer is absolutely not giving up on the mobile gaming world. That would be a pretty bad idea considering the stuff
Google is preparing
in an attempt to revolutionize this experience.
While a Razer Phone 3 is not explicitly confirmed by the company in this vague press release teasing the ways Tencent could help "supercharge the mobile gaming industry", it's certainly a good sign that the "acclaimed" handset family is mentioned several times. That doesn't sound like a soon-to-be-discontinued product lineup to us.
Recommended Stories