Google's new Stadia service allows users to play video games on the go (yes, on smartphones)
12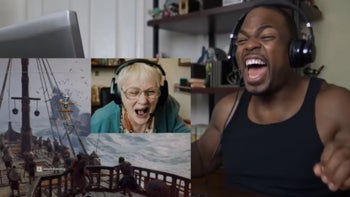 Google has finally taken the wraps off its new game streaming service called Stadia, and from the information presented on the stage, it does look like it will revolutionize the gaming industry as a whole.
Stadia isn't just aimed at gamers, but also at developers who want to take advantage of incredible powerful hardware to test their products. More importantly, all consumers with access to the internet will be able to take advantage of almost all Stadia has to offer while on the go.
To bring you up to date to what Stadia really means, we should first talk about Google's Project Stream, a cloud-gaming platform that lets you play games via the Chrome browser. Google ran a public test last year, which allowed anyone where the service was available to play Ubisoft's Assassin's Creed: Odyssey directly in their browsers without having to download anything.
Stadia does exactly that but allows you to play video games on any device with a screen that you have in your home – TV, computer, smartphone or tablet. Moreover, you don't need to do download anything, just tap play and in a matter of seconds, you'll be playing the game you've been dreaming of on your choosing platform.

You don't need a powerful phone to play triple A video games
Since the game runs on hardware from Google's data centers, you don't need a powerful device to play games, just a stable internet connection. Stadia is meant to bring games that are now restricted to owners of powerful PCs or consoles to a much wider audience, and we're not talking just about phone users.
Google promises its service will be able to stream games in 4K, 60fps and HDR color at launch, but Stadia will be able to scale up to 8K and 120FPS when this technology will become more widespread.
Along with the Stadia's big reveal, Google announced its own controller for the game streaming service. Before we dive in, it's worth mentioning that all controllers that are now available on the market will work with Stadia, so you're not required to purchase Google's game controller.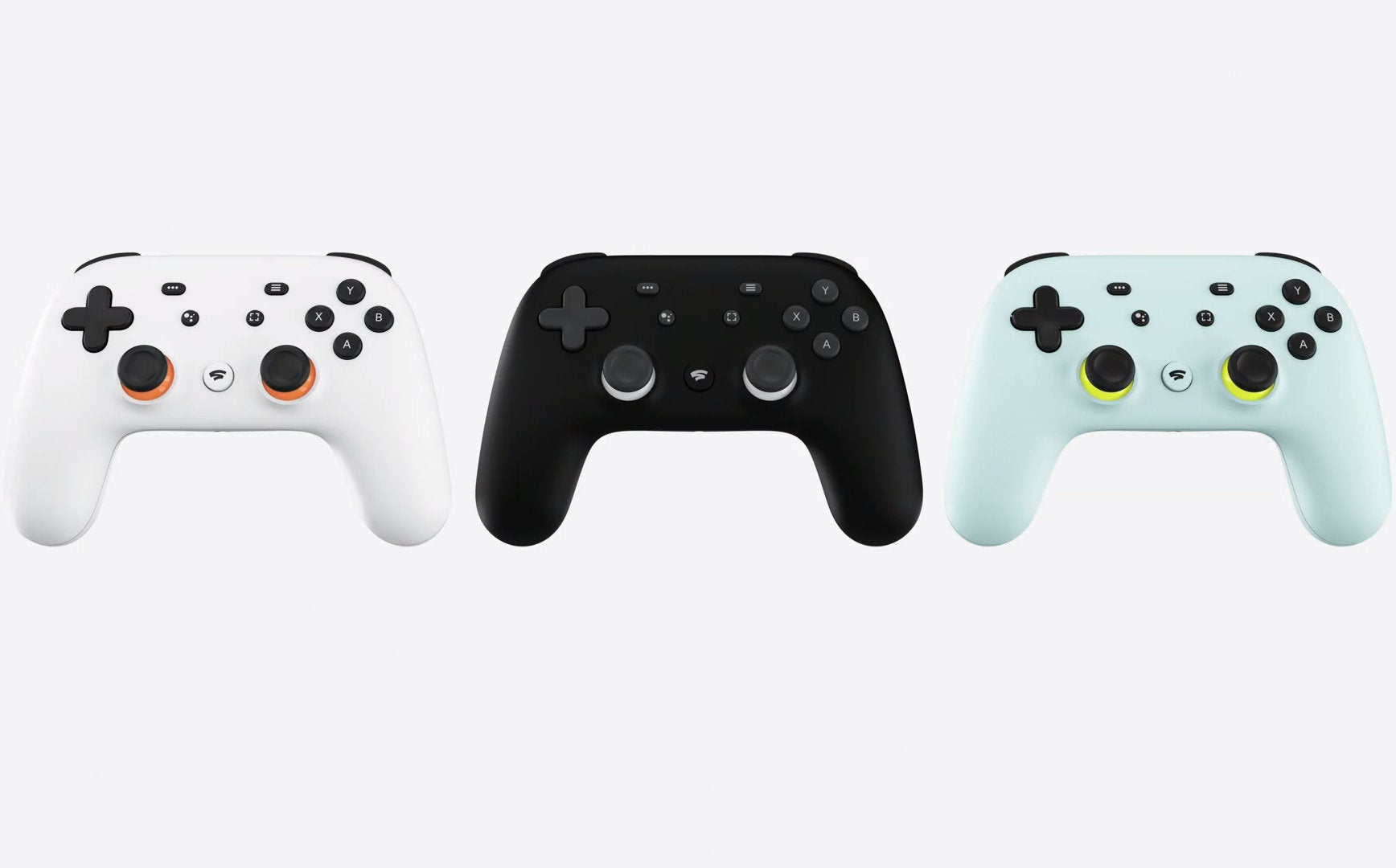 The Stadia controller
However, Google states that its wireless controller will connect directly to its data center and run the game on the display you choose. Also, it comes with a dedicated sharing button that allows you to capture screenshots during your gameplay sessions, and a Google Assistant button.
Combined with the controller's built-in mic, Google Assistant will enable players to ask for hints if they're stuck in the game, while they're playing it. No details about price or release date have been announced yet, but it does look like it will be available in three color options.
Google is gearing up to develop its own games
And that's not all. Google hired former Ubisoft producer Jade Raymond to lead its newly founded game development studio called Stadia Games and Entertainment. The studio will not just develop triple A video games for Stadia, but it will also team up with major game studios to bring even more titles to the streaming service.
We don't have a list of titles that will be playable via Stadia, but we do know that Google has been working with Ubisoft to test the service, so we can safely assume that one or more games developed by the French company will be available at launch.
Also, iD Software, the studio behind Doom franchise, announced that its upcoming Doom Eternal title will be available to play using Google's Stadia streaming service. Other titles that will be available at launch will be announced in the coming months.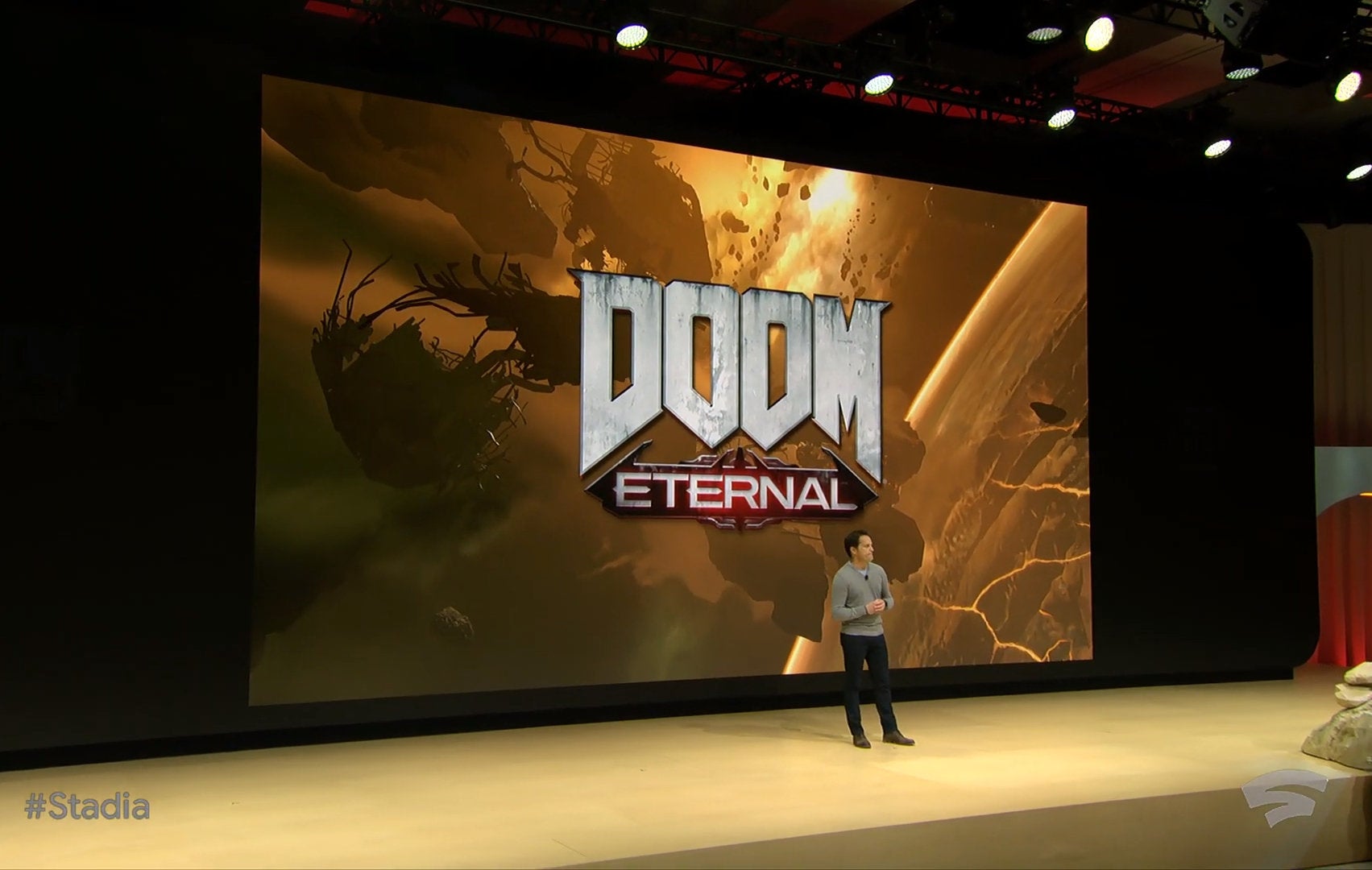 To make things even more appealing for gamers, Google announced that it will allow people who are watching their favorite streamer playing games on YouTube to join their gameplay sessions. The new feature is called Crowd Play and will be available when Stadia launches. Using another feature called State Share, users can send links to specific sections of the game to their friends so that they can play from there in the Chrome browser.
Google Stadia price and availability
The good news is Stadia is going to be launched in 2019. Unfortunately, no specific release date has been mentioned, although Google promised to offer us more details this summer. We're also hoping to receive more information on pricing options since Google has been mum on the subject.
As far as availability goes, Google announced Stadia will be launched at the same time in North America (United States and Canada), UK and "most" of Europe, whatever the latter might mean.