Save the date: Nothing confirms impending Ear (2) launch event
1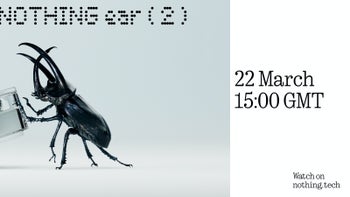 There's something big on the horizon from Carl Pei's Nothing company, and because the aptly titled
Phone (1)
is a lot younger than the AirPods Pro-rivaling
Ear (1)
, you're not going to get any prizes for guessing what's coming in a couple of weeks.
Nothing is also not the kind of tech outfit to keep its cards very close to the chest, officially revealing the predictable name and
the exact announcement date and time
of the company's next product.
If you're excited about the Nothing Ear (2), you might want to visit
the event webpage
where the formal launch will take place on March 22 starting at 4 pm CET. That's 10 am Eastern and 9 am Pacific Time, so clearly, Nothing is keen to attract a little bit of US attention in addition to a lot of European eyeballs here.
Officially billed as set to deliver "better sound", "better clarity", and "just better"... everything, the Ear (2) are not exactly shrouded in secrecy in terms of their design, looking extremely similar to their 2021 predecessors in
a bunch of product images leaked
by a very trustworthy source a little over a month ago.
That almost certainly means the bulk of the next-gen transparent buds' improvements will be focused on things of substance rather than style like active noise cancellation technology, overall audio performance, and perhaps even battery life.
Of course, the Nothing Ear (1) already sound undeniably great while lasting a long time between charges and doing an arguably awesome job of eliminating distractions during lengthy music listening sessions, so if the company can refine a few little details and vastly improve global availability and distribution while keeping the reasonable pricing unchanged, we may be looking at a mighty new contender for the title of
best wireless earbuds
around on March 22.