Nothing Ear (1) review: you get what you pay for?
3
We may earn a commission if you make a purchase from the links on this page.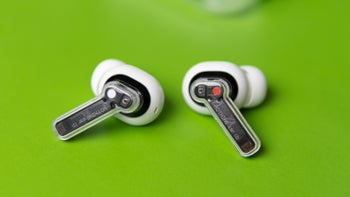 Well, here we are. OnePlus co-founder
Carl Pei
's new company — Nothing — has finally launched its first-ever product.
Now, Nothing's mission is to create technology with no boundaries — gadgets that seamlessly integrate with and enrich our lives. The company is fuelled by the desire to be an active player in the future of consumer tech.
The first step on that enthusiastic journey? Well, a pair of wireless earbuds, obviously. Who would've thunk it?
The Nothing Ear (1) earbuds have a couple of major selling points — they have transparent elements, which are not super-obvious, but will keep the tech geeks and fans happy. They have a fairly affordable price, all things considered, starting at $100. And they boast about having their sound tuned by the guys over at boutique synth company Teenage Engineering.
Are the Nothing Ear (1) good earbuds? Well, while I found the sound to be just a little bit underwhelming, I'd say they are hard to beat for the price. Now, if you go up to $150, you can get Galaxy Buds 2 or OnePlus Buds Pro, or even AirPods Pro if you find them at a discount. But if $100 is your absolute roof you'd spend on wireless earbuds — yeah, you'll be fine with those. They sound OK, their noise canceling won't blow you away, but it does the job, and they can be a conversation starter if someone manages to spot their transparent aesthetic.
Alternatives
Nothing Ear (1) design and fit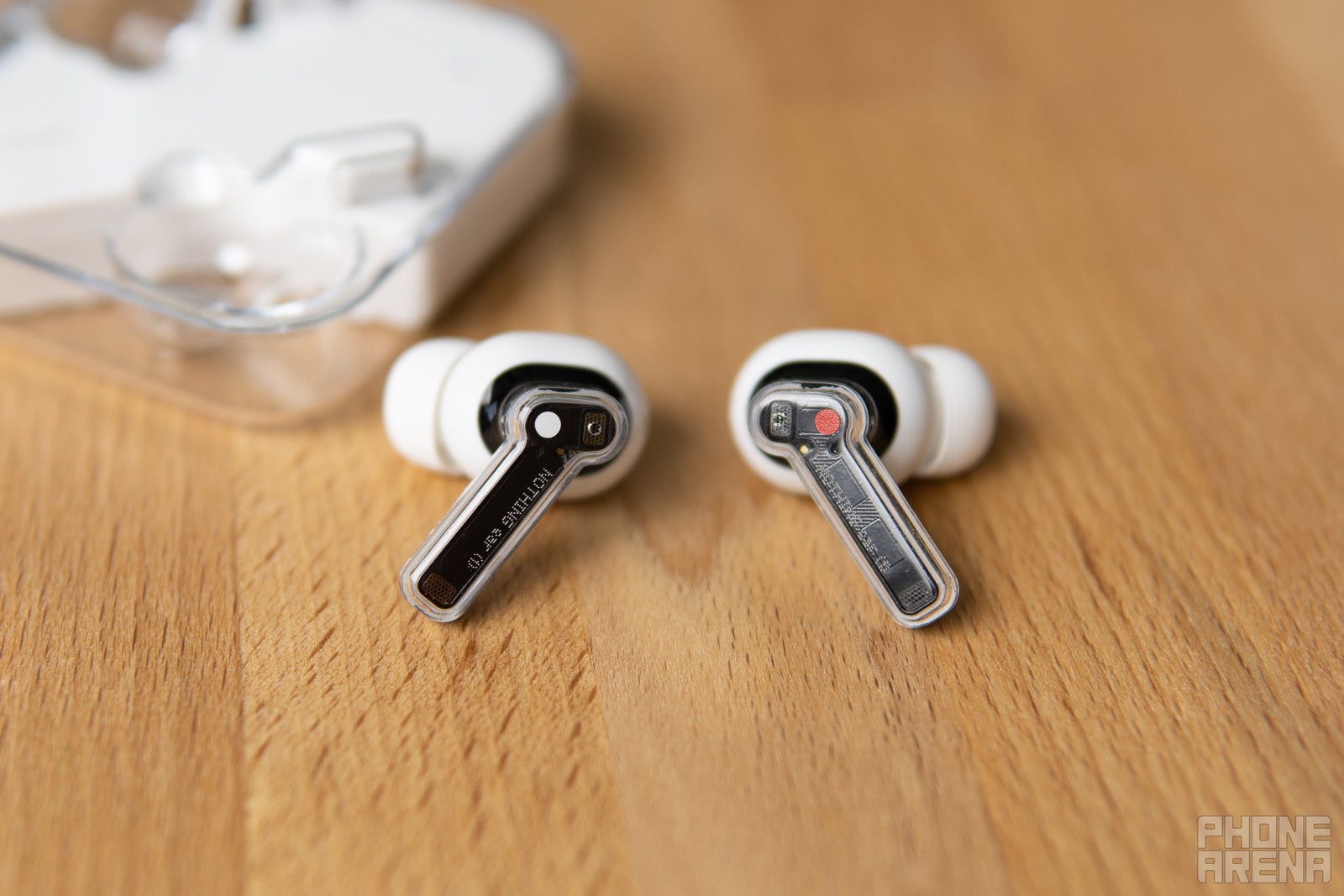 When announcing the Ear (1), Nothing made a huge deal about how it took a long hard look at the wireless earbud market and it noticed how everything is the same. More or less, every new earbud copies an old formula, mostly based on the AirPods Pro. Or so it was implied.
So, Nothing set out to launch a unique-looking set of wireless earbuds that are nothing like the rest. They look kind of like AirPods, but also have transparent elements!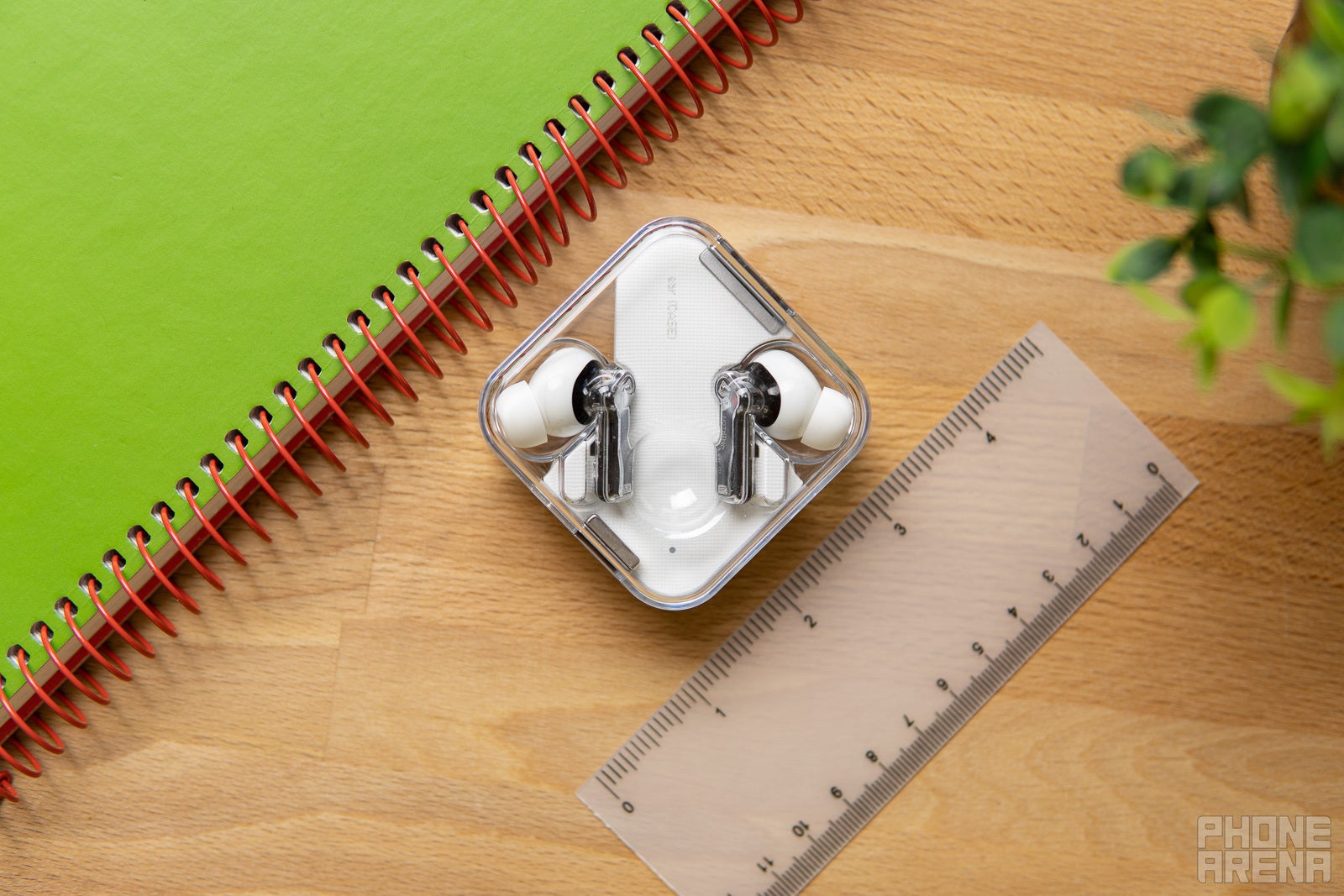 Alright, credit where credit is due, Nothing made a huge deal about how it's hard to build a transparent product because the internal design and materials have to be actually presentable. And yeah, the Nothing Ear (1) earbuds look nice and tidy, there's no excess glue or gunk on the inside, the components look nice, clean, and arranged. Sure, I can appreciate the artful touch that goes into making a piece of tech look good on the inside.
But, given the size of the earbuds, don't expect that anyone around is going to notice "Hey, this guy is wearing transparent earbuds!". Nah, from afar, the stems look kind of black-ish. Though, in my eyes, that's kind of a good thing.
The buds fit well — my ears are notoriously bad at holding in-ear buds, so I'd say that's the ultimate test. If I can use them for 2 hours without losing one or developing pain or itching — the buds are good. Well, in the case of the Nothing Ear (1), the buds stayed in and I felt comfortable at all times. They are light and they lock into place nicely, without pushing any particular parts of my ear. So, A+ there.
The Nothing Ear (1) have touch controls on the earbud stems. Double-tap to play/pause, triple-tap to skip song (forward or back depending on which earbud you tap). Tap and hold for noise cancelation controls and swipe up or down the stems to control volume. There is no control for your voice assistant and no integration with Google Assistant or Siri.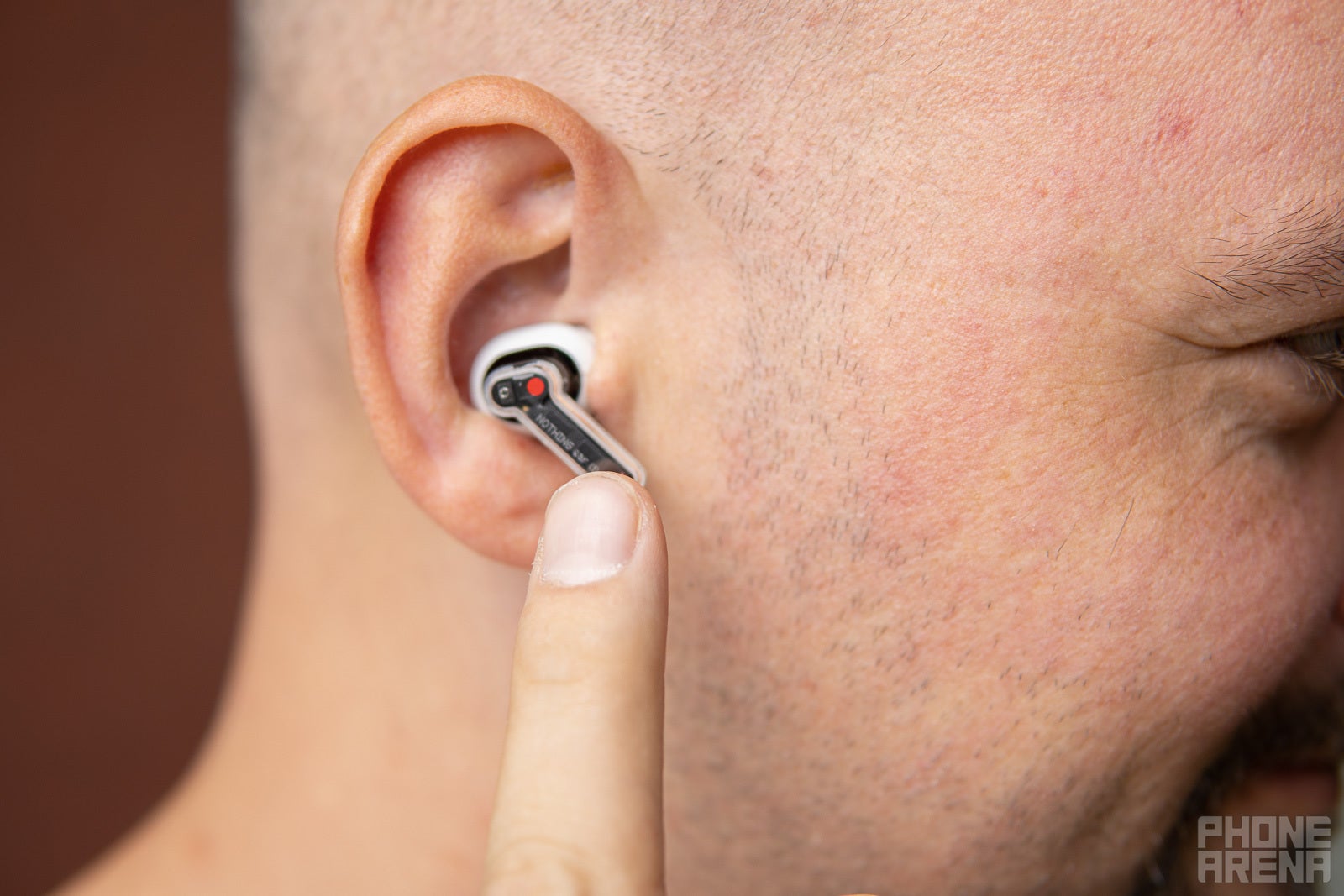 I know what you are thinking — this is probably a pain to operate. Well, I'm here to say that these touch controls are actually very responsive. I've used a lot of terrible touch-controlled buds and I know that the first thing that comes to mind when you hear that is "I am going to have to tap these 15 times until they register, aren't I?". Well, not so — the Ear (1) touch controls are surprisingly good, so huge kudos there!
The only complaint I have, and this happens with pretty much every touch-operated earbuds out there, is that I often turn noise cancelation off as I am adjusting the earbuds and pushing them in.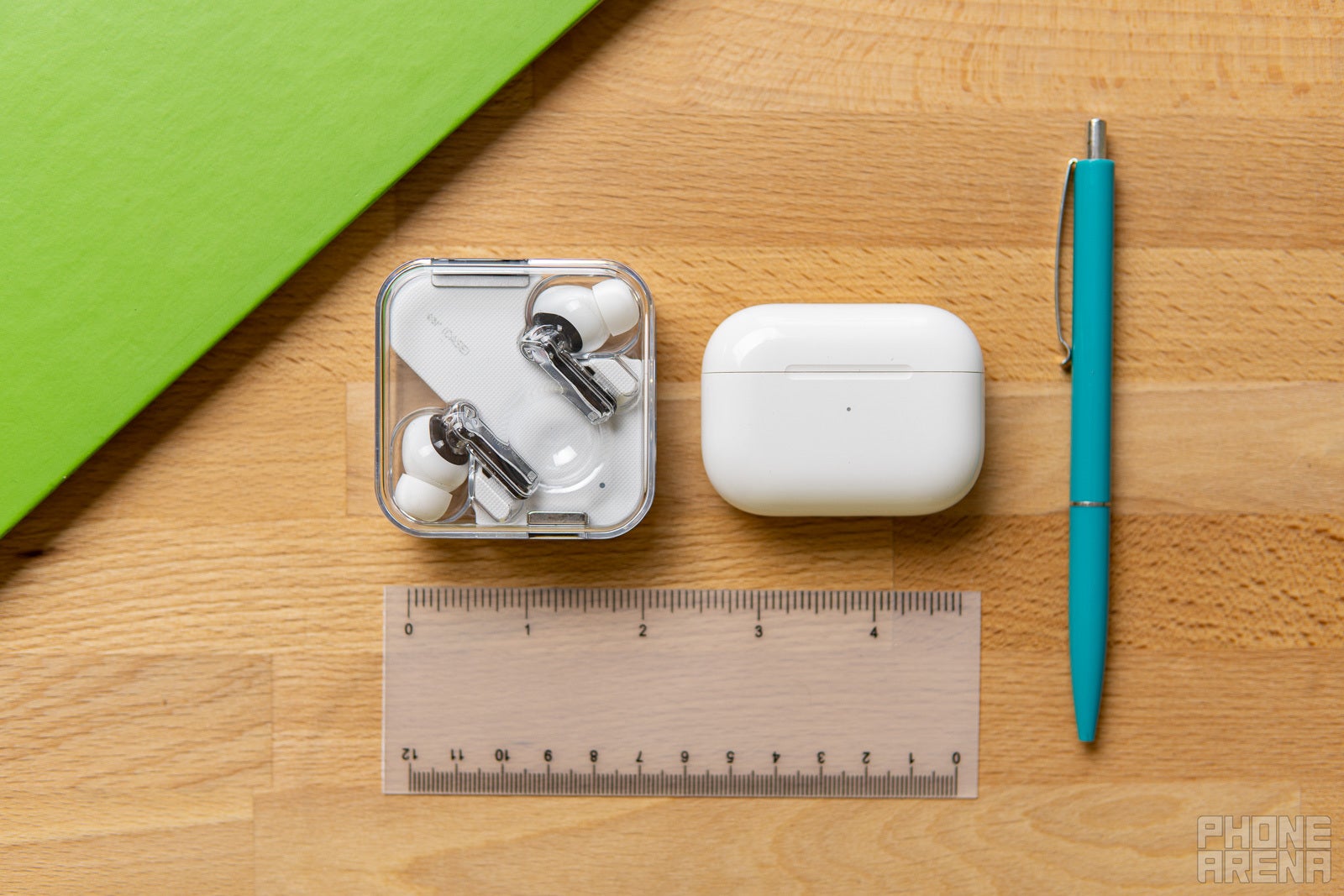 The charging case for the Nothing Ear (1) is a big, horizontal square box, which follows the transparent design language. Sure, it looks kind of neat, but it's kind of large. You store the earbuds horizontally, too, so there's definitely a learning curve to how to set them in — it's not as easy as just dropping them inside a vertical case. Lastly, I am kind of worried that this transparent plastic will start looking very bad very soon as it gets scratched up.
Nothing Ear (1) sound quality and noise cancelation
OK, Nothing actually made a brave decision with the Ear (1) here and I do appreciate it. You know how all in-ear buds like to blast you with skull-rattling bass, so you think that "wow these sound really good!"? Well, the Ear (1) does not rely on such cheap parlor tricks.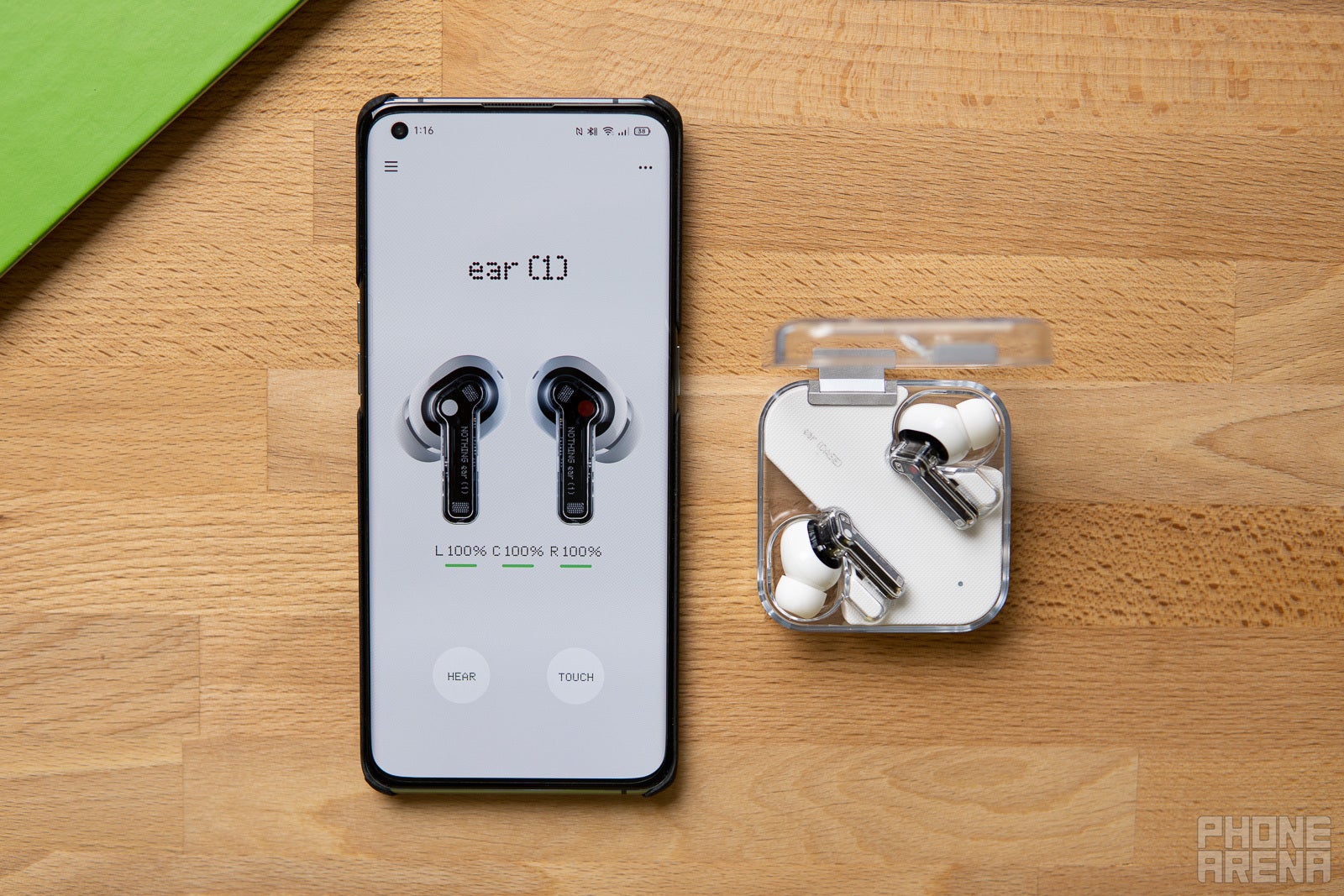 In fact, I felt that the bass was kind of weak when I first tested them. As I grew accustomed to their sound (and maybe their drivers needed a bit of breaking in), I'd say the bass on the Nothing Ear (1) is just fine. If you are a fan of boomy earphones, these are probably not for you. Otherwise, rest assured that the bottom end is there, it's just not thumpy.
If anything, I feel like the Nothing Ear (1) buds are just a bit harsh in the upper midrange section — somewhere around 4k. It's not a problem for most songs, but particularly shines through when you are listening to songs that have already been mastered to have an aggressive snap to their drums or guitars. The midrange is also a bit squished dynamically — I feel like some details in guitar riffs are lost, or at least not as "clean sounding" as I've heard on other earbuds. But not to an experience-breaking extent.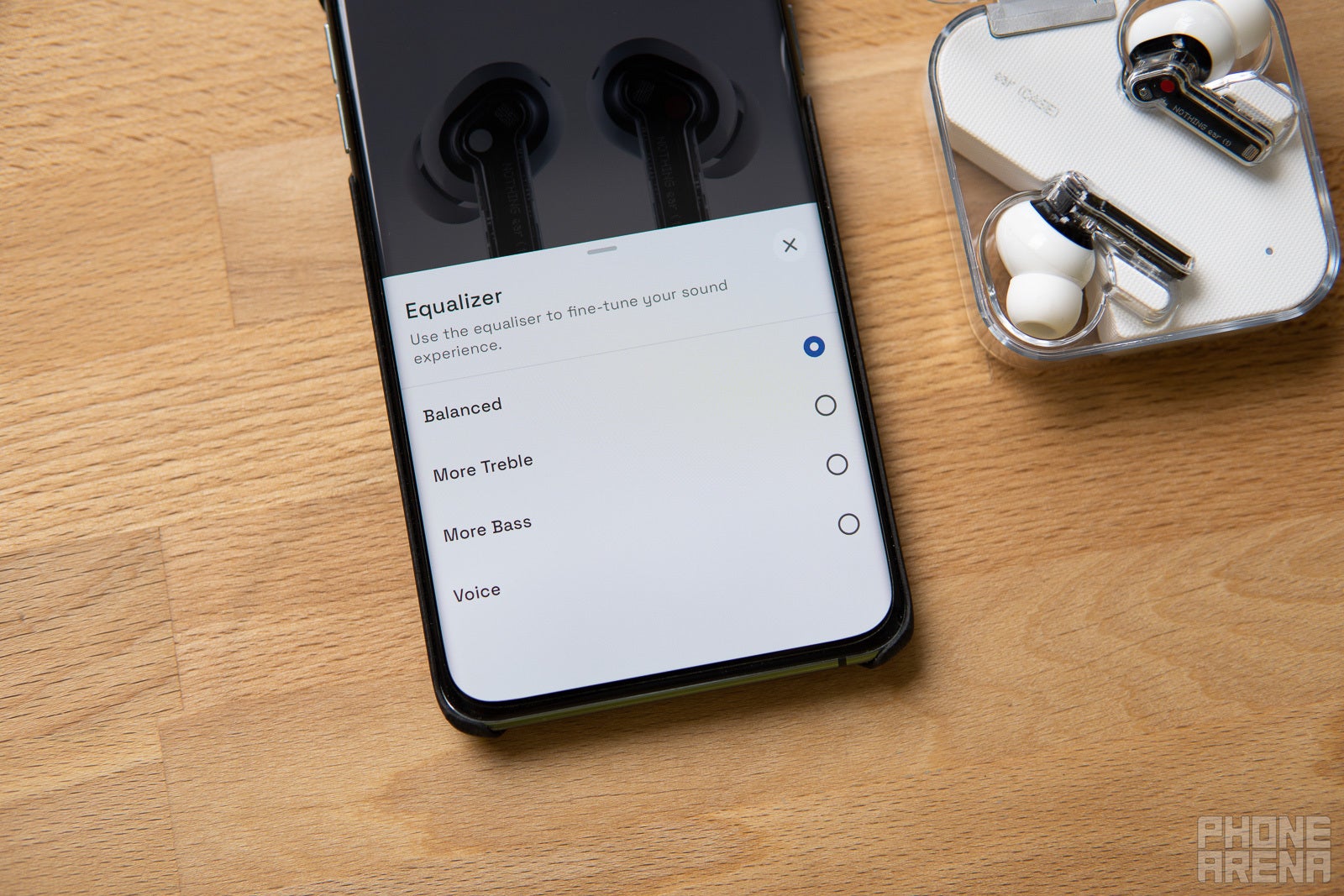 There's an official Nothing Ear (1) app you can download (and I recommend you do so), but there's no custom EQ on board. There are four audio presets
Balanced
More treble
More bass
Voice
Mostly, I found myself keeping them in Balanced mode, with sometimes turning More Bass on. More Treble sounds too harsh and Voice simply focuses on mid frequencies, I guess to make voice calls easier to listen to. More Bass doesn't amplify the thump or skull-rattle frequencies — it's more of a sub-bass boost, which adds a soft bed of low frequencies.
So, the EQ curve is mostly balanced, how's the soundstaging? I'd say it's fairly tight — you don't get the feeling of huge sound, which is often the case with earbuds, especially the non-expensive ones.
As for noise cancelation, I'd say it's OK but nothing beyond that. I've certainly heard stronger noise canceling on other earbuds. The Nothing Ear (1)'s noise cancelation is sometimes struggling to find the right frequencies it's trying to block — I can actually hear it shift as I am hearing a car engine one second and it gets blocked out the next.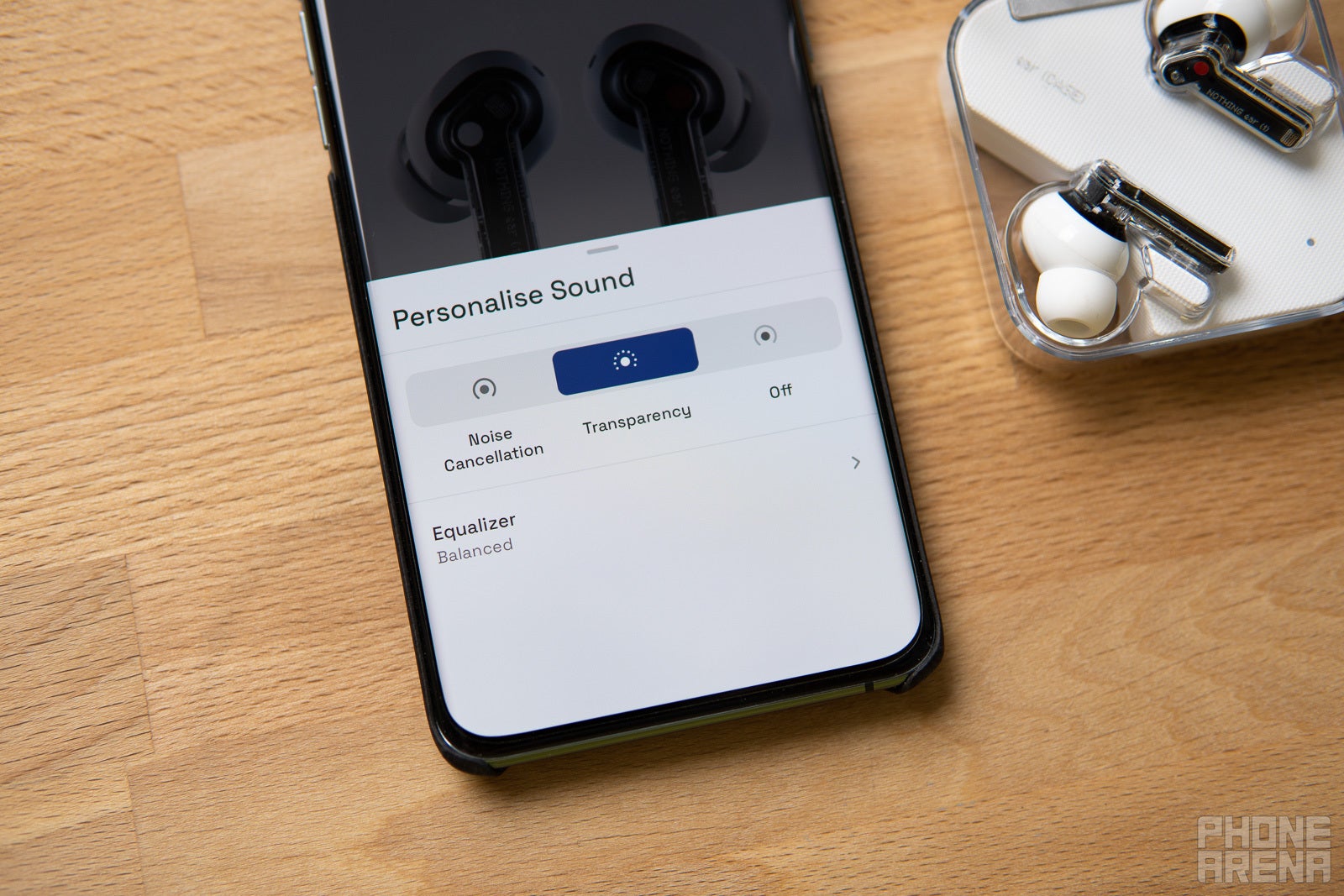 There are two stages of canceling to pick from — Light and Maximum. Even at max, some industrial humming and drumming still gets through. However, it gets completely drowned out as I start my music.
To Nothing's credit, at least I didn't detect the noise cancelation to interfere with the frequencies of my tracks. Usually, you can notice a tiny dip in bass or something when you toggle to noise cancelation, but that wasn't the case for me here — not even at "maximum".
The transparency mode on these is pretty good — it gives you an accurate stereo representation of what is going on and it doesn't "steal" many frequencies from the outside world. It sounds pretty natural.
The microphones on the buds are not amazing — they are supposed to isolate your voice nicely and sending a clear signal to your callers. In my experience, callers complained of a quiet voice and garbled details, though they were still able to understand me.
Nothing Ear (1) connectivity
The Ear (1) uses Bluetooth 5.2 to connect and holds on for quite a distance. I tested them by putting 4 walls and 2 rooms between me and the playback device — they didn't drop a connection.
There's also no support for AptX or LDAC, so if you are after these high-quality codecs — these buds are not for you.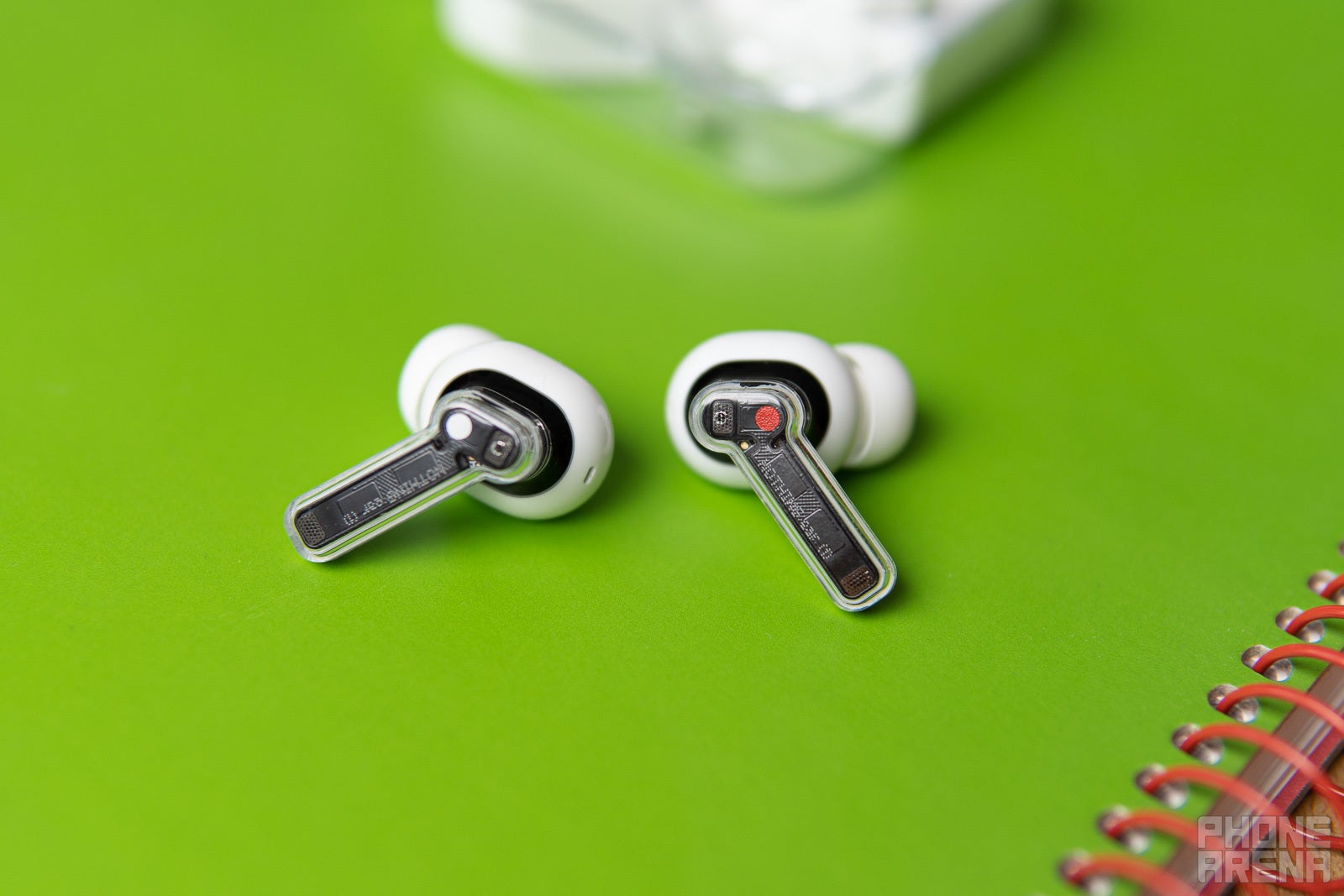 There's no Bluetooth multipoint, which means you can't have them connect simultaneously to two devices. That's fine, for a price point of $100, I can forgive this. I also found it pretty quick and easy to switch devices — open the charging case and hold the side button. The Ear (1) buds go into pairing mode, so you just open the device you want to connect them to and select them from the Bluetooth list. Or, if they have previously been connected to said device, you can just open the Ear (1) app and press "Connect" from there.
Nothing Ear (1) battery life
Official specs state 4 hours on the buds with ANC or 5.7 hours with ANC off. Using the charging case for top-ups, you get a total of 27 hours with ANC and a whopping 38 hours if you keep ANC off.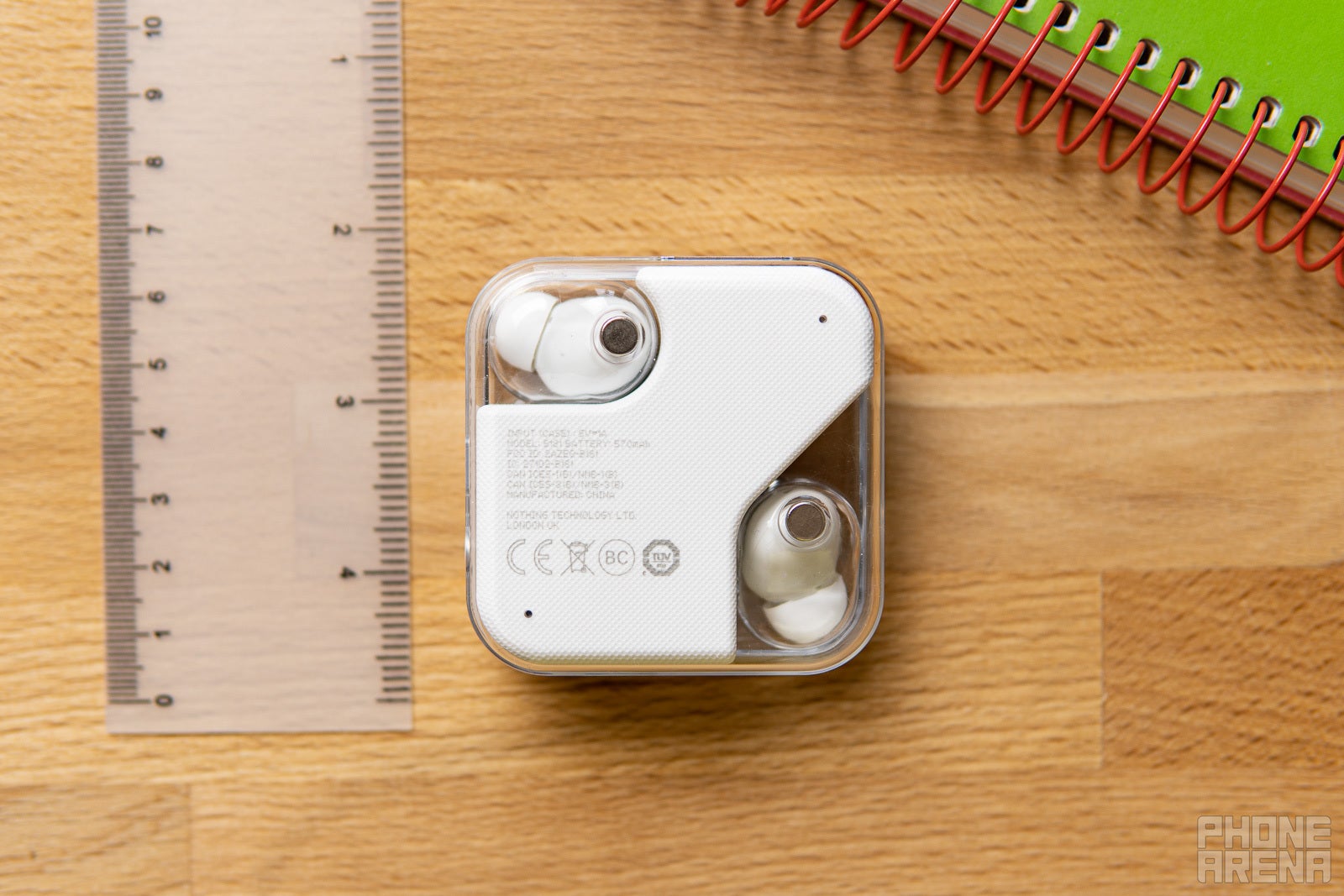 While we didn't push these to their limit to test their claim, I can honestly say I haven't even noticed needing a recharge that bad. I just use the earphones as I please. Whenever I am at a desk, I have the charging case rested on a wireless charger.
Recommended Stories