Note 9 wins popularity contest vs iPhone XS Max: poll results
99+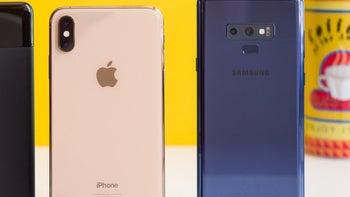 The
Samsung Galaxy Note 9
is Android's heavy-hitting hero for 2018 — with a Snapdragon 845, 8 GB of RAM, the Samsung Experience UI with its insane package of features, including the desktop experience platform DeX, and the option to go for 1 TB of storage by combining a 512 GB Note 9 unit with a 512 GB storage card. Its price starts at $999 but, with how much the Note 9 can do, a lot of users find this price to be justifiable.
Then, we have the
iPhone XS Max
, which starts at $1,099 and is Apple's Plus version of the iPhone X form factor. It has a thin bezel, a stainless steel frame, it looks modern and awesome, and is — of course — the fastest iPhone ever. With Apple's track record of timely updates and supporting its mobile devices for 4+ years after release, it's not that hard to justify dropping $1k+ on an iPhone, too. Yeah, it's an insane price, but the market as a whole was quick to boost its prices and — intead of leaving Apple look like it's a lone wanderer stuck on Mount Overprice — it kind of made the iPhone prices look OK. The Xperia XZ3 costs $900, the Galaxy S9+ costs $930, the Note 9 costs $1,000, so on and so forth.
So, we figured we'd ask you: for that kind of money, would you buy a Note 9 or an iPhone XS Max? Well... do the poll results surprise you?