The Nokia 9 PureView is on sale at a massive discount at Best Buy
3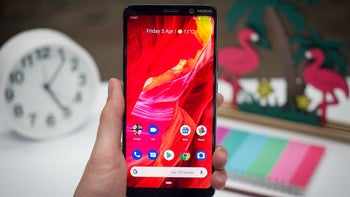 The
Nokia 9 PureView
was the brand's first flagship smartphone released in a number of years, as well as the first high-end model marketed by HMD Global, a small company founded just a few years ago that took the reins after Microsoft pretty much buried the Finland-based mobile industry veteran.
But as excited as we were about the return of the iconic PureView brand, which used to be synonymous with unrivaled camera technology, we obviously couldn't turn a blind eye to all the glaring flaws of the Snapdragon 845-powered Nokia 9, starting with that somewhat outdated chipset (by 2019 flagship standards) and a woefully misguided penta-lens setup.
Of course, when we reviewed the
Nokia 9 PureView
, we held it to the normal standards of its $700 price tag, but the 6-incher got
a decent discount
before it even started shipping in the US. Several authorized retailers took the deals to
the next level
in the
ensuing months
, and now the divisive handset is on sale at its lowest ever price. Instead of coughing up seven, six, or five Benjamins, those willing to activate the Android One phone on AT&T right off the bat are looking at spending a measly $349.99 at Best Buy today.
You can save a whole lot of money by choosing to activate the Nokia 9 "later" as well, which basically means you'll be getting the handset unlocked with absolutely no strings attached. In that case, you need to spend $399.99, which is arguably still a great price to pay for a Snapdragon 845 processor, 6GB RAM, 128GB internal storage space, a beautiful P-OLED display with a resolution of 2880 x 1440 pixels, and a premium water-resistant build. Just keep in mind you won't be able to use this GSM-only device on carriers like Verizon or Sprint.
Also, the cameras and in-display fingerprint scanner will most likely remain frustrating, but at a price of 350 or 400 bucks, you can probably overlook some of the Nokia 9 PureView's shortcomings given the aforementioned list of strong points. Not to mention the
impending Android 10 update
.