A new Alcatel phone and BlackBerry KEY2 US carrier availability will be announced at CES 2019
1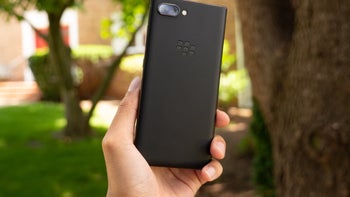 TCL Communication, the company in charge of Alcatel, BlackBerry, and Palm-branded products, has
officially joined the relatively small group
of
CES 2019 exhibitors
expected to showcase things of interest for mobile tech enthusiasts next week in Las Vegas.
While it's obviously too early for a BlackBerry KEY3 announcement, considering the
KEY2
only saw daylight last summer, followed by a slightly lower-end
KEY2 LE
this past fall, TCL is mysteriously teasing us with news of the "latest carrier availability for these devices in the U.S. and elsewhere around the world.
Unlike the
BlackBerry KEYone
, which was
sold directly by AT&T
and
Sprint
in addition to the TCL-owned BlackBerry Mobile label and third-party retailers, the KEY2 and KEY2 LE were never specifically endorsed by any of the nation's major carriers. It remains to be seen which of the "big four" networks will throw their weight behind which of the two touchscreen/QWERTY hybrids.

In terms of all-new devices, TCL plans to unveil the first of its "2019 Alcatel Series smartphones" at the Consumer Electronics Show. Unfortunately, the company is being awfully vague about this one as well, merely confirming the cryptic handset will include a "TCL-made Alcatel Full View Display."
A number of
2018 Alcatel phones
are already advertised as "FullView" affairs, despite sporting either a large notch or chunky screen bezels, so we probably shouldn't get too excited just yet. On the bright side, TCL does sell a few Alcatels at
killer price points
, so we definitely have our fingers crossed for a decent balance between affordability and premium designs this year.

Intriguingly, TCL is also cooking up "edge-to-edge" and "dot displays" for a future wave of smartphones, but there's no word on a commercial timeline for these groundbreaking in-house technologies. Demos are scheduled for early next week, and we must admit we're curious to see how close the company expects to get to the bezel-less dream in the near future.