Microsoft's Surface Neo is a dual-screen device like no other with Windows 10X
18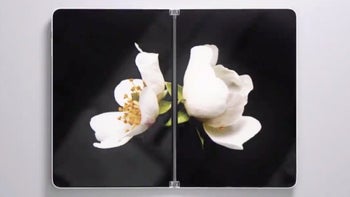 Microsoft didn't just catch us off guard with
AirPods-rivaling Surface Earbuds
at a New York City event earlier today, also showcasing not one but two different products seen as category-defining. While we knew the company was gearing up to finally announce the first results of its longtime development of dual-screen devices, nothing could prepare us for the droolworthy demos of the
Surface Duo
and Surface Neo.
As the name suggests, the Surface Neo aims to create a whole new category of flexible, productive, and powerful gadgets. Right off the bat, though, we must highlight this potential game changer is not ready for primetime yet, with Microsoft feeling confident it will become so by the "next holiday" season.
Made to adapt to the user in both form and function, the Surface Neo comes with a pair of 9-inch screens separated by a 360-degree "full-friction" hinge. Naturally, that doesn't make the product incredibly compact, but when unfolded, the thing measures 5.6mm in thickness, which is pretty crazy impressive. By the way, this is technically not a foldable device, which seems to be the right course of action considering the build quality concerns of the plastic 7.3-inch display on the
Galaxy Fold
.
Make no mistake, these are high-quality 9-inch LCD panels Microsoft plans to use here to "adapt to whatever posture you need in the moment." That means you will (someday) be able to use just one screen, both of them together for the same task, separate to do multiple things at once, and even whip out a keyboard from behind one of the screens (where it can be magnetically attached) to get more work done with little effort.
Tipping the scales at only 655 grams, the Surface Neo certainly has the potential to replace your conventional phone, tablet, and laptop with an incredibly versatile design, but of course, its mainstream success hinges (no pun intended) on two other things. The price point is unsurprisingly kept under wraps, while Windows 10X is a new "expression" of Windows 10 that's likely to ultimately make or break this positively dreamy device with its app support and overall user experience.
If you think about it, the fact Microsoft is unveiling the Surface Neo more than a year ahead of its planned commercial release might actually be a good thing, generating interest from developers to help create the "next wave of dual-screen computing."