The Surface Duo is Microsoft's Android-powered dual-screen phone
36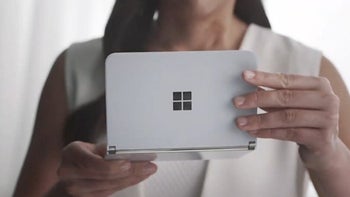 Microsoft announced a huge range of products today including the
Surface Pro 7
, the
Surface Earbuds
, and the Surface Laptop 3. It also provided an early look at the highly anticipated
Surface Neo
dual-screen tablet which arrives next year. But perhaps the biggest surprise of all was its final introduction – the long-rumored Surface phone.
Surface Duo pairs two displays with a 360-degree hinge
After exiting the smartphone business entirely just a few years ago following the failure of Windows 10 Mobile, Microsoft has today confirmed that it's back in the game with a new product called Surface Duo. But beware, the company doesn't want you to call this device a phone. Instead, it's trying to create an all-new category of mobile devices that'll ultimately replace modern-day smartphones and hopes the Surface Duo will kickstart it all.

Like the larger Surface Neo tablet, the Surface Duo pairs a premium aluminum construction with two slabs of glass up front. Beneath each of these sit 5.6-inch displays – whether Microsoft is using OLED or LCD technology is yet to be confirmed – coupled with pretty large bezels. Also present is an in-ear speaker for making phone calls, a selfie camera, and a connecting 360-degree hinge which provides a number of use cases.

When the device is opened up like a tablet, owners of the Surface Duo can use both displays together as one large panel. But if you're into multitasking, the two can be used separately. For example, you can edit a Word document on the left screen while watching a YouTube video or surfing the web on the right display. As mentioned above, the Surface Duo can also be used to make calls. In this case, the 360-degree hinge can simply be opened entirely and the left display will be deactivated.
This is Microsoft's first Android-powered phone

The Surface Neo tablet runs Microsoft's new Windows 10X operating system which has been specifically designed to work on dual-screen devices. However, the Silicon Valley-based giant seems to have learnt its lesson and understands consumers just aren't interested in Windows-powered smartphones anymore. Because of this, the company has "worked with Google" to bring Android and its accompanying app ecosystem to the Surface Duo.

Microsoft appears to have made some visual tweaks to the world's most popular mobile operating system and will likely pre-install its range of Office apps. It's unclear if extra functionalities have been added too but Google has already touted Android 10's compatibility with foldable devices in the past so there shouldn't be any issues in that respect. Where there could be problem, however, is the app department, which is probably why Microsoft has chosen to unveil the Surface Duo so soon – the company's hoping to get developers onboard with the format.
Microsoft says the Surface Duo is currently running Qualcomm's Snapdragon 855 but could be upgraded to a newer chip in the future. The upcoming Snapdragon 865 seems like the most logical candidate for the final device although Microsoft could also surprise us with a custom ARM chip co-developed with Qualcomm – Microsoft has chosen a similar route for the newly announced Surface Pro X.
Microsoft Surface Duo pricing and release date

The Microsoft Surface Duo will be available to purchase next year during the Holiday 2020 shopping season. Microsoft will continue to refine the product over the course of the next twelve months and is expected to announce the final version at the 2020 Surface event in October.

Pricing information has, rather unsurprisingly, not been revealed but don't expect the phone to be cheap. In fact, it'll probably cost noticeably more than the $1,000 flagships we see today.