Logitech Crayon for 9.7-inch iPad is ready for nationwide release at $69.99
8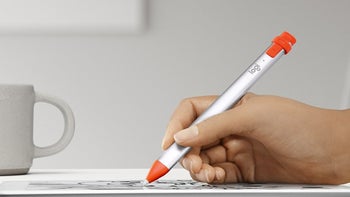 Not a lot of people seem to be interested in prospective
Apple Pencil support
for
future iPhone generations
, but when it comes to the Cupertino company's tablets, the stylus is often considered a major selling point, encouraging the user's creativity while improving an iPad's versatility and productivity.
Of course, if you're on a tight budget, you were probably ecstatic to hear the
affordable 6th generation iPad
, unveiled last spring, can be used in combination with the
Apple Pencil
. But the latter's $99 price point is not easy to swallow when the refreshed 9.7-inch slate only fetches $329 and up.
Fortunately, a lower-cost alternative for the Apple-made iPad stylus is about to hit US stores following a limited March debut as an
education-focused accessory
. The Logitech Crayon is up for pre-order right now through its manufacturer's official website, spreading to Apple.com and Apple retail stores later this month, with "everywhere" availability "beginning October."
At $69.99, the Crayon is naturally less impressive than the
Pencil
, lacking pressure sensitivity and downgrading the latter's advertised 12 hours of battery life to "up to 7 hours of writing time on a single charge."

Snazzier and more colorful than Apple's understated stylus, Logitech's option is just as easy to set up and use, as well as "pixel-precise", not to mention extremely lightweight, at 20 grams, and tough enough to survive drops from up to four feet high.

The Crayon is "built using Apple Pencil technology", which is simply a fancy way of saying it supports all the same apps as its costlier "rival", but perhaps its biggest flaw is that it doesn't work with any of Cupertino's iPad Pros. Still, if you're a "creator, artist, dreamer, or learner" looking for a relatively affordable 9.7-inch iPad companion, this bad boy definitely fits the bill.