Apple announces new $329 iPad with Apple Pencil support and A10 Fusion chipset
58
Apple has just introduced a new affordable iPad model, starting at $329. The new tablet comes to succeed the entry-level model which the company launched last year at the same price point. Aside from all the improvements under the hood, the biggest new feature is full support for Apple Pencil.
While it's undoubtedly a great iPad for consumers, this new model is especially geared towards the education environment: schools will be able to order it for $299 a piece. Also, the Apple Pencil, which continues to cost $99, will be sold at $89 to schools.
Display
The IPS screen technology remains unchanged, with a 9.7" diagonal and super-high resolution (Retina) of 2048 x 1536 pixels. Unfortunately, aside from Pencil support, none of the more advanced features of the pricier iPads are available here, namely: Apple's antireflective coating, True Tone display, Wide-gamut color, and ProMotion (120 Hz response rate). However, the absence of these premium features will not stop this from being a great, spacious touchscreen for general use including reading, watching video, browsing the web, studying, using apps or playing games.
Performance
While last-year's budget iPad used the Apple A9 chipset, the new one upgrades that to the A10 Fusion, which is what powers the iPhone 7 generation. It's still an incredibly powerful quad-core processor that can go up to 2.3 GHz core clock speed. It also comes with great improvements to the graphics technology, which enables the new $329 iPad to be used with Augmented Reality applications.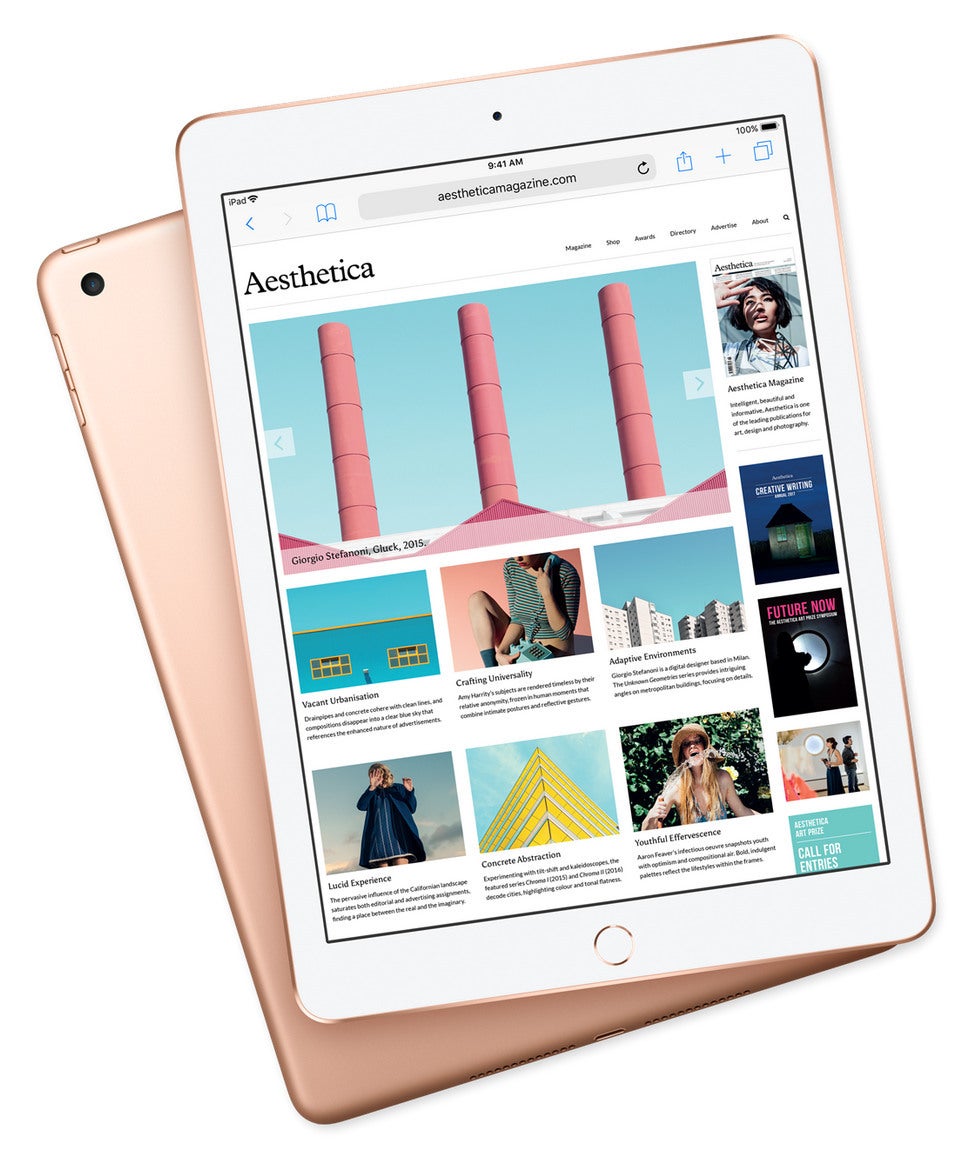 In addition to Silver and Space Gray, the new iPad also comes in a new Gold finish
Camera
For consumers and students alike, having a capable camera is always of great benefit, and while taking photos with a tablets continues to be that sweet, awkward activity, the new iPad's 8 MP main camera should be more than up to the task. It will also record 1080p HD video. On the front, there's a fun little 5 MP camera for selfies and video calls.
Software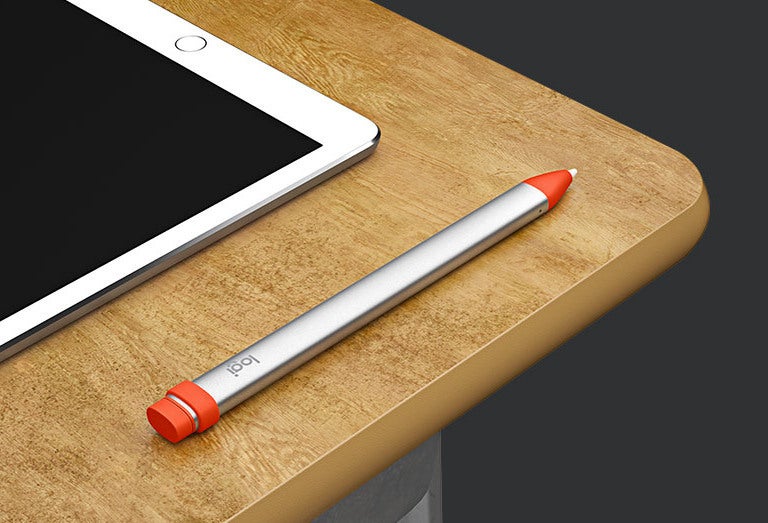 Logitech Crayon for iPad
As mentioned, this new iPad is heavily geared towards school use, so many of the new features Apple has worked on have to do with education. We already mentioned that it can work with the $99 Apple Pencil, but the bigger surprise was the announcement of the officially supported Logitech Crayon pen, which will cost just $49. At that price, the Crayon loses the pressure sensitivity but retains all other features plus the ability to work with multiple iPads at the same time (useful for teachers). However, the sad news is the Logitech Crayon will only be sold to schools, and will probably never reach retail.
Aside from that, Apple has upgraded its iWork productivity applications: Pages, Numbers, and Keynote, so they can now support input from the Apple Pencil. The other enhancements really concern mostly the school environment, and include new class and schoolwork management tools for teachers and students alike. Perhaps best of all, students will be getting 200 GB of free iCloud storage, which is a massive, massive upgrade over the 5 GB free tier Apple is still offering its regular customers.
Price and release date
The new budget 9.7" iPad for schools is priced at $299, but consumers will be able to purchase it at the following prices:
| Model | Price |
| --- | --- |
| 32 GB Wi-Fi | $329 |
| 32 GB Wi-Fi + cellular | $459 |
| 128 GB Wi-Fi | $429 |
| 128 GB Wi-Fi + cellular | $559 |
You can order it today, and it will start shipping later this week in the following countries: Australia, Austria, Belgium, Canada, China, Czech Republic, Denmark, Finland, France, Germany, Hong Kong, Hungary, Ireland, Italy, Japan, Luxembourg, Netherlands, New Zealand, Norway, Poland, Portugal, Singapore, Spain, Sweden, Switzerland, UAE, the UK and the US.
Next to get the new tablet will be India, Russia, Thailand, Turkey and some other countries in April.
Finally, South Korea and the rest of the world should have access to it, beginning in May.
Chicago — Apple today updated its most popular iPad with support for Apple Pencil plus even greater performance, starting at $329. The new 9.7-inch iPad and Apple Pencil give users the ability to be even more creative and productive, from sketching ideas and jotting down handwritten notes to marking up screenshots. The new iPad is more versatile and capable than ever, features a large Retina display, the A10 Fusion chip and advanced sensors that help deliver immersive augmented reality, and provides unmatched portability, ease of use and all-day battery life.1

"iPad is our vision for the future of computing and hundreds of millions of people around the world use it every day at work, in school and for play. This new 9.7-inch iPad takes everything people love about our most popular iPad and makes it even better for inspiring creativity and learning," said Greg Joswiak, Apple's vice president of Product Marketing. "Our most popular and affordable iPad now includes support for Apple Pencil, bringing the advanced capabilities of one of our most creative tools to even more users. This iPad also has the power of the A10 Fusion chip, combined with the big, beautiful Retina display, advanced cameras and sensors that enable incredible AR experiences simply not possible on other devices."

iPad's beautiful 9.7-inch Retina display delivers gorgeous detail and vivid colors, and features a higher-resolution touch sensor that enables Apple Pencil support. First introduced for iPad Pro, Apple Pencil has become a popular and versatile tool among students, professionals and creatives and is now available to even more customers.
Apple Pencil delivers a remarkably fluid and natural drawing experience. Advanced sensors measure both pressure and tilt, and provide pixel-perfect accuracy and low latency for activities from note taking to illustration in apps like Notability, Pages, Numbers, Keynote and Microsoft Office. iPad's palm rejection technology even makes it possible to rest your hand on the screen while you use Apple Pencil.

The new iPad features the Apple-designed A10 Fusion chip with 64‑bit desktop-class architecture, delivering 40 percent faster CPU and 50 percent faster graphics performance for seamless multitasking and graphics-intensive apps.2 The front- and rear-facing cameras offer exceptional low-light performance and HD video recording for document scanning, moviemaking and FaceTime calls.

The new iPad is a stunning, large viewfinder for immersive AR experiences. Its Retina display, powerful chip, enhanced cameras and advanced sensors, including a gyroscope and accelerometer for accurate motion tracking, are designed to support the next generation of AR apps.

Built for durability and mobility, the new 9.7-inch iPad features an aluminum unibody construction and ultrafast wireless that can deliver two times faster cellular data connections, so it is even easier to stay connected anywhere.3 With Apple SIM, customers can connect to wireless data plans right from their device when traveling in more than 180 countries and regions.4

iOS 11 introduces powerful new features for iPad. The Dock provides quick access to frequently used apps and documents from any screen, and makes it easier to multitask with Split View and Slide Over. Drag and Drop makes moving images, text and files between apps easier than ever. Apple Pencil is more deeply integrated into iPad with support for inline drawing. The Files app provides a central place to access and organize files no matter where they are located — on iPad or in the cloud with built-in support for iCloud Drive and providers like Box, Dropbox and others.
Pricing and Availability

iPad comes in silver, space gray and a new gold finish and starts at an Apple retail price of $329 (US) for the 32GB with Wi-Fi model and $459 (US) for the 32GB Wi-Fi + Cellular model at apple.com and Apple Stores. It is also available through Apple Authorized Resellers and select carriers (prices may vary). For more information, please visit apple.com/ipad.
Apple Pencil is available for purchase separately for $99 (US).

Schools can purchase iPad starting at $299 (US) and Apple Pencil for $89 (US).

iPad is available to order today and starts delivering to customers and arriving in stores later this week in more than 25 countries and regions: Australia, Austria, Belgium, Canada, China, Czech Republic, Denmark, Finland, France, Germany, Hong Kong, Hungary, Ireland, Italy, Japan, Luxembourg, Netherlands, New Zealand, Norway, Poland, Portugal, Singapore, Spain, Sweden, Switzerland, UAE, the UK and the US. India, Russia, Thailand, Turkey and other countries and regions will follow in April, with South Korea and other countries and regions following in May.

Smart Covers for iPad are available for $39 (US) in charcoal gray, midnight blue, (RED), white and pink sand at apple.com and Apple Stores.

Every customer who buys iPad from Apple will be offered free Personal Setup, in-store or online, to help them set up email and iMessage, download apps from the App Store and more.
Anyone who wants to start with the basics or go further with their new iPad can sign up for free Today at Apple sessions at apple.com/today.