LG G7 ThinQ bootloop reports in Europe bring back bad memories for the company
28
UPDATE #2:
According to at least two user reports on the
official T-Mobile Forum in Germany
, a fix for the bootloop issue is now available. It also appears that the phone would boot for many once the T-Mobile SIM is removed.
Forum members report that a factory reset wouldn't fix the problem. Instead, affected users are advised to install the LG Bridge application on their computer and install the released software update (3GB in size) on their LG G7 via USB. Once the update is installed, the phone should go back to working normally. Users who have installed the new software confirm that their personal data has not been affected.
Furthermore, LG has reached out to clarify that the LG G4 bootloop issues we mentioned initially were caused by a hardware problem. In contrast, the recent mishap with the T-Mobile LG G7 in Europe was most likely service- or software-related, judging by the available evidence.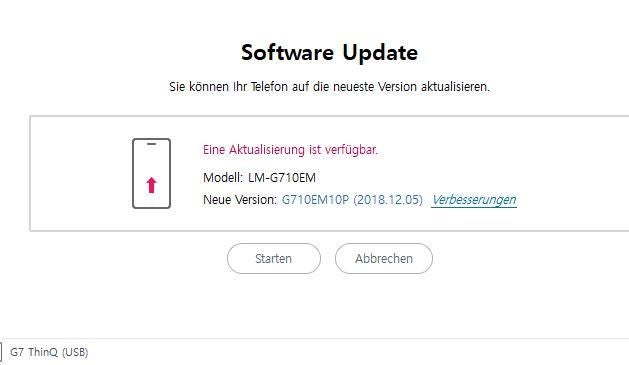 A new software update for the T-Mobile LG G7 has been released via LG Bridge to address recent bootloop issues
UPDATE
: After several days of radio silence, an LG spokesperson has finally reached out with an official statement on the matter that... you're probably not going to like. Here it is in full, followed by the original article below:
"The latest software update for the LG G7 ThinQ on a specific network in a number of European countries is preventing the phone from starting. Customers experiencing issues with their devices immediately after the software update can be assured that no permanent damage has occurred with their LG G7 ThinQ.

In cooperation with the operator, LG will be issuing a software solution within the next several days which will allow affected customers to roll back the update and return their device to its previous state. Customers are encouraged to contact an LG call center or visit their local service center for further assistance.



LG sincerely apologizes for this tremendous inconvenience and we are making every effort to remedy this situation as quickly as possible."
Original story follows below.
It looks like
LG's newly appointed mobile division president
may have even bigger things to worry about than
a confusing high-end product portfolio
and less-than-stellar
V40 ThinQ reviews
.
The infamous bootloop plague
seems to be making an unexpected comeback, reportedly rendering a staggering number of LG G7 ThinQ units inoperable without a known cause... as of now.

Their grievances sound eerily similar, as the G7 ThinQ simply refuses to power up, attempting to boot time after time without successfully completing the task. What's odd is this latest instance of widespread bootlooping glitches appears to have one thing in common apart from the affected smartphone model.

Regardless of the country of residence, bootloop-plagued users are reportedly all subscribed to the wireless services of one big company. Namely, T-Mobile, which could have more to do with this problem than LG.
At the same time, the device manufacturer's history of similar bugs is pretty hard to disregard when trying to find who to blame for this new mess. The bootloop nightmare began back in 2015 with the LG G4, resulting in a costly
class-action lawsuit
that also involved
G5, V10, V20, and Nexus 5X owners
.
For what it's worth, LG is reacting quickly and appropriately to bootloop reports this time around, "immediately" starting an investigation into the cause of the glitches, according to a statement provided to Dutch blog
DroidApp
... on a Sunday no less.

Meanwhile, the company's customer service representatives are promising swift device replacements, which suggests the issue is yet again hardware-related. Hopefully, LG will somehow manage to contain it to a limited number of faulty units. Or perhaps some sort of a network cause will be identified. Either way, let's keep our fingers crossed bootloop doesn't become a global thing... again.