LG acknowledges G4 bootloop fault and promises free repairs
38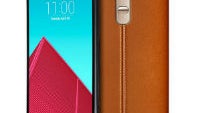 In the fast-moving world of consumer tech,
LG's G4
is already veering towards relic status. Last year's flagship is reaching the end of the unforgiving one-year shelf life that smartphones are so often furnished with; soon to be superseded by what's likely to be called
the G5
. An overall impressive device, the G4 has managed to avoid many of the issues that plagued flagships running on Qualcomm's Snapdragon 810. But while LG's decision to run with the Snapdragon 808 has largely kept it out of the firing line, some owners of the handset have been afflicted with a bootloop issue. LG has now acknowledged the problem, and promised repairs to devices affected by the fault.
The issue appears to be more prevalent than a couple of scattered incidents. With a growing number of social media postings having highlighted the problem, LG seems to have found a root cause. An issue that threatens any and all G4 variants, the bootloop is said to be caused by
"loose contact between components."
Simply put, it's a hardware issue rather than something that can be fixed by a simple OTA update, although the company promises free repairs to anybody affected.
If you have a G4 suffering with the bootloop, LG advises you to take it back to where you purchased it from, or, failing that, your local LG Service Center. The Korean company stipulated in its bulletin to Android Authority that users can expect
"a repair under full warranty."
One has to wonder whether LG will extend this courtesy to those whose device isn't necessarily showing the symptoms, but may wish for a bit of maintenance to ensure that it doesn't. Regardless of whether the bootloop issue has reared its head, many G4 owners will now feel in possession of a ticking time bomb. Short of recalling every single G4 handset it has sold, which would be both arduous and costly for LG, it seems only right that concerned parties get a free check-up rather than sitting on their hands in wait for the issue to arise. Whether or not this will happen, however, remains to be seen.
Do you own the G4? Moreover, are you concerned that your device might soon cease to function as it should? Let us know of your take via the comments!